Donation to Primary School Students in Myanmar
Myanmar Offices are donating uniforms and school supplies to elementary school students in the Yangon area.
Every year Yangon & Nay Pyi Taw Offices of Sumitomo Corporation Asia & Oceania (SCAO) donate school supplies and uniforms to about 200 students at three primary schools in the suburb of Yangon.
This donation program started in 2005, when employees and visitors of Sumitomo Corporation Group company operating business in Mingaladon area realized resident families lack necessary financial resources to support their children education, and decided to personally fund school supplies with their donation money. After the Group Company closed down, Yangon & Nay Pyi Taw offices have kept the program going.

Every year around end of May, just before school season starts, representatives of SCAO Yangon and Nay Pyi Taw offices, visit the three schools to present the donations – consisting of school bags, stationery, umbrellas, text books as well as school uniforms-directly to individual children. The children who receive the items come from disadvantaged backgrounds and are selected high-achievers. The visitors are warmly received with a welcoming ceremony, during which they spent time getting better acquainted with school officials and teachers as well as students in a friendly atmosphere.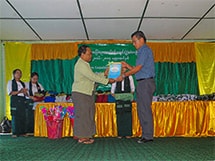 The donation program benefits the local community by helping children from needy families to continue their schooling and encouraging high-achievers to study harder. Now, the program is greatly appreciated by local residents and has become a fixed event on the annual community calendar. Yangon and Nay Pyi Taw Offices intend to continue this and other social contribution activities to help create a better society in the region.