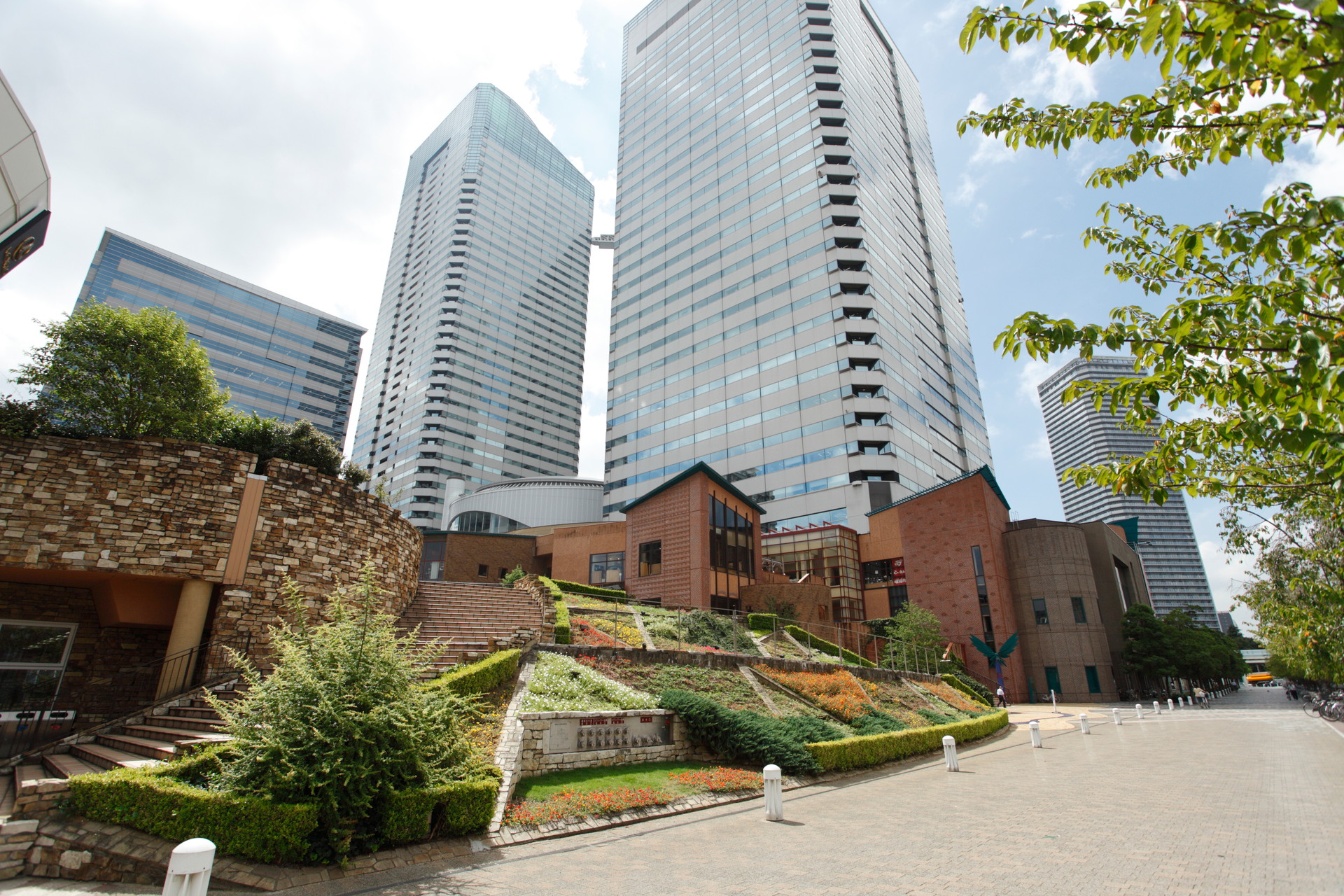 Global Cases
Sumitomo Corporation's urban development set to "Astonish the world and be a model for Asia"
Japan
Sumitomo Corporation's roots in property development
Sumitomo Corporation's predecessor was a property developer by the name of The Osaka North Harbour Company Limited, which was founded in 1919 in Osaka's coastal industrial zone. Sumitomo Corporation can therefore be said to have its roots in the construction and real estate sectors. Today, our real estate business is expanding its focus to include large-scale complex and land development, the leasing and management of office buildings and commercial facilities, and housing development and sales.
Sumitomo Corporation's real estate business is characterized by its integrated corporate strength, its superior network, big-picture thinking, and an ability to execute from a long-term perspective, all of which are advantages unique to a general trading company. An example of a development project that embodies these characteristics is Harumi Triton Square in Tokyo, where the head office of Sumitomo Corporation was located.
Bringing nature to urban zones
Since its opening in April 2001, Harumi Triton Square has drawn international attention and welcomed numerous overseas visitors from the construction industry. What they have come to see is a uniquely progressive and creative urban development constructed under the concept of "nurturing a community." The result is a safe, secure complex with abundant greenery and flowering plants, where work, leisure and living are fully integrated.
Back when the complex was initially proposed, it was common practice to simply concrete over the spaces between buildings and leave it at that. But we planted over 600 species of trees and flowering plants at Harumi Triton Square in order to create a relaxing outdoor space where seasonal flowers blooming at different times would provide year-round color and be irresistible to birds. The public square of this complex has proven popular among both workers and residents as it soothes the soul while at the same reducing the heat island effect.
There are no fences or boundaries separating the plants so passersby can touch the leaves and smell the flowers. In spite of access free, very few people walk off with picking flowers.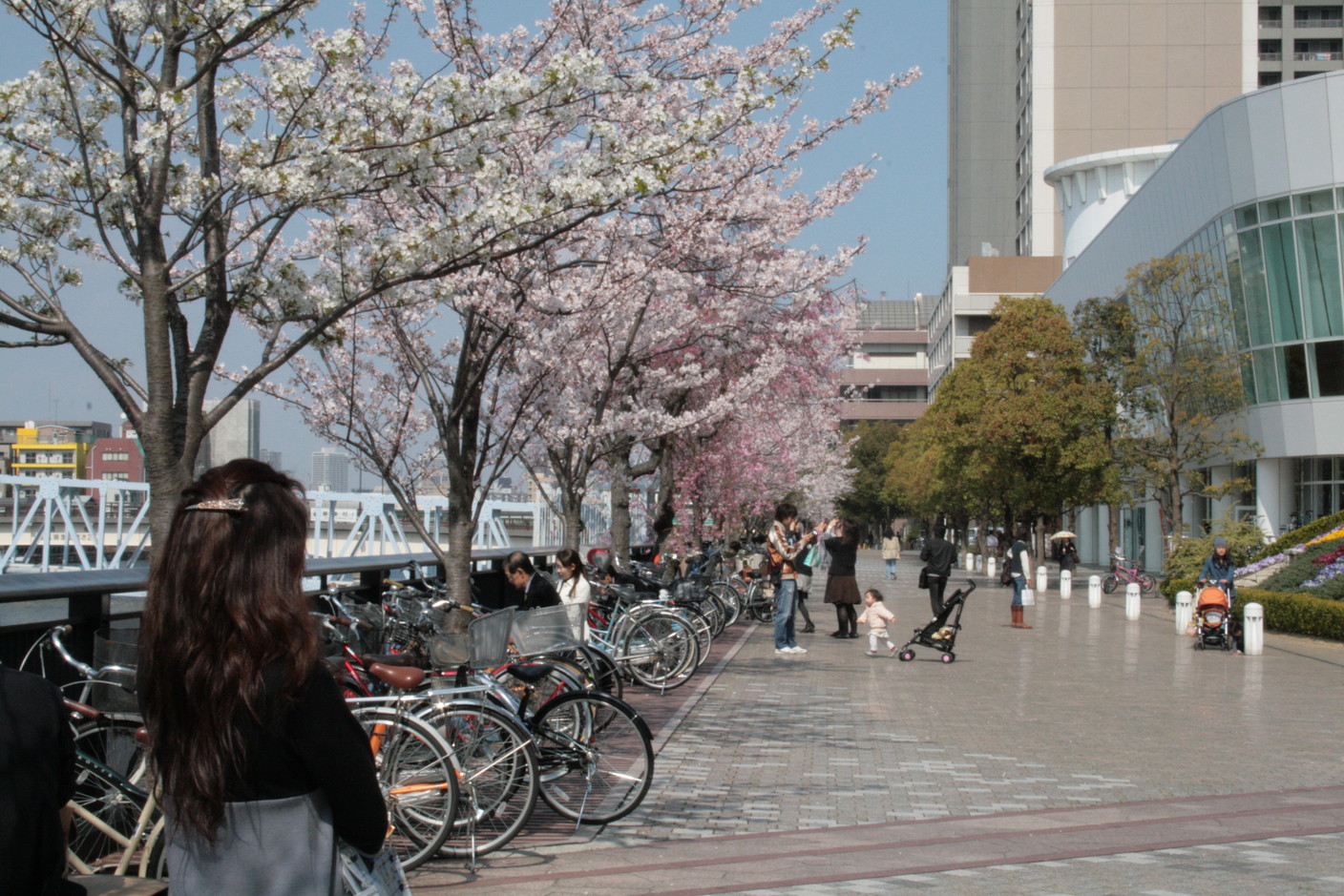 Pioneering emergency management initiatives
In preparation for the earthquake, the foundation of the Harumi Triton Square complex is laid deep and the underground space thus created is equipped with a large thermal tank for air-conditioning and a rainwater tank for water recirculation. In the event of an emergency or disaster, water stored in the thermal tank can be used for firefighting or supplied to local residents for domestic use. Another safety measure is the cameras installed on the roof of the complex that monitor bridges crossing the surrounding river and canal and can be used, in cooperation with the government, to help ensure evacuation safety in the event of a disaster.
Sumitomo Corporation has experimentally taken these pioneering initiatives one by one in an approach that reflects the long-term perspective, typical of a general trading company.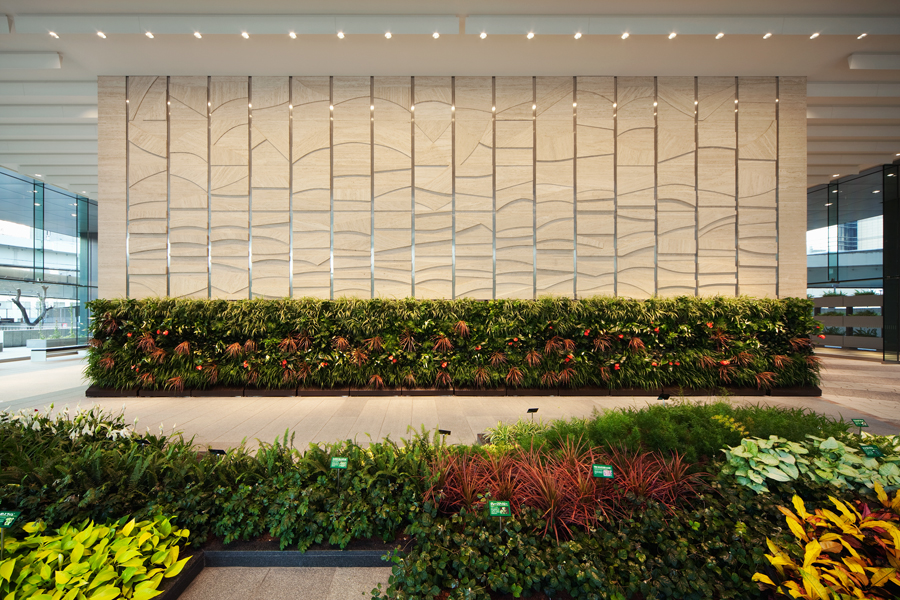 Creating a green network
Sumitomo's philosophy regarding urban development can also be seen in its projects to renovate existing buildings. One example is the Sumitomo Corporation Takebashi Building (in Tokyo's Chiyoda-ku district), which used to house our head office before the relocation.
The spot was once a cold, concrete corner at the intersection of two highways, surrounded by a dense concentration of buildings. To create a green area at the heart of this urban zone, Sumitomo Corporation undertook a large-scale renovation, constructing a refreshing, outdoor public space with a gently curving design and an abundance of flowering plants. In order to increase the overall amount of greenery by utilizing three-dimensional space, we also added an attention-grabbing, living floral wall inside the building's entrance, creating a more relaxed atmosphere.
Following these renovations, the Sumitomo Corporation Takebashi Building received many awards, including the greening renovation prize at the 2010 Tokyo Metropolitan Government Green Award, the 20th BELCA Award for the best renovation, and the Nikkei Inc. Award in the rooftop gardening category in the Ninth Rooftop, Wall, and Special Greening Technology Competition.
Sumitomo Corporation is currently planning the redevelopment of the Tokyo Denki University's Kanda Campus (also in Chiyoda-ku). Through this project, we are committed to improving the added value of the overall Kanda area by drawing upon the expertise acquired during the Harumi Triton Square project and added to during the Sumitomo Corporation Takebashi Building renovations.
Our proposals for this new redevelopment include lining the streets with native Japanese trees and showcasing the "Kanda brand" on special days in the Japanese calendar, such as during the Doll Festival and the Boys' Festival. To that end, we will cooperate with the local community and local government in fostering the development of the area. With regard to the urban development aspect, we will ensure that residential and commercial zones coexist in harmony so that both office workers and families living in neighboring communities can feel at home in the area.
When this urban development project is viewed from an aerial perspective, a green network can be seen extending from the Imperial Palace to Kanda via Takebashi Bridge and further on to Ueno Park. We will work in loose cooperation with corporations in the surrounding areas to develop these green areas into viable ecosystems for wild birds and butterflies.
Commercial facility projects aimed at urban development
Sumitomo Corporation also undertakes commercial facility development projects in many locations in Japan. One of our major projects is Terrace Mall Shonan, which was jointly developed with Singapore state-owned GIC Real Estate Pte Ltd. Located in the Shonan area, Kanagawa Prefecture, the project represents one of the district's largest shopping malls, housing a total of around 280 tenants on retail floors of a combined 63,000m² area in a facility with an architectural area of 170,000m². Its distinctive characteristics include the marketing concept of catering to all age groups, a locally oriented unique tenant mix, and a design that ingeniously lays out indoor and outdoor spaces. For these characteristics, the mall received the Gold Prize at the sixth Japan SC Awards hosted by the Japan Council of Shopping Center (JCSC) in May 2015.
Terrace Mall Shonan has been developed reflecting our view that commercial facility development should not simply be a construction project, but promote the harmony with the area and the community life of local residents. We will pursue commercial facility project business in and outside Japan with an aim to facilitate urban development based on this view.
Spreading Japanese style urban development around the world
In countries outside Japan, it is normally difficult to enjoy potable water straight from the tap. In Japan, however, the availability of safe drinking water is something we take for granted, along with the ability to walk around safely at night, to properly separate waste, and to trust people to keep their word. In future urban developments, we intend to highlight these enviable characteristics of Japan, while inserting certain aspects of Japanese culture, the national character, and communication. Our ultimate aim is to export Sumitomo Corporation's approach to urban development as a full-package infrastructure construction service.
Our particular take on this type of service is uniquely Japanese. Our younger employees have worked together to envisage their ideal future and express that vision through the slogan, "Urban development that will astonish the world and be a model for Asia." In keeping with this ideal, Sumitomo Corporation's goal is to act as a kind of "urban development missionary" and help spread Japanese know-how and values around the world.
Keyword
Living Related & Real Estate Business
Japan
Real Estate