Global Cases
Providing service of "Japanese Quality" in the automotive dealer business
Russia / Thailand / Vietnam
Fusing the Unique Culture of Each Country with the Spirit of Omotenashi
Sumitomo Corporation entered the automotive dealer business in 1989 and is presently operating dealerships around the world, including in Russia, Thailand and Vietnam.
In this retail business, in which we have direct contact with customers, we need to have good communication skills and be able to conduct high-quality on-site operations. Based on this recognition, we are fusing our Japanese-style omotenashi (hospitality) with the unique culture of each country in which we operate, aiming to provide customers with genuinely pleasing services at our dealership locations across the world.
For us, automotive sales does not just mean selling cars. Through this business we also help customers experience the pleasure of driving and the enjoyable lifestyles that vehicle ownership makes possible. Accordingly, in addition to communicating with customers before they make a purchase, we also provide them with after-sales repair and maintenance services, sell them spare parts and accessories, and offer guarantees, including insurance and financing services, thereby building long-term relationships with our customers. We also sometimes invite car owners to attend events held at our stores and factory tours. These initiatives have been well received across the world.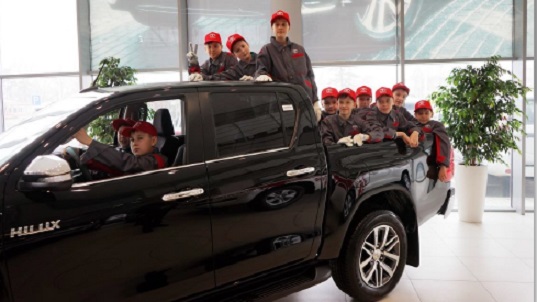 Delivering the Value of Japan-Made Cars to the Russian Far East
Within our dealer business, Summit Motors Vladivostok (SMV) has a particularly long history. SMV has two stores selling Toyota vehicles, including Lexus-branded cars, in the Russian Far East.
Sumitomo Corporation began selling cars in Vladivostok in 1992. Facing the Sea of Japan, Vladivostok is a roughly three-hour flight from Tokyo. Back in 1992, second-hand cars shipped from Japan accounted for 90% of cars traded in the local market, and with its overwhelming quality, Japanese car established strong brand image in the region. In such an environment, where most of the market is conquered by second hand cars, Sumitomo Corporation took on the challenge of selling "new cars" in the market. SMV worked patiently to communicate the joys of owning a brand new car and the benefits of purchasing one from an official dealer to potential customers. As a result, the business has taken root in the area and now employs more than 200 people locally, while the dealerships are considered indispensable by local people. This year marks the 25th anniversary of SMV.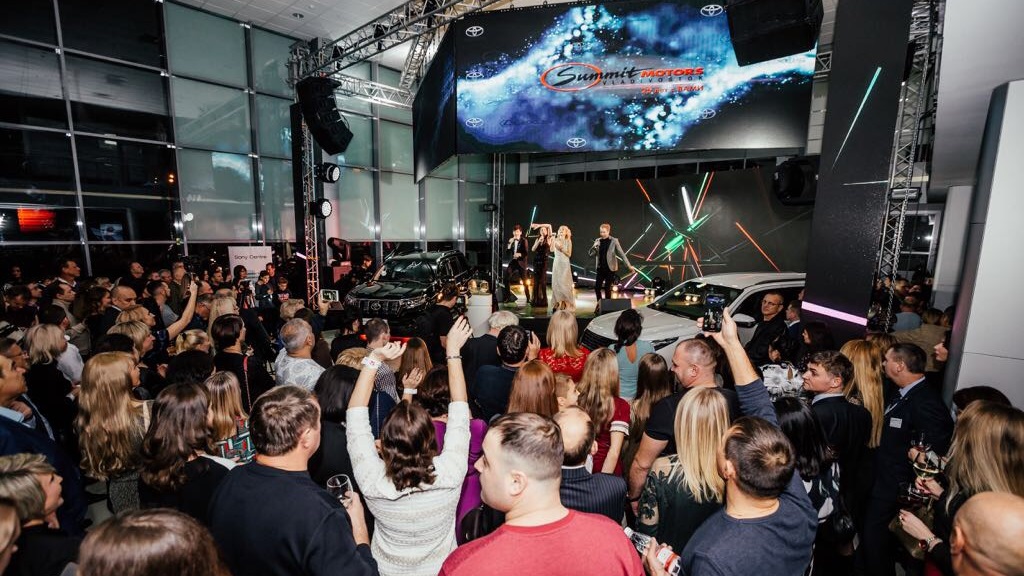 Furthermore, in 2009, SMV made an investment to establish Summit Motors Khabarovsk (SMK) in Khabarovsk (center of the Far Eastern Federal District of Russia), which is about 800 kilometers from Vladivostok. At SMK, about 140 local employees provide customers with new products and high-quality services as staff of the Toyota and Lexus dealer.
The Far Eastern Federal District of Russia, where SMV and SMK operate a total of four stores, extends over an area that is around 16 times larger than that of Japan, meaning the stores serve a vast territory. Accordingly, the living environments and needs of local people residing in the area are widely varied, and local salespeople at the two dealerships are striving to provide their customers with genuinely satisfying services through omotenashi tailored to meet the needs of each customer.
Sumitomo Corporation's Automotive Business
Sumitomo Corporation's automotive business covers the entire value chain for vehicles, from upstream to downstream. It encompasses the manufacture and export of cars as well as local-area sales and distribution, and includes a financing and car leasing business in Japan and an automotive-related consulting service offered as the only one of its kind provided by an integrated trading company. A brilliant feature of Sumitomo Corporation's automotive business is that personnel engaged in it in different departments are able to share their strengths in terms of the expertise, experience and networks that they have built in a cross-departmental manner. That is, members of each department are working to further improve their services by sharing information and expertise with other departments.
The automotive industry is arriving at an inflection point where it is said "once-in-a-century" developments, such as the electrification of cars, the introduction of autonomous vehicles, and the expansion of car-sharing services, will usher in a new era. Under these circumstances, Sumitomo Corporation is continuing to take on challenges based on its long-accumulated strengths, with a view to providing new value ahead of the coming transformation.
SMV and SMK employees are committed to providing customers with unique services
Keyword
Transportation & Construction Systems Business
Europe, Middle East, Africa and CIS
East Asia
Transportation
Retail Service Operations