Dec. 12, 2016
Sumitomo Corporation
Completion of Power Plant for Az-Zour North Independent Water and Power Producer Project
Sumitomo Corporation (Head Office: Chuo-ku, Tokyo; President & CEO: Kuniharu Nakamura) has been jointly engaged with ENGIE (formerly GDF Suez; Head Office: France) and Abdullah Hamad Al Sagar & Bros. Co. (Head Office: Kuwait) on the Az-Zour North Independent Water and Power Producer Project (hereinafter, "the Project") in Kuwait. This Project was completed on November 26, 2016 as scheduled, and the plant is now in commercial operation.

The Az-Zour North power and water plant, located about 100km south of the capital Kuwait City, has a 1,500MW natural gas-fired combined cycle power plant and desalination plant with a daily capacity of about 480,000 tons, accounting for about 12percent of the installed generation capacity and about 23percent of the installed desalination capacity in Kuwait. A long-term Energy Conversion and Water Purchase Agreement was concluded in 2013, and the plant was completed on schedule in under three years from the start of construction. All of the power and water generated through this Project, Kuwait's first public-private partnership initiative for power and water sales, will be supplied to the Ministry of Electricity and Water of Kuwait under a long-term 40-year Energy Conversion and Water Purchase Agreement.

The total project costs were around US$1,800 million, the majority of which was procured through project finance. Kuwaiti government hold a 60percent share in this Project, while Sumitomo Corporation and ENGIE as major shareholders have each invested 17.5percent and will both be actively involved in the Project management. Sumitomo Corporation and ENGIE also established an O&M(Operation & Maintenance)company that will be committed to the O&M of the Project.

Demand for electricity and water has been rising in Kuwait as its economy has developed and its population has expanded. Sumitomo Corporation will be reliably supplying electricity and water through this Project, thereby helping to sustain Kuwait's economic development. An IPO (Initial Public Offering) is scheduled for some of the shares held by Kuwaiti government, and the profits generated from this Project will be returned to the country by soliciting investment from the Kuwaiti public. This Project employs combined cycle thermal power generation that offers excellent fuel efficiency and low CO2 emissions, and a design that provides outstanding environmental performance.

Through its involvement in the electric power infrastructure business, Sumitomo Corporation is seeking to provide its stakeholders with the Triple Values of "economic value" through expanding profits, "societal value" through power infrastructure development, and "environmental value" through eco-friendly power generation projects, and in future Sumitomo Corporation will be working to maximize the aggregate sum of Triple Values via the power infrastructure business across the Middle East and the rest of the world.
Reference
■ Location map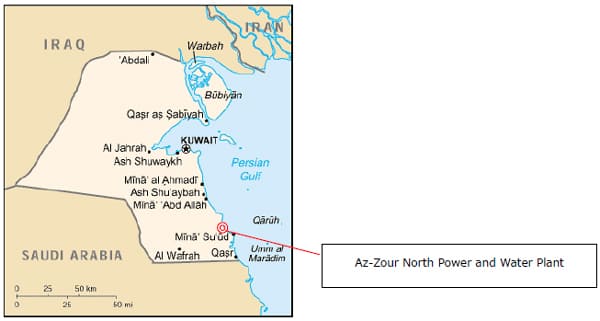 ■Plant appearance