Sumitomo Scholarship Award to University of Indonesia Jakarta
On 26 January 2015,PT Sumitomo Indonesia conducted Sumitomo Scholarship Award Ceremony for twenty students of University of Indonesia, at Sumitomo Jakarta office. This ceremony was held for scholarship period of July to December 2014. Mr Meizo Sahashi, President Director of PT Sumitomo Indonesia, awarded the scholarship certificates to each student and exchanged the tokens as symbol of long-term cooperation with the university.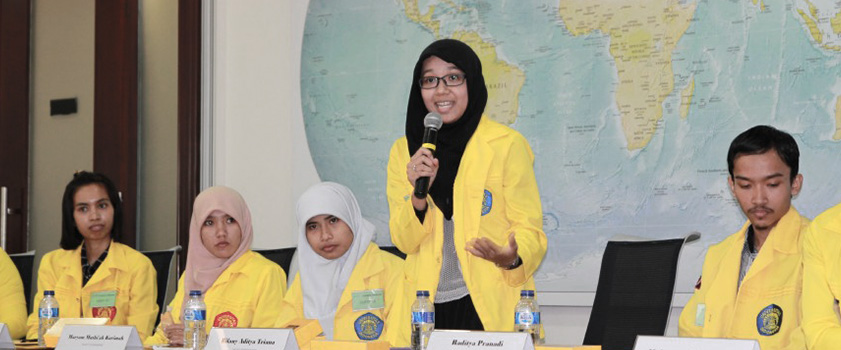 Sumitomo Scholarship program has been sponsored by Sumitomo Corporation Tokyo since 1996 with the purpose of educating future leaders, especially in developed countries. The amount given is based on current average tuition fee for one-semester period. This event was also attended by representative from Sumitomo Corporation Tokyo CSR Department, Mr Tetsuo Ono. Publications were made to "Kompas" and "Jakarta Shimbun" newspapers.
During the ceremony, we also presented a video about Sumitomo Corporation and an explanation regarding Sumitomo Corporation business activities in Indonesia. Students were very enthusiastic during the ceremony event, especially in Question & Answer session. Many questions about Sumitomo were raised, such as how many people that Sumitomo employs in Indonesia, queries about Sumitomo's businesses in Indonesia, and also about compliance in Sumitomo.
Going forward, we are going to make such regular activities to enhance the relationship between Sumitomo and CSR recipients in Indonesia.