Donation for Aceh Earthquake Disaster
In 7 Dec'16 morning, there was an earthquake in Pidie Jaya, Aceh province, with the scale of 6.5 Richter. More than a hundred people passed away, tens of thousands people were evacuated and thousands of buildings were defected.
As a representation of our attention and social responsibility to Indonesian people, for the purpose of alleviating the suffering of affected victims of Aceh earthquake, at end of Dec'16 PT Sumitomo Indonesia contributed a donation amounting to IDR 135,000,000, or equivalent to USD 10,000.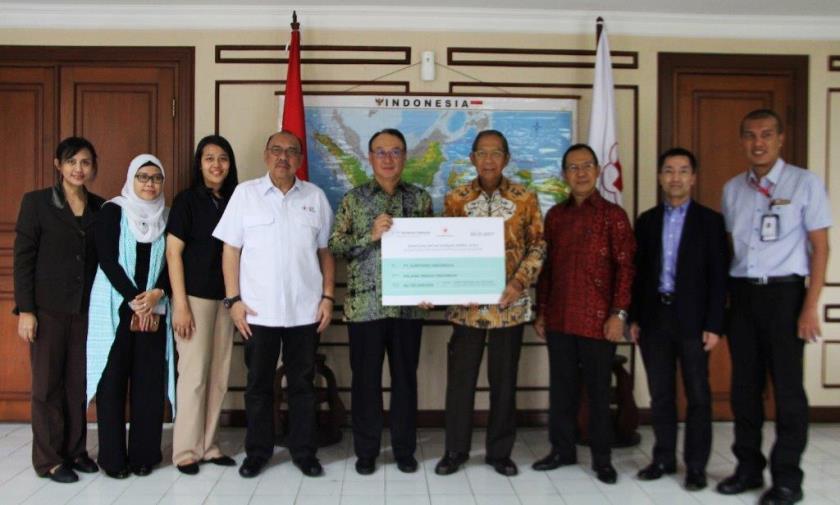 PT Sumitomo Indonesia, Palang Merah Indonesia and Japanese Red Cross Society
On 30 January 2017, Indonesia Red Cross Society (Palang Merah Indonesia or "PMI") arranged a ceremony with PT Sumitomo Indonesia at PMI's Head Office in Jakarta related to this donation. During the ceremony, Mr Norihiko Nonaka, PT Sumitomo Indonesia's President Director, received a token from Mr Ginandjar Kartasasmita, the Vice Chairman of PMI. Head of PMI office, representative from Japanese Red Cross Society, and PT Sumitomo Indonesia's CSR Ambassadors also attended this ceremony.
In future, we hope that PT Sumitomo Indonesia, together with Sumitomo Corporation within its projects and other group companies, will be able to keep contributing to the development of Indonesian for the purpose of improving Indonesian people's welfare through its business and CSR activities.