Creating a Barrier-Free Movie Experience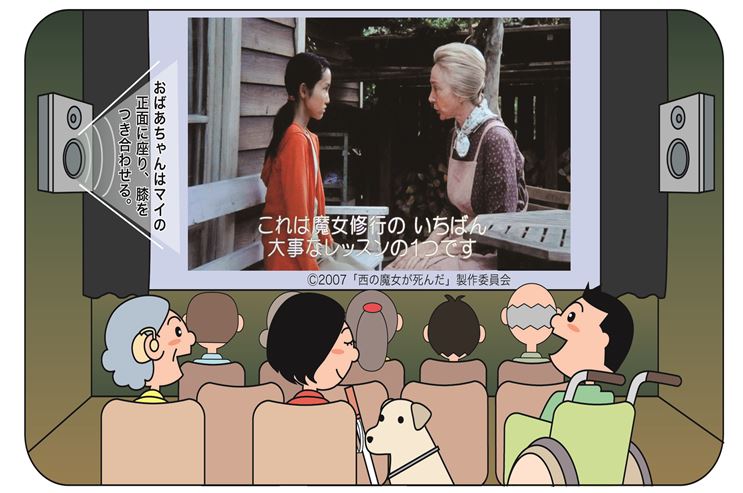 By promoting barrier-free movies, we aim to provide opportunities to think about how we can make this world a comfortable place for everyone.
Sumitomo Corporation has been producing barrier-free versions of selected movies since 2004. Specifically, we add audio descriptions and Japanese language subtitles to the movies we choose and release them concurrently with their original versions so that visual- or hearing-impaired viewers can enjoy trending movies along with their family and friends. Sumitomo Corporation has been producing around three barrier-free movie versions per year. Most of the movies chosen were made with the involvement of Sumitomo Corporation or Asmik Ace, a member of the Sumitomo Corporation Group.
Sumitomo Corporation does not consider audio descriptions and Japanese-language subtitles to be of benefit only for those with disabilities. Because the audio descriptions highlight details of scenes that may be overlooked and the subtitles reflect spoken lines that may be difficult to follow, they are useful tools for the elderly and overseas students of Japanese.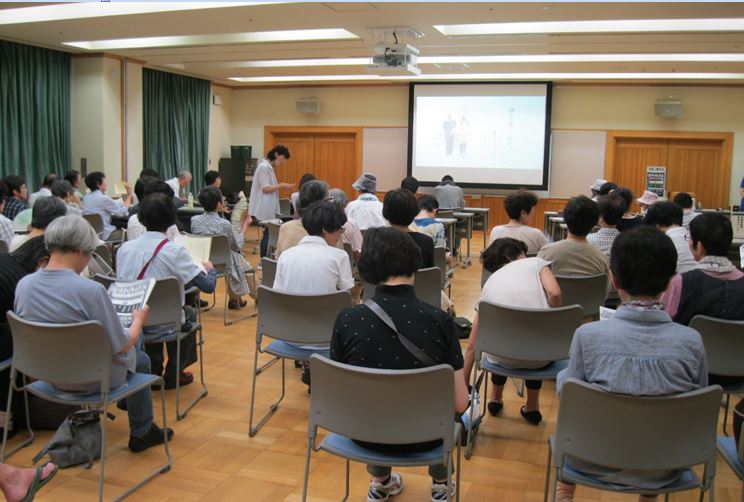 To further enhance the awareness of barrier-free movies and the benefits and value they bring to audiences, we began supporting libraries and volunteer organizations that organize barrier-free movie screenings in 2014 by offering movies that we were involved in the production of free of charge. The movie-watching events were well-received. Such events allow everyone with or without disabilities to enjoy watching movies together and promote people's awareness of the importance of support systems for people with physical disabilities to ensure equal information accessibility by everyone, regardless of their physical capacity.
List of barrier-free versions of movies produced by Sumitomo Corporation
"The Great Passage" (Directed by Yuya Ishii) Japanese-language subtitles/audio descriptions
"Yume Uru Futari" (Directed by Miwa Nishikawa) Japanese-language subtitles/audio descriptions
"Bokura ga Ita (Second Half)" (Directed by Takahiro Miki) Audio descriptions
"Bokura ga Ita (First Half)" (Directed by Takahiro Miki) Audio descriptions
"A Yell from Heaven" (Directed by Makoto Kumazawa) Japanese-language subtitles/audio descriptions
"My Back Pages" (Directed by Nobuhiro Yamashita) Japanese-language subtitles/audio descriptions
"Norwegian Wood" (Directed by Tran Anh Hung) Japanese-language subtitles/audio descriptions
"Abacus and Sword" (Directed by Yoshimitsu Morita) Japanese-language subtitles/audio descriptions
"The Women of the Inner Palace" (Directed by Fuminori Kaneko) Japanese-language subtitles
"Solanin" (Directed by Takahiro Miki) Japanese-language subtitles
"Haru's Journey" (Directed by Masahiro Kobayashi) Japanese-language subtitles/audio descriptions
"Dear Doctor" (Directed by Miwa Nishikawa) Japanese-language subtitles
"THE SUMMIT: A Chronicle of Stones" (Directed by Daisaku Kimura) Japanese-language subtitles
"YUZURIHA" (Directed by Kentaro Hayase) Japanese-language subtitles
"Gravity's Clowns" (Directed by Junichi Mori) Japanese-language subtitles/audio descriptions
"The Handsome Suit" (Directed by Tsutomu Hanabusa) Japanese-language subtitles/audio descriptions
"Gu Gu the Cat" (Directed by Isshin Inudo) Japanese-language subtitles/audio descriptions
"The Witch of the West is Dead" (Directed by Shunichi Nagasaki) Japanese-language subtitles/audio descriptions
"Best Wishes for Tomorrow" (Directed by Takashi Koizumi) Japanese-language subtitles/audio descriptions
"Our Mother" (Directed by Yoji Yamada) Japanese-language subtitles/audio descriptions
"YUNAGI NO MACHI SAKURA NO KUNI" (Directed by Kiyoshi Sasabe) Japanese-language subtitles
"Love and Honor" (Directed by Yoji Yamada) Japanese-language subtitles/audio descriptions
"Honey and Clover" (Directed by Masahiro Takada) Japanese-language subtitles
"The Professor's Beloved Equation" (Directed by Takashi Koizumi) Japanese-language subtitles
"The Hidden Blade" (Directed by Yoji Yamada) Japanese-language subtitles