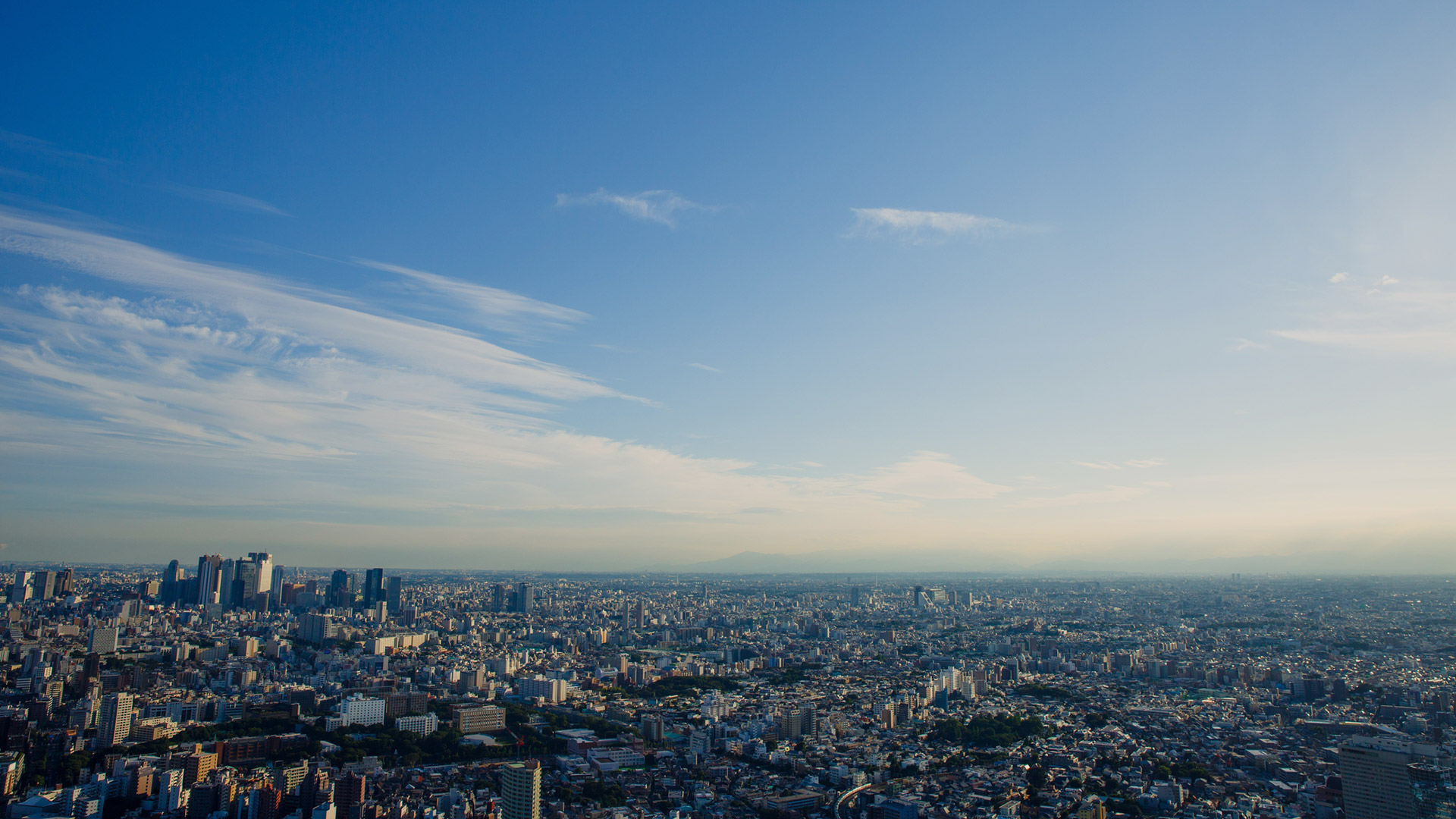 Corporate Social Responsibility
CSR Initiatives for Supply Chain Management
The Sumitomo Corporation Group has established the CSR Action Guidelines for Supply Chain Management. Through the implementation of these guidelines, we are aiming to realize a sustainable society by working together with our suppliers and business partners to achieve responsible value chain management. The Company provides numerous opportunities to promote the understanding and entrenchment of these guidelines, including training for new employees and locally hired employees, meetings within business units and domestic and overseas regional organizations, and pre-departure briefings with employees being sent on overseas assignments.
In the event that we find violations of these guidelines in our supply chains, we will urge the suppliers, business partners or contractors, etc. to remedy and improve the situation, while providing support to them as needed. However, if there are no improvements to the situation by them, we will consider carefully whether to continue our business with them or not.
The Sumitomo Corporation Group CSR Action Guidelines for Supply Chain Management
Established in November 2009
Revised in November 2013
The Sumitomo Corporation Group aims to be a global organization that, by constantly staying a step ahead in dealing with change, creating new value, and contributing broadly to society, strives to achieve prosperity and realize the dreams of all our stakeholders through sound business activities in strict adherence to our Corporate Mission Statement, and the management style principle contained therein, wherein prime importance is given to integrity and sound management with the utmost respect being paid to the individual.
In order to promote sustainability and social wellbeing in accordance with our mission, the Sumitomo Corporation Group hereby sets down these CSR Action Guidelines for Supply Chain Management. With a view to further strengthening the global relations which form one of the foundations of our core competence of integrated corporate strength, we request our suppliers and business partners to kindly accept, understand, and practice these guidelines so that together we can achieve responsible value chain management.
Our suppliers and business partners are expected to:
Respect human rights and not to be complicit in human rights abuses
Prevent forced labor, child labor and the payment of unfairly low wages
Not engage in discriminatory employment practices
Respect the rights of employees to associate freely in order to ensure open and fair negotiations between labor and management
Provide employees with safe and healthy work environments
Protect the global environment and give due consideration to biodiversity
Ensure the quality and safety of products and services
Ensure fair business transactions, to abide by all applicable laws, rules and regulations, and to prevent extortion, bribery and all other forms of corrupt business practices
Ensure appropriate information security
Cooperate with members of local host communities and contribute to sustainable regional development
Disclose information regarding the above in a manner both timely and appropriate.
Interpretation of The Sumitomo Corporation Group CSR Action Guidelines for Supply Chain Management(PDF/240KB)
Supply chain management policies for specific commodities
To realize a sustainable society by working together with our suppliers and business partners, Sumitomo Corporation has established the CSR Action Guidelines for Supply Chain Management. We have also established specific policies for natural resource-related commodities requiring sustainable procurement.
Forest Management Policy
Sourcing Policy for Forest Products
Respect for Human Rights
Sumitomo Corporation Group's Human Rights Policy
Established in May 2020
Sumitomo Corporation declares in its management principles that it aims to be a global organization that contributes broadly to society and places prime importance on utmost respect for the individual. We will respect human rights to fulfill our corporate social responsibility, and pursue sustainable growth with society.
Sumitomo Corporation became a signatory in 2009 to the "Ten Principles of the United Nations Global Compact", which advocates for values common to its own management principles, including those regarding human rights and labor. We also respect the "International Bill of Human Rights" and the International Labor Organization's "Declaration on Fundamental Principles and Rights at Work", and we operate in accordance with the "United Nations Guiding Principles on Business and Human Rights".
Scope of application

Sumitomo Corporation endeavors to ensure that all executives and employees within its group fulfill their responsibility to respect human rights. In addition, we encourage our suppliers and business partners to accept, understand and practice this policy so that we can work together to fulfill our social responsibilities, including respect for human rights in the relevant value chain.

Human rights due diligence

Sumitomo Corporation strives to identify and to prevent or mitigate any adverse impact on human rights through the application of human rights due diligence processes. Where we identify that our group's practices have caused or contributed to an adverse impact on human rights, we will endeavor to take appropriate remedial measures.

Compliance with relevant laws

Sumitomo Corporation will comply with national and regional laws and regulations applicable to its group operations. When those laws and regulations are incompatible with internationally recognized human rights, we will seek to employ measures to respect international human rights norms.

Stakeholder engagement

Sumitomo Corporation will seek to improve and progress human rights measures through engagement and dialogue with relevant stakeholders.

Education

Sumitomo Corporation will appropriately educate its executives and employees within its group in order to ensure that this human rights policy is understood and implemented effectively.

Reporting

Sumitomo Corporation will disclose appropriate information regarding its efforts to respect human rights.
Compliance with labor-related global standards and laws
The Sumitomo Corporation Group is addressing human rights issues. While complying with laws and regulations in our countries of operation, we support and respect the Ten Principles of the UN Global Compact, as well as the International Labour Organization's core labor standards of eight conventions in four areas: freedom of association and the effective recognition of the right to collective bargaining, elimination of all forms of forced or compulsory labor, effective abolition of child labor, and elimination of discrimination in employment and occupation. With regard to the elimination of discrimination in particular, we have clearly stated that no person should be discriminated against due to human race, nationality, gender, religion, creed, age, origin, physical or mental disability, or other reasons that are not related to business operations. We are also complying with minimum wage requirements based on the labor standards and labor conventions of each country.
Respect for the rights of children
As the world population is mostly made up of children and younger generations, the Sumitomo Corporation Group is aware that its corporate activities have an impact on the lives of children both directly and indirectly. For companies, children are family members of employees, as well as important stakeholders who will play future roles in the sustainable development of society. Based on this recognition, we signed the United Nations Global Compact in its support of the Ten Principles, and respect Children's Rights and Business Principles. We are committed to preventing the violation of children's rights through our business and social contribution activities.
Respect for the rights of indigenous peoples
As part of its commitment to respect human rights, the Sumitomo Corporation Group respects global standards pertaining to the rights of indigenous peoples, including the United Nations Declaration on the Rights of Indigenous Peoples, and the principle of "free, prior and informed consent (FPIC)." In business operations in areas where indigenous peoples reside, we recognize their unique culture and history and comply with applicable laws and regulations of each country or region.
Concept concerning the use of security companies
In the operation of its business in countries around the globe, the Sumitomo Corporation Group uses security companies to protect the safety and security of its employees. When necessary, we may use armed security personnel, recognizing the human rights risks involved and complying with laws and regulations of the countries in which we operate. We select security companies in accordance with the Voluntary Principles on Security and Human Rights and the Basic Principles on the Use of Force and Firearms by Law Enforcement Officials.
Initiatives for Human Rights Issues
The Statement for the UK Modern Slavery Act 2015
We set out the steps Sumitomo Corporation Group has taken to help ensure that modern slavery and human trafficking are not taking place in SC Group's business or supply chains. The statement has been approved by the board of directors of Sumitomo Corporation.
Training on human rights issues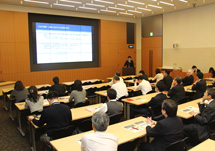 The issue of human rights abuses is becoming increasingly serious in the international community. Sumitomo Corporation Group's business activities cover a wide range of countries, regions and industrial fields. We therefore consider that it is necessary for the Group to cooperate with suppliers, customers and business partners, instead of acting alone, in promoting the entire supply chain to promote CSR throughout the entire supply chain. Since FY2014, we have held seminars with external experts and e-learning on human rights issues that need special attention in business activities. The seminars cover a wide range of topics, including the relationship between companies and human rights issues, actual cases of reputational risks from human rights and how to assess the influence of human rights. Comments from seminar participants include "Since the Group is engaged in diverse business activities all around the world, we should continue awareness-raising activities so that as many employees as possible can better understand relevant issues.ˮ
Social Responsibility
Basic Concept of Responsibility for Customers
The Sumitomo Corporation Group operates TV shopping, food supermarket, and other businesses that handle consumer products and services, but will not handle products that seriously negatively impact society and run counter to corporate social responsibility, including: any product that has not been confirmed as safe and therefore is socially questionable; any product that may impair human rights, dignity or reputation; any product that defames or disparages another company; and any product that infringes on intellectual property, including patents, utility model rights, design rights, trademarks and copyrights, or other rights of third parties. We also comply with laws and regulations on product and service safety and quality standards. If any product or service we provide has a quality problem, we will take prompt actions to prevent related damage from spreading, and make efforts to investigate the cause of the problem and prevent a recurrence.
Responsible advertising and marketing
In lifestyle, retail, and other business areas that deliver products directly to consumers, we are fully aware of the significance of the impact that advertising expressions have on consumers. Placing first priority on safety and security, we carry out advertising and marketing activities with due consideration of our social responsibilities. Taking into account the position of consumers and using factual expressions in principle, we will not use misleading expressions describing the characteristics or quality of our products and services.
Access to better nutrition and medicine
Demand for medicine is rapidly increasing in emerging and developing countries due to growing populations and economic development. In many of these countries, however, access to healthcare services and medicine is not fully secured for many people due to underdeveloped social infrastructure and healthcare environments as well as to economic reasons. In Japan, as its super aging society faces increasing expenditures for nursing care and healthcare, curbing social security cost is a pressing issue.
With focus on providing comprehensive support to players in the pharmaceutical industry, from upstream to downstream, taking advantage of the unique global structure as a general trading company, and on disseminating medicine in emerging countries, the Sumitomo Corporation Group is making great contributions to improving people's quality of life. We are also participating in the healthcare-related service business, and are involved in the operation of pharmaceutical-dispensing drug stores. By promoting use of home healthcare and nursing care, we will contribute to achieving better access to nutrition and medeicine.
Integrated Solution Provider for Pharmaceutical Industry "From Upstream to Downstream"
Participation in Community Healthcare Coordination Platform, Inc.
Activities as a Member of Society
Participation in Industry Initiatives on Responsibility for Customers
Sumitomo Corporation Group's members delivering products directly to consumers (i.e., Jupiter Shop Channel operating the "Shop Channel" for TV shopping, the food supermarket chain Summit, and Tomod's operating pharmaceutical-dispensing drug stores) are participating in the following industry initiatives (as of December 2020).
Japan Direct Marketing Association (JADMA)
JADMA is the official representative body of the direct marketing industry specified in Article 30 of the Act on Specified Commercial Transactions. Through cooperation with consumer organizations and public offices' consumer contact points, JADMA promotes thorough after-sales care, proper advertising expressions, and its consultation service to earn consumers' trust and facilitate healthy development of the industry, with the goal of making mail order sales enjoyable and convenient.
All Japan Supermarket Association (AJS)
AJS was established in 1962 to contribute to the development of the entire supermarket industry by supporting member companies from the viewpoint of education, products, and information.
Japan Supermarkets Association (JSA)
JSA was established in 1999 to plan, propose, and promote food distribution policies together with local communities.
Japan Chain Stores Association (JCA)
JCA was established in 1967 to rationalize distribution systems, facilitate their modernization, and contribute to people's lives by improving retailing management through the promotion of healthy development and expansion of chain stores.
Nippon Pharmacy Association (NPhA)
The main purposes of this association are as follows, based on three key words of safety, convenience and economy which are to clarify the roles of national insurance pharmacies to prioritize the profit of Japanese people. It also aims to contribute to realize health insurance pharmacies that can be truly trusted and satisfied by Japanese people through activities such as fostering health insurance pharmacies with people's viewpoint, providing relevant information and streamlining pharmacy operation and establishing various infrastructures to do so.
Tomod's discontinued tobacco sales at all of its stores at the end of July 2017 to help customers achieve a healthy and affluent life. Even before this, Tomod's has supported efforts to quit smoking, introducing customers to medical institutions that provide smoking cessation outpatient service in the neighborhood, as well as products that help them to quit smoking, and providing nutritional guidance from national registered dietitians before and after smoking cessation. Additionally, to encourage its employees to work together with customers in quitting smoking, Tomod's introduced a welfare program for employees that supports the smoking cessation program. In recognition of these activities, the Japan Society for Tobacco Control recently offered a letter of appreciation to Tomod's.
Creating local employment
The Sumitomo Corporation Group operates large-scale resource development, infrastructure development, manufacturing, processing and sales businesses in countries around the world, and therefore the impact of its business activities on the economies and lifestyles of these countries and regions is significant. Recognizing that we have a responsibility to pay attention to the history of the country or region and care about local residents as we carry out our business activities, we contribute to the development of local communities not only by creating and promoting local employment but also by working on skills advancement for sustainable development, support for self-reliance, and protection of the local culture and the environment.
Initiatives in the mining business
"Social license to operate" is a term that means to gain approval from society to carry out business activities. The mining business in particular requires initiatives to reduce environmental impact arising from development and to facilitate sustainable development of local society. In conducting the mining business, the Sumitomo Corporation Group values compliance with laws and regulations, as well as the concept of a social license to operate, and works on rehabilitation at all mining sites where it operates to minimize its impact on the ecosystem and contribute to environmental restoration.
Eventually the production at the mine will come to an end. It is therefore important to support economic independence and minimize environmental impact after the operation shuts down so that the local community can achieve sustainable development. When participating in a mining project, the Sumitomo Corporation always develops a business plan that covers the costs required to restore the site to its original state after closure, according to the life of the mine. When actually closing a mine, we take appropriate steps in accordance with local laws and regulations.
Initiatives in the media business and digital business
The Sumitomo Corporation Group respects personal information provided by customers and pays the utmost attention to data privacy. We recognize their importance particularly in the media business and the digital business, which require strict and proper management, and accordingly ensure compliance with laws and regulations on the handling of personal information, guidelines set forth by administrative bodies, and other standards. For example, Jupiter Shop Channel, as an operator of the "Shop Channel" for TV shopping; SCSK as an IT services provider; and T-Gaia as a mobile phone retailer, are certified as handling personal information properly in compliance with Japanese Industrial Standards JIS-Q 15001 personal information protection management systems—requirements, making them eligible to use the privacy mark.
In operating the media business, including the multichannel programming distribution, we are making efforts to meet society's trust by observing freedom of speech and expression, following the spirit of democracy, respecting basic human rights and public opinion, and protecting law and order.
Declaration of Partnership Building
In June 2020, the Council on Promoting Partnership Building for Cultivating the Future, whose members consist of the Chairman of Keidanren (the Japan Business Federation), the Chairman of the Japan Chamber of Commerce and Industry, the President of Rengo (the Japanese Trade Union Confederation) and the relevant ministers (the Minister of State for Economic and Fiscal Policy; the Minister of Economy, Trade and Industry; the Minister of Health, Labour and Welfare; the Minister of Agriculture, Forestry and Fisheries; and the Minister of Land, Infrastructure, Transport and Tourism), introduced a framework called the Declaration of Partnership Building.
This framework allows a company to declare, in the name of the company's representative, that it will build a new partnership for shared prosperity throughout the supply chain by reinforcing relationships with supply chain partners and enterprises that seek to create value.
By adopting the Declaration, companies publicly commit to:

shared prosperity throughout their supply chains and new partnerships across the borders of business scales and groups; and
compliance with the Promotion Standards stipulated in the Act on the Promotion of Subcontracting Small and Medium-sized Enterprises regarding fair transactions with subcontractors.
Hence, each company's efforts in this regard become visible.
Sumitomo Corporation has endorsed this initiative and expressed its commitment to building trust and creating new value through sound business activities with suppliers, customers, joint venture partners, financial institutions, logistics companies and all other business partners. (August 17, 2021)
Work Health and Safety
Basic Policies
The Sumitomo Corporation Group offers a safe, hygienic and healthy working environment for its employees. The Group positions physical and mental health management as the foundation of work-life management, and encourages employees to work efficiently to create sufficient time for their private lives. The aim is to promote a work style that allows employees to maintain and enhance their health while being highly productive.
"To achieve prosperity and realize dreams through sound business activities" is a management principle upheld by Sumitomo Corporation. The Company believes that its corporate mission is to deliver financial and emotional enrichment to people around the world including its employees, shareholders, business partners and local community members, and realize their dreams. Maintaining and enhancing employee health is one of the most critical factors that underpin this pursuit. Sumitomo Corporation will continue with its diverse health management initiatives.
In recognition of these initiatives, Sumitomo Corporation has been certified, for six consecutive years from 2017 to 2022, as an Excellent Enterprise of Health and Productivity Management―White 500 by METI (Ministry of Economy, Trade and Industry) for its superior management practices that focus on promoting employee health.
Measures against global health problems
Currently, many countries around the world are struggling with serious health issues, including HIV (AIDS), tuberculosis and malaria. The Sumitomo Corporation Group is determined to take active measures against these global health problems.
In order to ensure that officers and employees of our Group have accurate information about and protect themselves from these infectious diseases, the Company provides health checkups in advance for officers and employees who are assigned overseas and, when necessary, encourages them to be vaccinated against infectious diseases. We also provide a variety of training before their assignments.
Moreover, we started organizing e-learning and seminars on safety measures in FY2017 in response to requests by employees about to go on their first overseas business trip as well as those looking for the latest information on infectious diseases. These programs aim to enhance awareness of crisis management and disseminate accurate and up-to-date information. We make these programs available to officers and employees not only of Sumitomo Corporation but also of the entire Group within and outside Japan.
Through these activities, we support employees' health and safety while they are overseas.
Employee engagement
Sumitomo Corporation holds a monthly health and safety committee meeting, which is attended by labor union officials on behalf of employees, to discuss health promotion for employees and a better work environment. A roundtable conference on work styles is also held twice a year by management and the union, where participants exchange opinions with a view to improving work styles qualitatively and quantitatively in terms of working hours for union members.
Report on work-related accidents
Sumitomo Corporation strives to prevent work-related accidents. When an accident does occur, we have a system that ensures prompt reporting to the Employee Relations & Compensation Department.
The following summarizes the number of work-related accidents in the last three years among Sumitomo Corporation employees on a nonconsolidated basis.
(Number of work-related accidents)
FY2019:3 / FY2020:2 / FY2021:2
Crisis management system
We employ workers in many parts of the world. In order to prepare for the incidents, accidents and disasters that could occur anywhere in the world, each employee needs to be aware of risks on a daily basis and to take appropriate safety measures. At the same time, each organization also needs to develop an infrastructure for safety measures to prepare for emergency. In addition, in the event of an emergency, it is important to establish a support system and promptly resume business operations with a sense of speed.
We have therefore centralized reporting of all domestic and international emergency cases to the Disaster Response and Safety Management Dept. and ensure prompt reporting to the president by appointing the executive in charge of human resources, general affairs and legal affairs as General Manager of Emergency measures. This structure also allows us to provide necessary support in a prompt and centralized manner. If a major natural disaster occurs, our fundamental policy is to prioritize (1) protecting human life, (2) mutual assistance, and (3) prompt recovery of business operations. We have stated this in manuals and inform employees.
Initiatives
The Sumitomo Corporation Group is engaged in a wide range of business categories , including plants, construction sites, mining sites and offices. Therefore, to provide secure and safe work environments, we carry out safety and health activities in accordance with the characteristics of each business category. Here, we introduce an initiative for HSSE (health, safety, security & environment) of steel tubular products that we provide globally.
Stable supply of tubular products based on strict HSSE management
As one of the major suppliers of pipes for the Oil & Gas industry, Tubular Products Division is engaged in diverse pipe supplying activities around the world. At Tubular Products Division, Health, Safety, Security and Environment is more than just a priority, it is a core value. We promote a culture that drives exemplary behavior, incorporating HSSE as part of our everyday lives. To achieve this, we have developed a robust management system, fully supported by strong leadership engagement, disseminated throughout all our operations. At the outset of our HSSE journey and to improve our performance by way of reducing our occupational Health, Safety, Security and Environmental accidents the company introduced the "Zero Harm" initiative. Since 2014 we have established and spread HSSE as our corporate culture under the "Beyond Zero Harm" framework, focusing on continual improvement and recognizing HSSE is not a process in its own right, but an outcome of business decisions, strategy, culture and performance.
We developed an HSSE management system that applies to all global activities based on continuous improvement through the PDCA cycle. We also assigned staff specializing in OHSAS 18001 and ISO 45001 to major overseas offices and established a global HSSE network connecting all five regions in the world. Through these efforts, we are enhancing HSSE management taking into account regional business activities.
The General Manager of the Tubular Products Division demonstrates strong leadership and commitment by publicizing an annual HSSE Policy and Objectives, these are compatible with the strategic direction of the organization. The policy places emphasis on our commitment to ensuring HSSE as a core value for all, from managers and employees to customers, contractors and suppliers.
The most impactful HSSE management program is one that equips any employee to quickly access the information they need and report any issue. Whether that information is reporting an incident, accessing a training record, or reviewing the results of a safety audit. Tubular Products are now leveraging advancements in HSSE management software, as well as mobile solutions, to improve the timeliness and consistency of reporting ensuring better efficiency and greater compliance. Through continued consultation and stakeholder engagement we strive to enhance and further strengthen our HSSE management system to go "Beyond Zero Harm". Simultaneously we will work with our Supply Chain, Subsidiaries and Partners to meet and exceed our customers' expectations and fulfil our social mission as the top supplier through stable supply of tubular products.
Expanding the Metal Products and Equipment Business Value Chain in the Energy Industry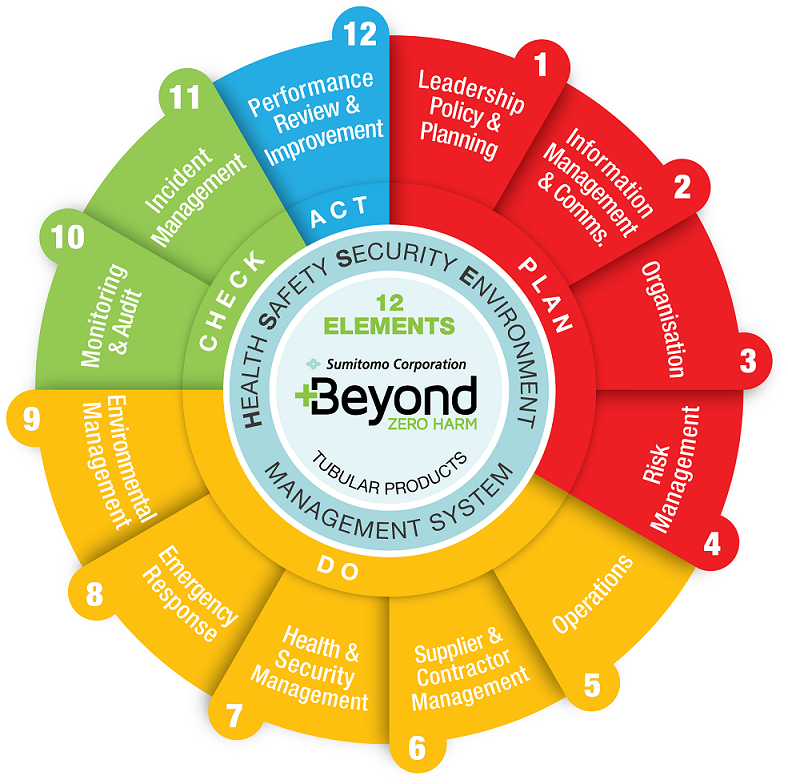 Education on crisis management
Sumitomo Corporation offers a variety of training programs and seminars in order to foster crisis awareness and to equip each employee with necessary knowledge.
As a countermeasure against natural disasters, each year we conduct emergency response exercises of the Crisis Management Team and on each floor of the Tokyo Head Office in anticipation of an earthquake under the Tokyo Metropolitan region. Throughout the Group, we also develop, and conduct exercises for, impact based BCPs that can be used to respond to multiple disasters, including not just earthquakes, but also typhoons, floods, pandemics, etc.
Seminars on safety measures are divided into 4 grades and 6 courses, allowing participants to attend according to their experience and learning levels. Also, we support the development of manuals on safety measures in each business site, and we have established a system that can provide prompt and effective relief and support through cooperation with domestic and international partners in case of emergency.
We also develop safety net systems as part of our daily operations. For example, we have introduced a system to obtain real-time information on troubles in various parts of the world (e.g., terrorism, serious accidents, severe weather, natural disasters, etc.) and push forward the information to employees posted or on business trip in various regions. Another example is a system to provide support when emergency medical care is needed.
Safety measures in uranium mining
Our Groups development of uranium mines, production and sales of uranium concentrates(*1), and trading of various kinds of nuclear fuels containing radioactive materials comply with each country's laws and regulations based on the IAEA (International Atomic Energy Agency) standards. With our highest priority on HSSE (Health, Safety, Security and Environment), we place the utmost importance in ensuring the safety of onsite employees and local residents. Specific measures taken in production and sales of uranium concentrates include the measurement of radiation exposure of all those entering and leaving the plant, and the management and monitoring of cumulative radiation doses in employees(*2). Furthermore, the uranium concentrates and various kinds of nuclear fuels we deal in are all used for peaceful purposes such as power generation. Our relevant activities comply with security trade control-related laws and regulations.
(*1) Products manufactured in the said business are natural uranium concentrates, and waste materials produced in mines and refining plants are limited to a small amount of low-level (naturally occurring) radioactive waste derived from the refining process. Such waste materials are appropriately treated in accordance with IAEA standards and Kazakhstan's laws. Furthermore, no high-level radioactive waste or medium-level radioactive waste has been produced in the business for the two years from FY2020 to FY2021. In addition, a management structure for ensuring safety and quality has been put in place.
(*2) We have established an internal standard for the maximum permissible exposure of workers that is stricter than the laws and regulations of Kazakhstan, where we conduct the business, and we are compliant with such standard. Further, no external radiation leaks have occurred in the two years from FY2020 to FY2021.
Clinic
Sumitomo Corporation has set up an in-house clinic (internal medicine and dentistry) to support employees' health management on a day-to-day basis. The internal medicine department is open five days a week for outpatients, with specialists in lifestyle diseases such as diabetes and hyperlipidemia, infectious diseases, and the liver, kidney and respiratory organs. The department also provides employees at high risk of developing lifestyle diseases with ongoing support, including nutrition counseling by registered dietitians and collaboration between specialists in diabetes and nurses, as well as regular blood tests. At the dentistry department, checkups are provided twice a year in addition to regular treatment. Dental and oral hygiene education is also offered on an individual basis as needed.
Mental healthcare
We provide training on mental health several times a year, including self-care education and training for managers. Through these comprehensive programs taught by external instructors, trainees learn key points about their own mental health and that of others. About 450 employees (including those from Group companies), mainly young employees and managers, take this training in the form of 10 sessions per year. We have also set up a counseling center "for everything, with confidentiality totally protected," which is used by a total of over 1,200 employees annually. In addition, we conduct an annual stress checkup, which is extended to employees working overseas. The health consultation office within the in-house clinic, also covering mental health, is also available to employees working abroad. To prevent the progression of mental illness and help employees return to work, the in-house clinic also has a specialist in psychosomatic medicine available three days a week.
Financial support for health checkups and comprehensive medical examinations
Financial support for health checkups and comprehensive medical examinations
At Sumitomo Corporation, employees younger than age 35 are required to undertake a regular health checkup at the in-house clinic, while those aged 35 and older are required to take a comprehensive medical examination at an external medical institution. For the checkups and examinations at an external medical institution, employees can receive financial support (up to 10,000 yen for a regular checkup and 80,000 yen for a comprehensive medical examination) from the Health Insurance Society.