Global Cases
From an airbag cushion factory in Nagasaki to the world
Japan
Side curtain airbags providing better safety performance
Often described as a daily necessity or a symbol of self-expression, vehicles have become the preferred mode of transportation, making our lives more convenient and productive. Sumitomo Corporation has been broadly committed to the automobile industry, ranging from the supply of raw materials for and development and manufacturing of vehicle components to the sales of finished vehicles. In each area, Sumitomo Corporation is seeking to increase the attractiveness and value of automobiles and make them even more useful in our daily lives.
One of the vehicle functions that has been underscored in recent years is the improvement of safety performance. An item that has been particularly drawing attention is the side curtain airbag, which covers front and rear doors/windows and absorbs the impact of a collision while preventing passengers from being ejected from the car. In Japan, the use of airbags has spread rapidly since the 1990s, and frontal airbags, which inflate in front of driver and passenger seats in the event of an accident, are now installed as a standard feature in almost every model. What brings vehicle's safety performance to a higher level is the side curtain airbag, installation of which is accelerating in North America and Europe.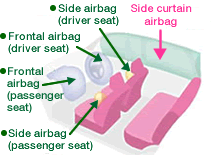 SAS's side curtain airbag cushions installed in vehicles worldwide
In November 2004, Sumitomo Corporation, in partnership with Asahi Kasei Fibers Corporation (presently Asahi Kasei Corporation), a developer of raw materials for airbags and the one-piece woven (OPW) technology (a special weaving method for producing airbags three-dimensionally and seamlessly by a special weaving loom), and Suminoe Textile, a manufacturer of interior materials for automobiles, established Sumisho Airbag Systems(SAS) in Matsuura City, Nagasaki Prefecture. Adopting the OPW technology, Sumitomo Corporation advanced into the business of manufacturing side curtain airbag cushions.
SAS's side curtain airbag cushions are now installed in vehicles manufactured not only by Japanese but also global automakers.
Airbag cushions made by a factory in Nagasaki Japan are helping protecting drivers around the world every day.
OPW side curtain airbags show rapid growth
Normally, a side curtain airbag is installed in the roof rail above the door. It deploys like a curtain within 0.015 to 0.02 seconds on sensing side impact and protects the passenger's head from the impact of the collision. This type of side curtain airbag is categorized as "First Impact (F/I)".
Another type of side curtain airbag is "Rollover" (R/O). As well as inflating at the moment of collision, a R/O airbag remains inflated for several seconds, protecting passengers and preventing them from being ejected from the vehicle even in rollover accidents. The OPW manufacturing technology used by SAS is well-suited to making R/O airbags. With the OPW technology, airbags can be formed without a sewing process, thus providing such features as improved airtightness and longer deployment time.
The installation rate of F/I and R/O side curtain airbags combined in North America reportedly reached almost 100% in 2016. It is reported that the rate has exceeded 90% in Europe and 40% in Asian nations such as China and Japan.
As background for these figures, the new regulation addressing side crashes came into effect in March 2009 in the U.S. Under this new regulation, the phase-in measures which had already started to reduce ejections of vehicle occupants resulting from side crashes were moved into full-scale implementation effective as of September 2016. Currently, R/O airbags that can protect vehicle occupants for several seconds are regarded as the most effective solutions to this demand. Among all side curtain air bags, OPW airbags that can offer high rollover safety performance are expected to spread rapidly around the world.
Developing advanced Chamberless technology ahead of competition
SAS is the only Japanese manufacturer that can produce OPW airbags and one of only six in the world. The OPW method requires sophisticated and special technologies along with high-cost equipment, making it difficult for new players to enter the market. It is therefore expected that the existing six companies will improve their technologies to meet the global needs.
By using its advanced technology, SAS has taken the lead over competition in the industry by introducing the "Chamberless" concept.
A conventional OPW airbag typically has a structure of several large inflatable sections or "chambers." A Chamberless airbag, on the other hand, consists of many small sections. The latter facilitates smooth diffusion of inflationary gas throughout the bag with low risk of bursting, faster and even inflation with high-level absorption of vehicle collision impact. The utilization of this technology is greatly anticipated as it will allow automobile manufacturers to mount more compact and functional airbags—something they have been actively seeking to replace the larger conventional types.
Other factors supporting the high performance of SAS airbags are the improved airtightness and flame resistance made possible by high silicone coating technology and know-how provided by its business partner, Chukoh Chemical Industries, Ltd. The company's technology and know-how showcase its world leading performance for fluoroplastic processing and coating. Membrane roofing materials manufactured by the same technology are adopted in stadiums for big sports events such as the Beijing Olympic Games and the World Cup in South Africa.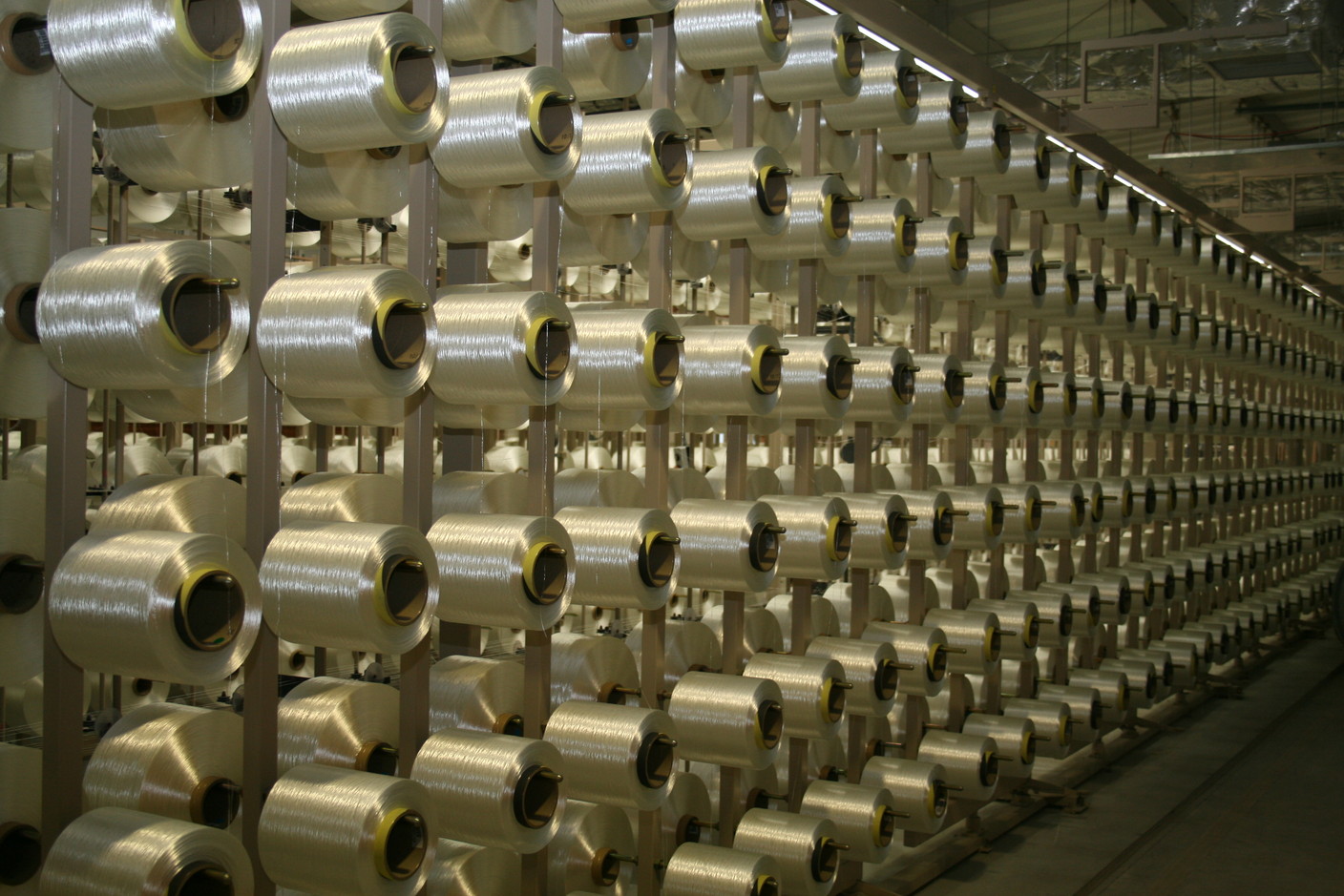 For future safety and security
As the adoption of R/O airbags increases, the OPW airbag market is expected to grow as well. With future orders for the coming several years already awarded, SAS is expecting to ship a total of 7 million units for fiscal 2017, an increase of 10% from the previous year. In order to respond to this growth in business, the company has invested in capacity expansion.
By providing reasonably priced yet, innovative products and concepts which improve safety, SAS will continue to devote its time and energy to creating a society where individuals and families can enjoy driving and be safe while doing so.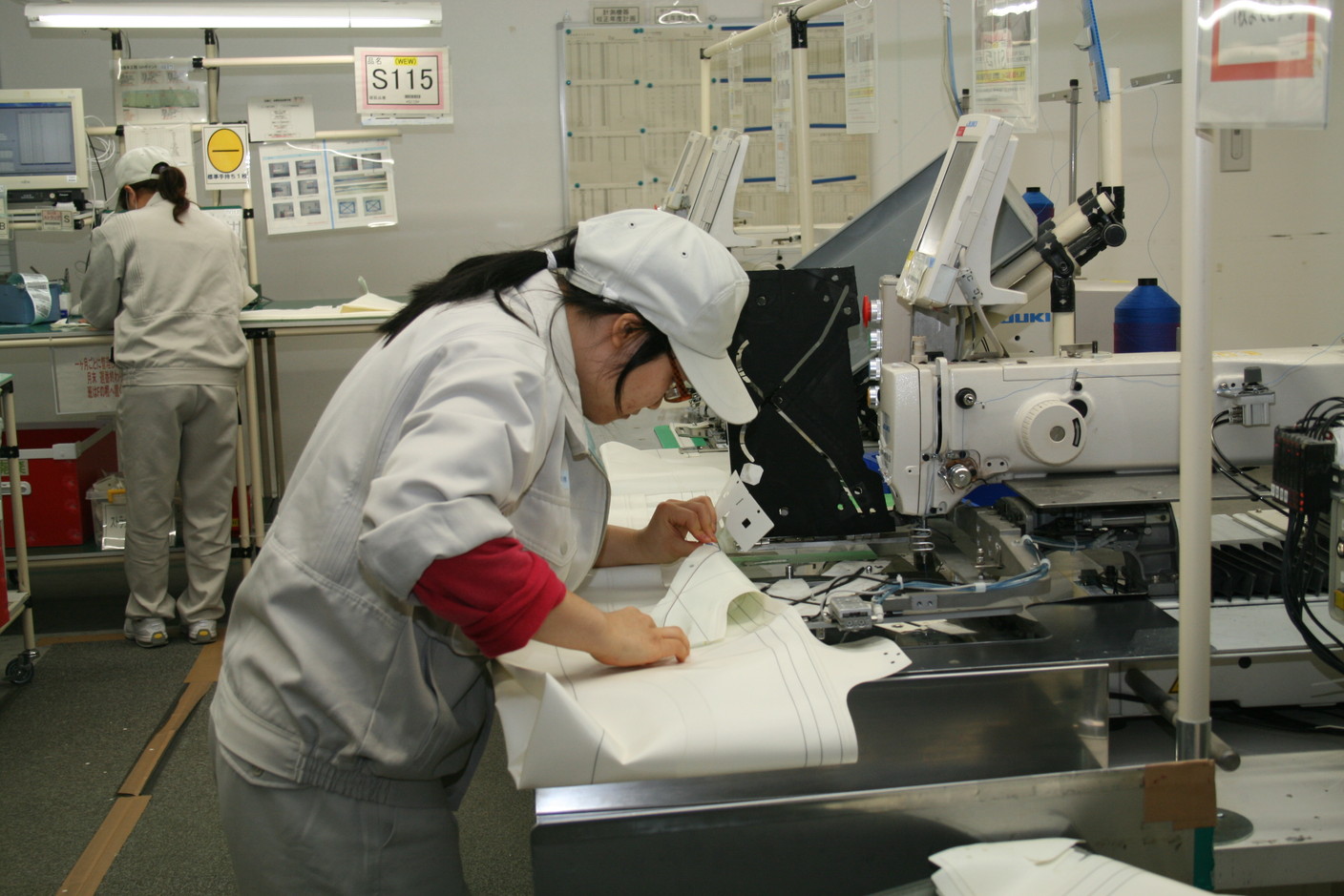 Keyword
Transportation & Construction Systems Business
Japan
Transportation