Volunteer Program for Earthquake Disaster Reconstruction
Organizing employee volunteer program, as part of the reconstruction assistance of the Great East Japan Earthquake
As part of its actions to give humanitarian aid to the afflicted areas, nearly 160 employees had participated in the volunteer program for earthquake disaster reconstruction from early August to December, 2011.
Sumitomo Corporation organized this program that supports employees who want to participate in disaster volunteer activities. It was developed after a series of consultations with local government officials and with the staff of a local social welfare council that manages a volunteer center for disaster reconstruction.
Participants in the program have taken part in activities in Yamamoto Town located at the southern end of Miyagi Prefecture. More than 600 residents of the town lost their lives in the disaster and about 80% of dwellings were damaged, of which more than half were totally destroyed. The JR Joban Line railway track was also swept away by the tsunami, making the town difficult to access from the outside. Sumitomo Corporation chose the town as the place for its volunteer program because it was in need of long-term help from volunteers.
Employees were assigned at the local volunteer center in the town, carrying out support activities that included helping to accept volunteers, allocate work to those volunteers, and disseminate helpful information through a blog. They also helped to remove debris and mud from the houses of residents that had been damaged by the disaster and to plant seedlings and thin out leaves at strawberry farms, since strawberries are a local specialty. Employees who participated in the volunteer program made the following comments.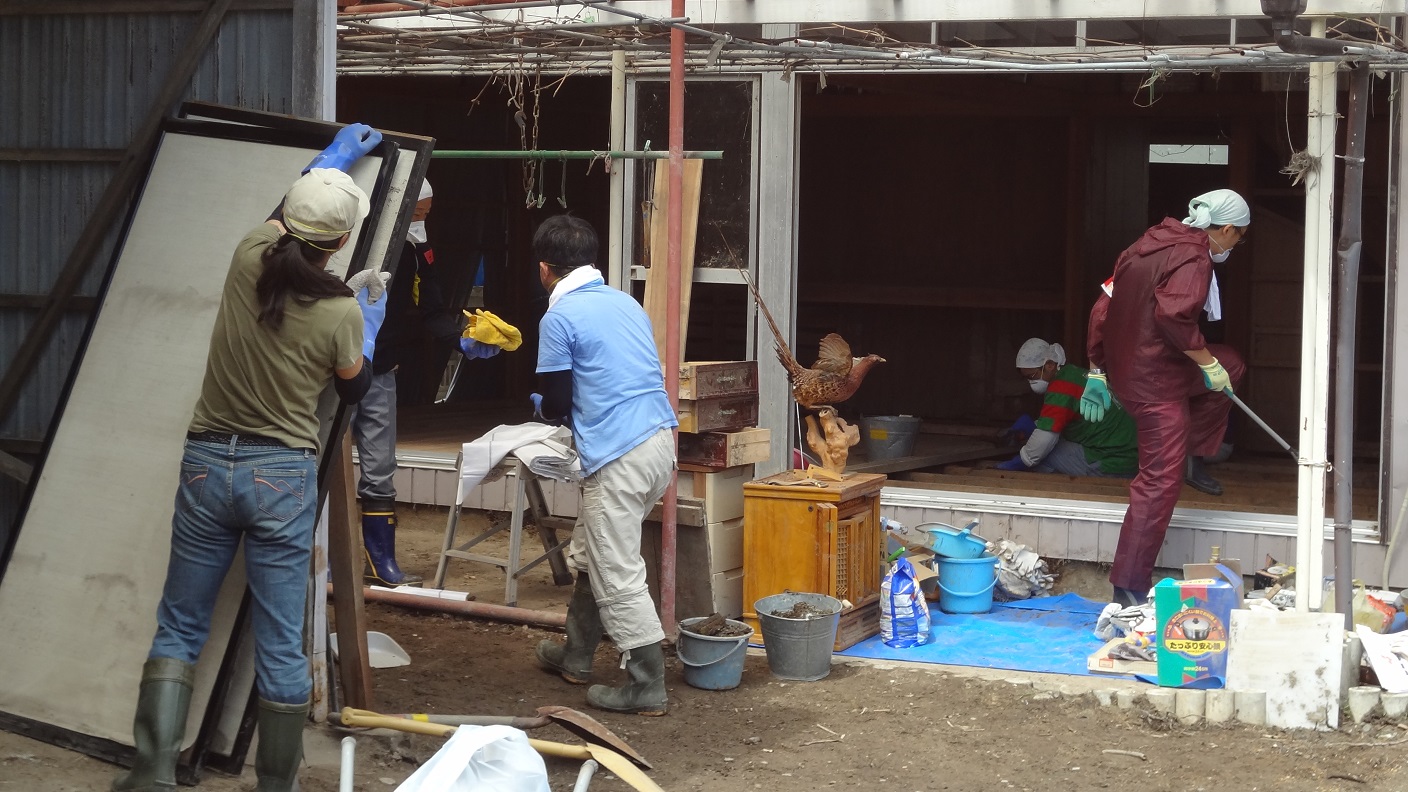 When at the site, the range of needs we faced went beyond those listed in the disaster reconstruction manual and I felt it important to respond flexibly to those needs. When we asked readers of our blog to apply to work as volunteer carpenters, we received the first application within two hours, which was really impressive.
Initially I thought that the volunteer program might be just another initiative designed to make the participants feel virtuous, but after actually participating in it, I have found out there are some jobs that can only be done by volunteers. There was a great need for volunteers and I felt that we could make a larger contribution than I had initially thought.
Volunteers ranging from 15-year-old senior high school students to elderly people in their 80s participated in the activities. Some volunteers were themselves victims of the disaster. Working and sharing experiences with those volunteers was a valuable experience for me.
It was very painful listening to one woman who had lost her son, but I hope that talking about her son helped her to feel a bit better.