Assistance for High School Students in Impoverished Areas of Yunnan Province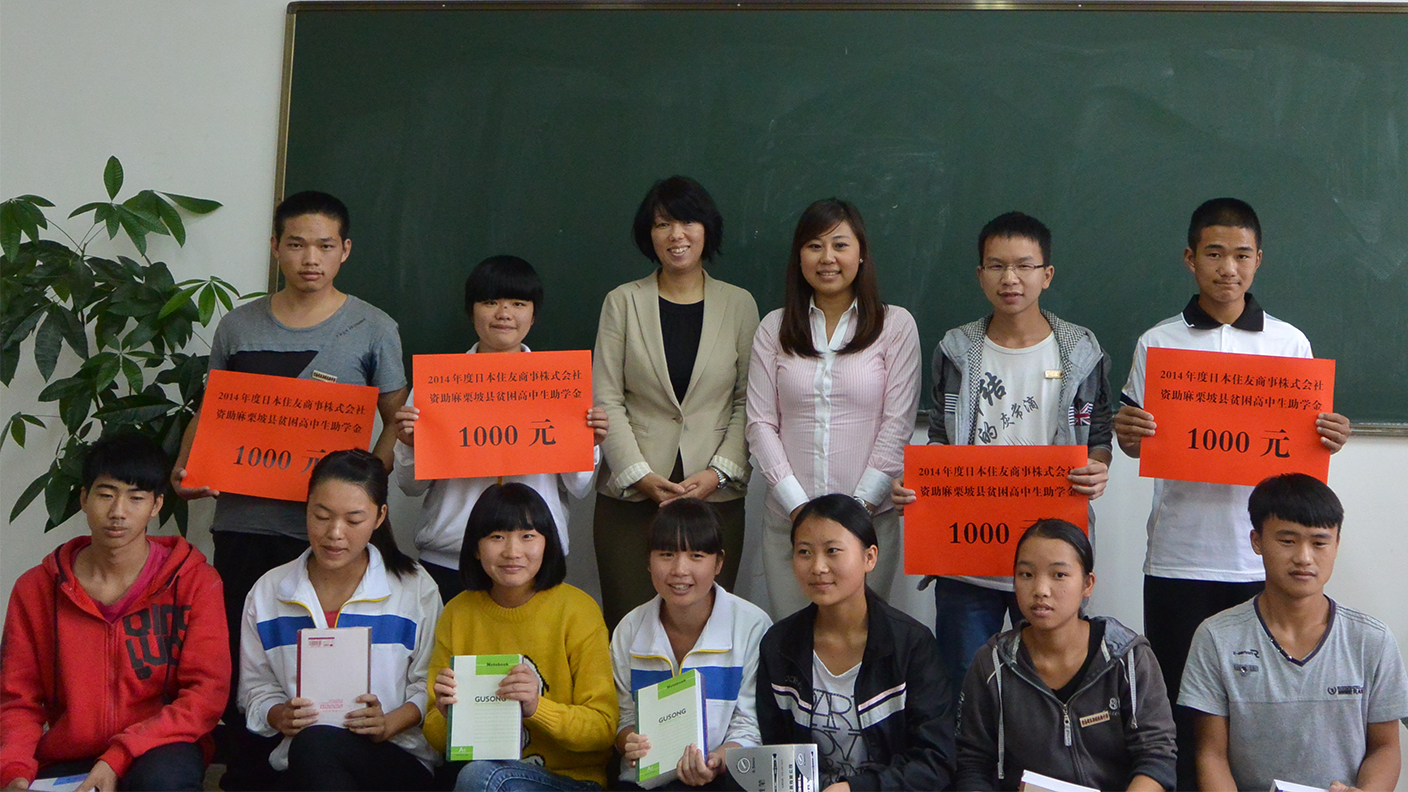 Supporting school attendance for high school students living in the mountainous areas of poor families In China, where regional economic disparity expands
China has seen remarkable economic growth in recent years, but even now there are young people compelled to give up school due to poverty.
The Chinese government has been assigning domestic relief efforts in impoverished areas to various ministries and agencies as national projects, and the Ministry of Foreign Affairs has been engaged in such relief efforts in Yunnan Province's Jinping and Malipo counties since 1992. Both of these counties are 99% mountainous areas lagging behind in economic development.
Sumitomo Corporation has collaborated with the Chinese Ministry of Foreign Affairs since 2008 to provide school assistance to high school students in these counties. Students from farming villages in mountainous regions must move away from home and into a dormitory to attend high school, meals and other cash expenses prove an obstacle to further education for children from impoverished households. To resolve this problem we provide financial assistance for dormitory meals and school supplies for economically disadvantaged students who have demonstrated a strong desire to learn. During the initial five years after the launch of the program, it helped a total of 1,800 students enroll in high schools, and 300 of them reportedly moved on to further education at colleges. The program supports around 300 to 400 high school students per annual today.
One high school student receiving aid noted: "I thought my mother's illness would make it impossible for me to continue in school, but I've been able to continue studying thanks to this assistance." With its efforts also being well-received by the Chinese Ministry of Foreign Affairs, Sumitomo Corporation is committed to cooperating in other future aid activities.