Environmental Policy and Management Structure, Objectives and Results
Environmental Policy and Management Structure
Throughout its 400-year history, the Sumitomo Group has pursued industrial development in harmony with local communities and the natural environment. Based on this foundation, the Sumitomo Corporation Group pursues business activities in such a way as to promote environmental conservation. Recognizing that various initiatives such as creating a low-carbon society that alleviates climate change, preserving biodiversity and the global environment, using energy, water and resources sustainably, preventing pollution and controlling waste emissions are the most important and long-term concerns that all individuals and organizations must address, we have established our Environmental Policy as detailed below.
Sharing this policy, Sumitomo Corporation Group companies are committed to reducing the environmental impacts of their business activities as well as to improving the environment through their business activities, based on the ISO 14001 environment management system.
Sumitomo Corporation Group Environmental Policy
I. Basic Policy
The Sumitomo Corporation Group recognizes that environmental issues are global in scale and that they are long-range concerns affecting future generations. As a global organization, the Sumitomo Corporation Group, through sound business activities, will strive to achieve sustainable development aimed at both social and economic progress and environmental preservation.
II. Basic Guidelines
In pursuing its diversified business activities both within Japan and overseas, the Sumitomo Corporation Group shall comply with the following guidelines, and, through cooperation between its Group companies, work to achieve the aims of its environmental Basic Policy.
Basic stance with regard to the environment:

To place great importance on protecting the global environment as a good corporate citizen in accordance with the Sumitomo Corporation's Activity Guidelines.

Compliance with environmental legislation:

To strictly observe legislation related to environmental matters not only in Japan but also overseas, and to abide by any agreements made.

Caring for the natural environment:

To place great importance on preserving the environment, including the natural ecosystem and biodiversity.

Response to climate change:

To place great importance on mitigating climate change and adapting to its impact.

Efficient use of resources and energy:

To be mindful of the finite availability of resources and energy and strive to use them both efficiently and effectively.

Contributing to the building of a recycling-oriented society:

To endeavor to help build a recycling-oriented society by reducing waste and reusing and recycling resources.

Promotion of businesses that contribute to environmental preservation:

To utilize our integrated corporate strength to promote businesses and projects, which contribute to environmental preservation and reduction of the impact of society on the natural environment.

Establishment of environmental management:

To use an environmental management system to prevent environmental pollution and set environmental objectives and targets which are regularly reviewed and continuously upgraded.

Disclosure of the environmental policy:

To communicate this Environmental Policy to all people who are working for or on behalf of the Sumitomo Corporation Group, as well as disclosing it externally.
Environmental Management Structure
The Sumitomo Corporation Group has established, based on the environmental policy, the environmental management structure with the Corporate Sustainability Committee as the center of the structure. As for the ISO 14001 environmental management system (EMS), since Tokyo and Osaka offices of Sumitomo Corporation acquired the Group's first ISO 14001 certification in June 1999, the coverage of the system has been extended continuously. About 20,000 employees in domestic locations of Sumitomo Corporation and certain group companies participates in these environmental management activities. At the ISO 14001 Group Companies Conference, which consists of Sumitomo Corporation and ISO 14001 integrated certification group companies, we share the environmental activities, and report to Corporate Sustainability Committee if necessary. Depending on the importance of the subject, Corporate Sustainability Committee discusses and reports to the Management Council and the Board of Directors.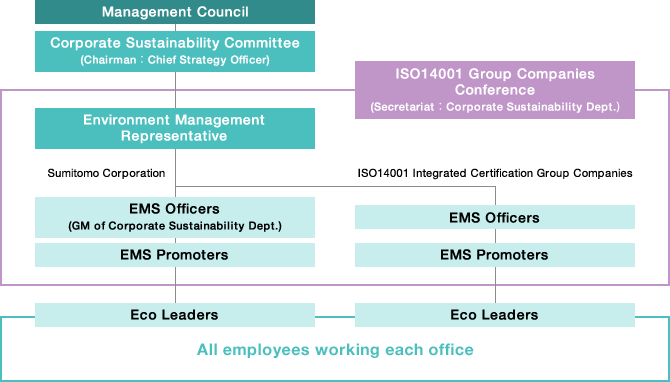 EMS:Environmental Management System
ISO 14001 Integrated Certification Group Companies
(As of April 2022, Sumitomo Corporation and 25 group companies)
SUMITOMO CORPORATION KYUSHU CO., LTD.
SUMITOMO CORPORATION HOKKAIDO CO., LTD.
SUMITOMO CORPORATION TOHOKU CO., LTD.
SUMISHO METALEX CORPORATION
METAL ONE SUMISHO TUBULAR PRODUCTS CO., LTD.
SUMITOMO CORPORATION GLOBAL METALS CO., LTD.
SUMISHO AERO-SYSTEMS CORPORATION
SUMITOMO MITSUI AUTO SERVICE COMPANY, LIMITED
SMA SUPPORT CO., LTD.
SPACE MOVE CORPORATION
SUMITOMO CORPORATION POWER & MOBILITY CO., LTD.
SUMITOMO SHOJI MACHINEX CO., LTD.
SUMISHO GLOBAL LOGISTICS CO., LTD.
SCSK CORPORATION
SUMISHO INTERIOR INTERNATIONAL INC.
SUMISHO MONTBLANC CO., LTD.
SC FOODS CO., LTD.
CHIBA KYODO SILO CO., LTD.
SMB KENZAI CO., LTD.
S.C.BUILDING SERVICE., CO., LTD.
SUMISHO MATERIALS CORPORATION
SUMITOMO SHOJI CHEMICALS CO., LTD.
SUMITRONICS CORPORATION
SUMMIT PHARMACEUTICALS INTERNATIONAL CORPORATION
SUMMIT AGRO INTERNATIONAL LTD.
——
(ref) Percentage of Sumitomo Corporation group's sites covered by ISO14001
Setting Environmental Objectives
Sumitomo Corporation Group promotes activities that are beneficial to the environmental improvement and reduce environmental negative impact.
At Sumitomo Corporation, Eco Leader identifies the environmental aspects of each department and evaluates their impacts, and identifies risks and opportunities considering relevant compliance obligations. Based on the results, EMS Promoters specify significant environmental aspects, risks and opportunities for each Business Unit and the Corporate Sustainability Department reviews them for the entire company. At the Corporate Sustainability Committee, we review the achievement of the environmental targets and decide new objectives for the following year.
Environmental Objectives (Sumitomo Corporation)
Environmental Objectives

Comply with environmental laws and regulations




Implement continuing education program on the Waste Disposal and Public Cleansing Act and other environment-related laws/regulations

Pursue environmentally-sound projects




Expand renewable energy businesses

Promote businesses that help create a recycling-oriented society

Promote other businesses to reduce environmental burden

Manage and reduce environmental burden


Measure and reduce electric power/gas consumption and waste generation at all sites in Japan

Measure and reduce the environmental burden/impact of business activities

Assess environmental impact in relevant supply chains and work to reduce such impact

Promote environmental education and communication related to environmental issues




Hold events, including awareness-raising seminars related to environmental conservation

Promote effective use of environmental management systems

Expand disclosure of non-financial information
Environmental Data Targets and Results (Non-consolidated in Japan)
To achieve carbon neutrality and a circular economy by 2050, Sumitomo Corporation set the following long-term goals for electricity consumption, water withdrawal and waste emissions in FY2017.
Each intensity and total amount are for its head office, regional offices, branches, sub-branches in Japan.
| | Target |
| --- | --- |
| Electricity Consumption | To reduce electricity consumption per square meter by an average of at least 1% annually and at least 20% until FY2035 both from base year of FY2013. |
| Water Withdrawal | To reduce water withdrawal per employee by an average of at least 1% annually from base year of FY2010. |
| Waste Emissions | To reduce waste emissions per employee by an average of at least 1% annually from base year of FY2010. |
The targets converted from long-term goals, results of FY2021, targets of FY2022 are as follows.
Index
Results of the Base year
Targets of FY2021
Results of FY2021
Targets of FY2022
Electricity Consumption
Consumption (MWh)
7,859
5,553
3,368
5,486
Intensity (MWh/m2)
0.1079
0.0996
0.0605
0.0986
Water Withdrawal
Withdrawal (m3)
32,191
20,190
6,711
20,393
Intensity (m3/employee)
6.93
6.20
2.02
6.14
Waste Emissions
Emissions (t)
508
319
46
322
Intensity (t/employee)
0.109
0.098
0.014
0.097
The figures in the table below are calculated from the fuel, heat and electricity consumption data with appropriate GHG emission factors, and the GHG emissions of FY2013 (the base year) are calculated as 5,626t-CO2e and targets and results for FY2021 and FY2022 are as follows.
If the GHG emissions target of FY2022 2,208t-CO2e is achieved, it will be about 61% reduction compared to FY2013. If the above electricity consumption reduction target of FY2035 is achieved, the GHG emissions will be reduced by 46% compared to FY2013.
Further, we have reduced 3,833t-CO2e emissions by FY2021, and it is 112% achievement against 3,418t-CO2e, which is the reduction target of FY2022, and 150% against 2,564t-CO2e, which is the reduction target of FY2035.
Results of the Base year
Targets of FY2021
Results of FY2021
Targets of FY2022

GHG Emissions (Scope1, Scope2)

Total (t-CO2e)
5,626
3,514
1,793
2,208