Conservation of Biodiversity
Basic Concept
Sumitomo Corporation Group's business activities largely depend on the wealth of Earth's diverse living organisms as well as from the biodiversity that is generated by their many networks. Therefore, our Environmental Policy recognizes placing great importance on preserving the environment, including the natural ecosystem and biodiversity as an important issue for us. We make efforts to understand how our business activities that may have a significant impact on biodiversity depend on such biodiversity, as well as what kind of impact such activities have on biodiversity, in order to minimize their impact on ecosystems and contribute to ecosystem restoration. In the process of reviewing new projects and monitoring existing projects, we also assess social and environmental risks including impact on ecosystems, and check the status of management and improvement.
For more information about our commitment to biodiversity initiatives, refer to the link below:
Initiatives
When we work on the projects that may significantly impact biodiversity, we endeavor to understand the extent of the impact and make efforts to reduce it. As one of our project sites, Madagascar possesses outstanding biodiversity, with many living organisms unique to the island. Through this mining project, we can introduce how we care for the natural environment in a location where biodiversity is the most significant issue, as well as the biodiversity offset program. Business and Biodiversity Offsets Program (BBOP) is an initiative to prepare international standards regarding biodiversity offsets, participated in by companies, governments, NGOs and other specialists. BBOP is referred to by the Convention on Biological Diversity and has become recognized as an international standard regarding biodiversity offsets. We, as a Japanese company, participate in the program through the Ambatovy Project in Madagascar.
Ambatovy Project Contributing to Sustainable Development in Madagascar
One of the examples of collaboration between BBOP and Japanese companies in implementing biodiversity offsets is a nickel mine development project in Ambatovy in Madagascar in which we have made a capital participation. This is the Ambatovy Project in Madagascar, one of the largest-scale mine development projects in the world, which has been developed since 2007 in preparation for increasing demand for nickel, cobalt and other metals.
In the Ambatovy Project, many new facilities, such as mining sites, refinery plants and pipelines, need to be constructed and operated, which poses substantial impacts on the surrounding environment. Particularly in Madagascar, there remains a globally precious natural environment where as many as 1,000 species of endangered animals are living. We give careful consideration to these natural habitats in developing and operating the project. In developing and implementing plans for the project, special emphasis is placed on environmental management in compliance with not only Madagascar national laws but also various guidelines, such as the World Bank safeguard policy, the International Financial Corporation's (IFC) Performance Standards, the World Health Organization (WHO) standards, and the Equator Principles.
In the project, rigorous measures have been applied to protect the environment, including efforts to maintain biodiversity, in compliance with the aforementioned and various other standards. For example, in developing the mining area, we created a buffer zone around the mining site of about 1,600 ha to ensure protection of wild animals. When trees are cut down to develop the mine site, felled trees are left on site for a while so that animals inhabiting these trees can move into the buffer zone. We also conduct ecosystem surveys jointly with international environmental NGOs. If endangered or other species that need to be protected are identified in such a survey, we adopt various programs designed to reduce impacts on ecosystems, for example, relocation of such species to a sanctuary and use of a fish farming system.
After starting the construction of pipelines, habitats of endangered animals were found on the routes where the construction was planned. In response, we changed 24 routes in total to bypass these habitats. We are also promoting a large-scale biodiversity offset program under the "no net loss, net gainˮ concept. This is an approach to mitigate impacts of the development on ecosystems by restoring or creating another ecosystem. Specific measures include the conservation of a forest area of 6,800 ha in the Ankerana area, which has an ecosystem similar to that of the development site of the project. In an attempt to offset the net loss of biodiversity, we are implementing measures to protect four conservation areas of more than 14,000 ha in total, equivalent to about nine times the affected areas, such as protection of areas near the mine site, tree replanting after the installation of pipelines, and tree replanting on the mine site after the closure of the mine.
(ref) The Ambatovy Project, One of the World's Largest Nickel Projects
Sumitomo Corporation Group has imported and supplied Bird Friendly®-certified coffee (BF®-certified coffee) since 2004 as part of our biodiversity-friendly activities, which ensures a stable income for farmers. Since FY2014, SC Foods Co., Ltd. started dealing in BF®-certified coffee. BF®- certified coffee is grown under the shade of natural forest trees to conserve the environment and provide migratory birds a place to rest. The BF certification was created by the Smithsonian Migratory Bird Center (SMBC). As of July 2022, 53 farms and agricultural cooperation in 12 countries*1 are certified and part of the proceeds are used for SMBC's research, surveys and conservation activities.
In 2019, this project was recognized by the Japan Committee of the International Union for Conservation of Nature and Natural Resources (IUCN) as a cooperative project authorized by the Japan Committee for the United Nations Decade on Biodiversity (UNDB-J)*2. This authorization means that the project is an important activity to conserve biodiversity as well as an activity that has achieved results toward meeting the Aichi Biodiversity Targets*3. We will continue our efforts to contribute to protecting migratory birds and ecosystems through this project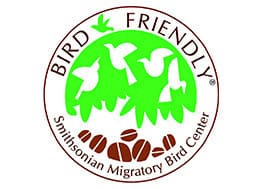 12 countries: Ethiopia, Peru, El Salvador, Columbia, Guatemala, Nicaragua, Bolivia, Honduras, India, Thailand, Mexico, Venezuela
The committee was established in September 2011 to encourage the participation and cooperation of all sectors in Japan to promote efforts to conserve biodiversity and ensure its sustainable use.
New international targets to conserve biodiversity, which were adopted by the 10th Conference of Parties (COP10)
Bird-strike Prevention in Wind Power Generation
Dorper Wind Farm generates electricity using wind in a mountainous area of about 130 km2 in Eastern Cape, South Africa. In the Doper wind power generation project, measures to prevent bird strikes are implemented.
Windmills are installed in pastures and bird strikes are caused by birds that flock to feed on the carcasses of livestock and other animals. We therefore ensure to remove animal carcasses found in the power plant. We also hire local residents to visually confirm if there is any endangered bird species circling around the windmills and, if detected, to send an emergency notice to stop the operation of the windmills. It is our aim to achieve a harmonious balance between wild animal conservation and wind power generation business.