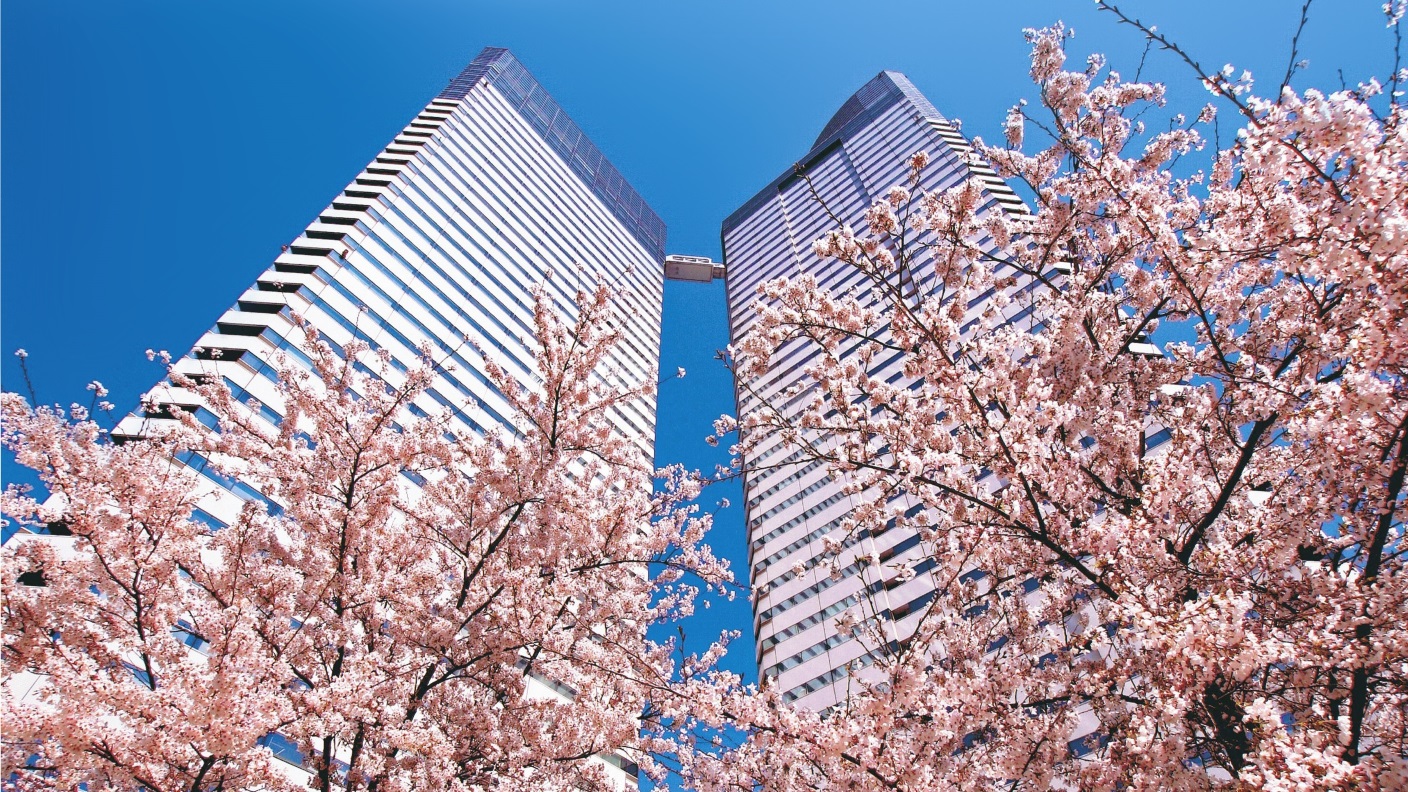 Global Cases
Sumitomo Corporation's eco-friendly building projects
Japan
Leveraging Sumitomo Corporation's Distinctive Integrated Corporate Strength
The construction and real estate business can well be considered Sumitomo Corporation's starting point, and at the core of that business are office building projects.
Sumitomo Corporation owns and manages a total of about 100,000 tsubo (approx,330,000m²) of prime real estate, chiefly in central Tokyo and Osaka but also in Fukuoka, Sapporo and overseas (Indonesia and the US). Sumitomo Corporation is responsible for planning/development and construction, while the group company Sumisho Building Management supervisers buildings and leases space to tenants, S.C. Building Service and S.C. Building Service West perform maintenance and facility management, and Sumisho Interior International sells interior goods such as carpets and carries out interior design work. Sumitomo Corporation's distinctive integrated corporate strength is thus being leveraged to develop the Group's business.
What distinguishes Sumitomo Corporation from conventional developers is that it procures for itself the steel, cement, machinery, equipment, interior goods and other materials needed for construction. New ideas and ingenuity are born from collaboration with suppliers.
"Triton Model" garnering world attention
Consideration for the environment is an important issue for office buildings, but a people-driven approach is essential to ensure that the buildings constitute comfortable spaces for people staying there. Sumitomo Corporation has cultivated that way of thinking through its efforts at Harumi Triton Square, constructed in 2001.
The plaza is one richly decorated with plants, which helps alleviate the heat-island effect. In creating this facility, considering the perspectives of office workers and local residents, the layout keeps high-rise office buildings out of sight from the lower floors. Most of the infrastructure for Harumi Triton Square has been installed underground to make more efficient use of air-conditioning heat sources, where hot and cold water for air conditioning is produced and supplied to the various buildings. Having air conditioners in each building control the heat released from large-scale underground heat storage tanks is part of a system for conserving energy by eliminating inconsistency.
Active recycling of rain water, water discharge and trash is also being introduced. Because post-opening facility management has such a significant impact on environmental conservation at large-scale redeveloped complex, a system has been put in place at Harumi Triton Square whereby Harumi Corporation carries out all environmental management efforts as a central manager with the approval of the various building management unions. This "Triton Model" has been high-reputated and even attracted observers from around the world.
Sumitomo Corporation will be reflecting the environmental know-how and techniques learned from Harumi Triton Square in its redevelopment projects in the Kanda area (*1) and in office building development, and employing these when building quality office buildings and developing urban areas.
*1 A strategic priority area for office building development designated by Sumitomo Corporation in Chiyoda Ward, bounded on the north by Yasukuni Avenue and on the south by the End of north of Otemachi.
Rooftop gardens created in metropolis
Office buildings are places where specified groups of people spend long periods of time. The more comfortable the space is, the more efficiently they can perform their work. New initiatives are being taken at Kanda Square Front (Chiyoda Ward, Tokyo), completed in May 2017, in pursuit of both comfort and energy saving.
The rooftop of this eight-story building is covered with a verdant garden where people can enjoy a break or eat their lunch while gazing at the beautiful plants undergoing seasonal changes. Soft rubber chips have been used as flooring to make the surface easier on the feet, helping make this a rooftop garden that lets visitors forget they are in the middle of a metropolis.
Rooftop greenification started with the Sumitomo Corporation Yaesu Building completed in January 2011, and was thereafter adopted for the Sumitomo Corporation Nishikicho Building completed in October 2011, the Sumitomo Corporation Jinbocho Building completed in November 2011, and the Sumitomo Corporation Kyobashi Building completed in May 2013.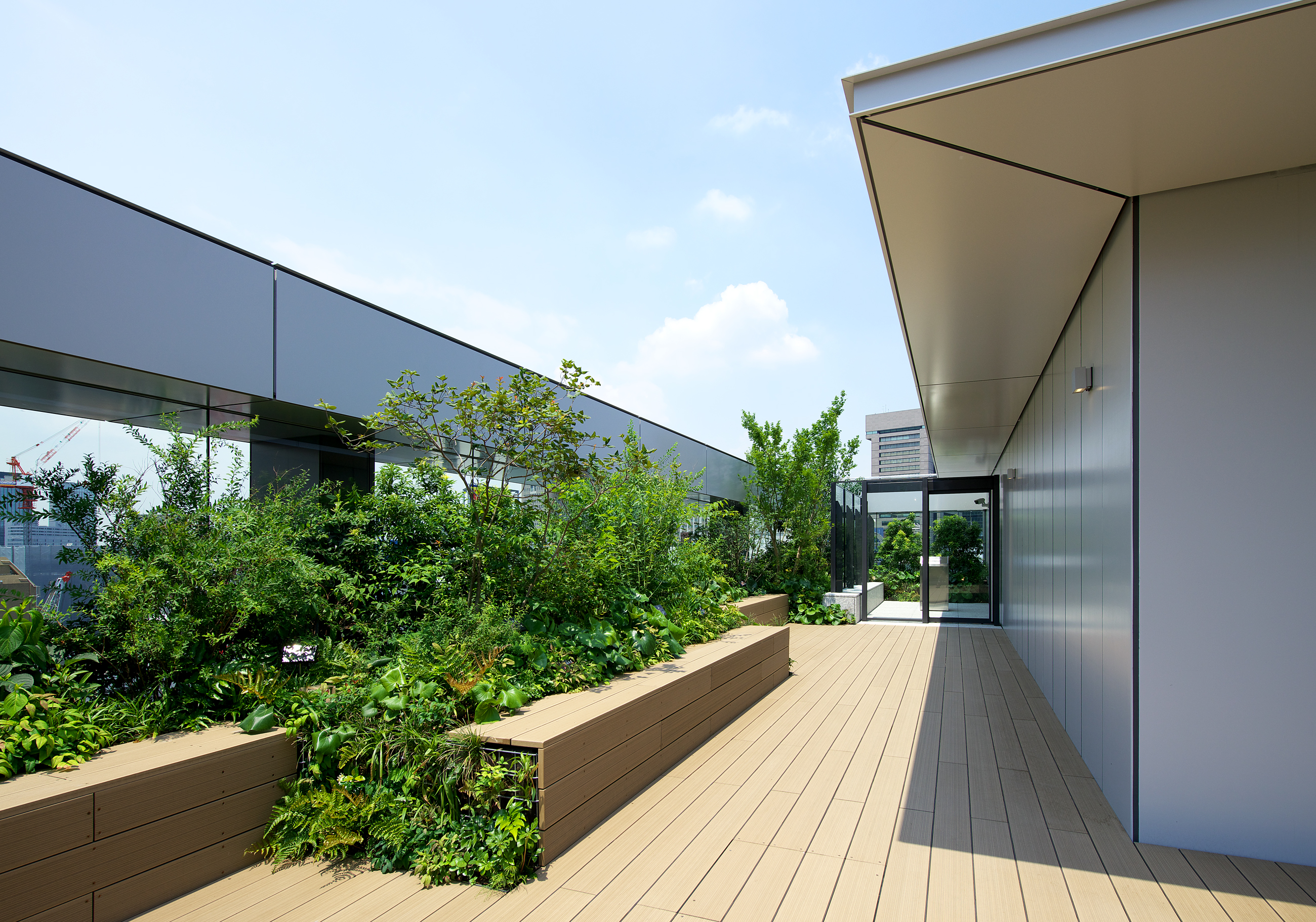 Sweet potato shochu created through energy saving
On the rooftop of the Sumitomo Mitoshiro Building (Chiyoda Ward, Tokyo), sweet potatoes have been cultivated every year since 2012. The large volume of water vapor arising from the sweet potato leaves make the rooftop air cooler and improves the operating efficiency of outdoor air conditioners on the rooftop, resulting in energy reductions of 10% during the summer peak. A patent is pending on this "potato energy-saving" approach developed jointly with Nikken Sekkei. Shochu(Japanese white distilled liquor) made from the sweet potatoes cultivated on this building was first produced in 2016.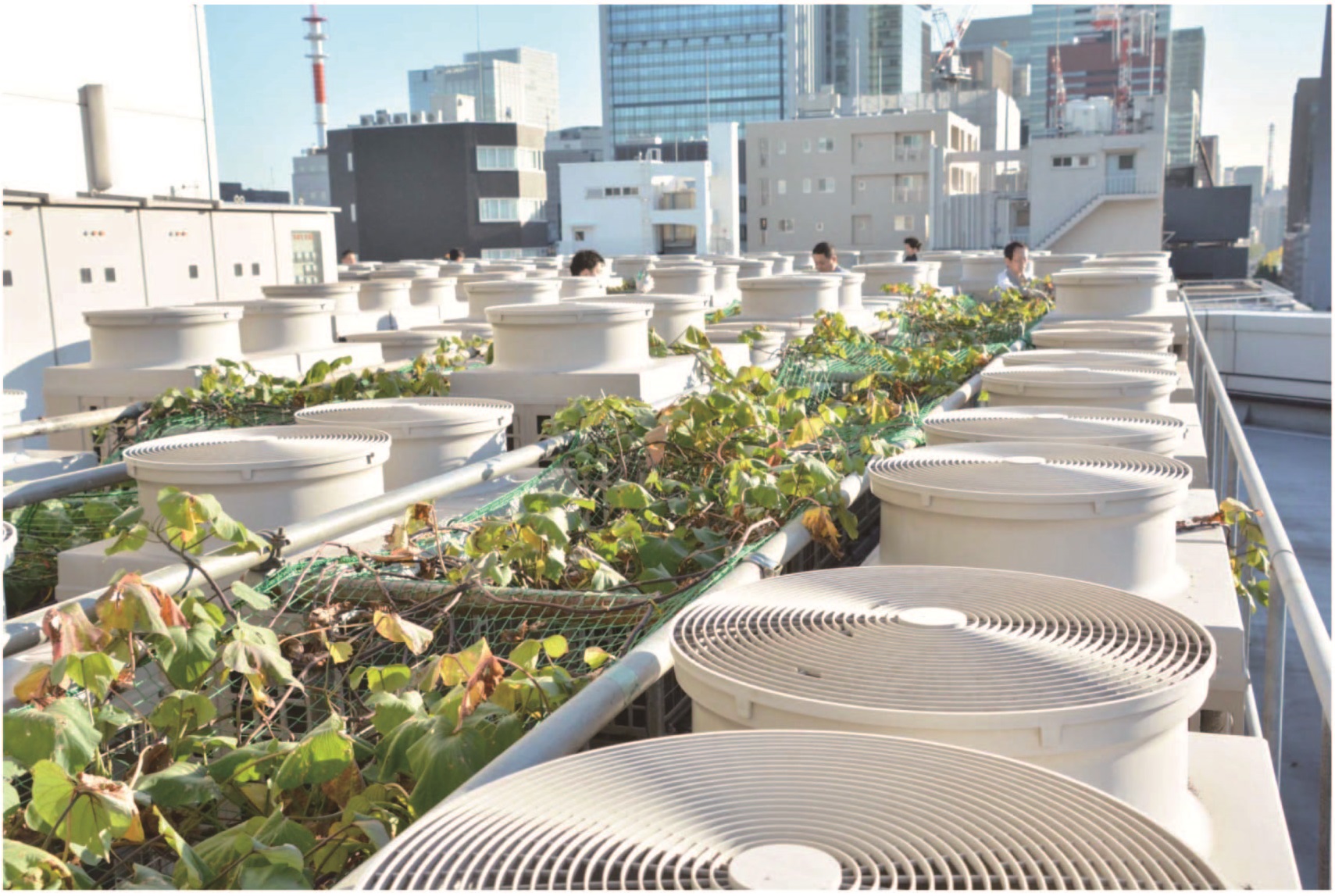 New products challenging conventional thinking about illumination
Office lighting plans generally aim for a desktop illuminance of 700-750 lux (*2). With PCs now in such common use in offices, though, lighting of less than 700 lux does not significantly hamper business operations, so the companies with eco-conscious are trying out reducing illumination in their offices.
Sumitomo Corporation has worked with Nikken Sekkei and Panasonic Corporation to develop lighting fixtures and hybrid environmental panels that make lower levels of illumination appear as conventional brightness. This enables energy use to be cut by about 10%.
*2 The General Rules of Recommended Lighting Levels stipulate a design illuminance for offices of 750 lux.
Urban development gets underway in the Kanda area (completion of Terrace Square)
In April 2015, construction was completed on Terrace Square, a large-scale complex planned and developed by Sumitomo Corporation that is two minutes' walk from Jimbocho Station (Chiyoda Ward, Tokyo). The majority of the 17 above-ground stories are occupied by leased offices, but the 1st and 2nd floors feature restaurants, helping meet the needs of office workers as well as adding to the energy of the local area. The open space in Terrace Square has been partly greenified (35%), with tall trees and various other plants configured to create a vivid sense of the season. Terrace Square used to be Hakuhodo's head office building, a local landmark completed in 1930, and the partial restoration of the area's historical cityscape has given the facility a special attachment for local residents.
Following up on its success with Terrace Square, Sumitomo Corporation is planning to develop several large-scale complexes in the Kanda area. The large-scale complexes being planned will feature even more greenification and, with an increasing number of people residing in the city center, the goal is to help the Kanda area become highly regarded as an appealing living environment. The 2-2 Block Project started in May 2017 (Kanda-Nishikicho, Chiyoda Ward, Tokyo) will utilize the grounds of Tokyo Denki University's former Kanda Campus to install a multipurpose hall and other facilities that will draw crowds to the Kanda area, and Chiyoda Ward has placed high expectations on this project.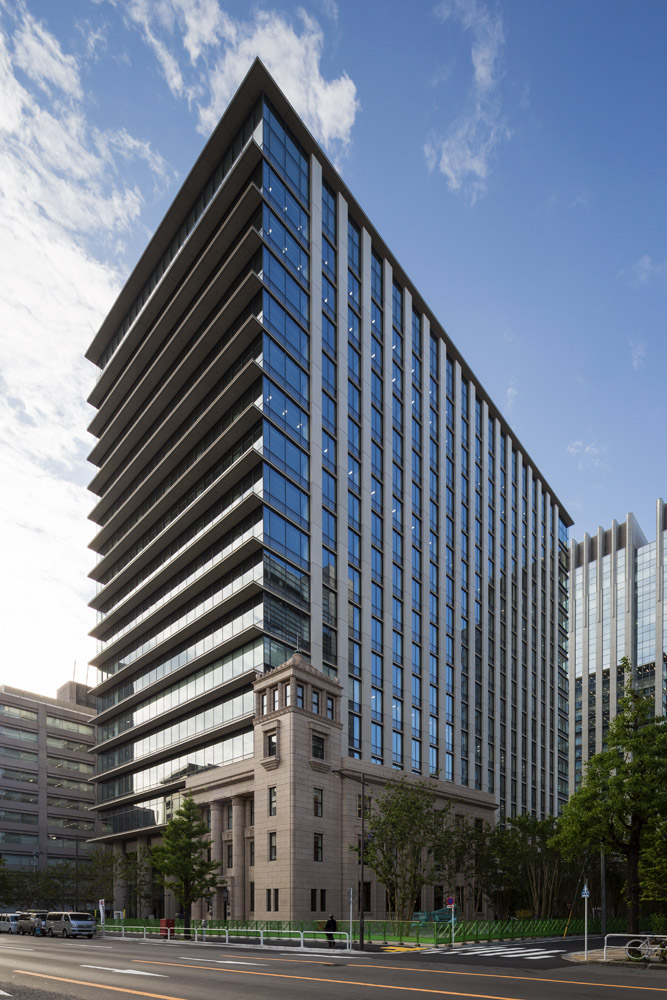 Keyword
Living Related & Real Estate Business
Japan
Real Estate
Environment