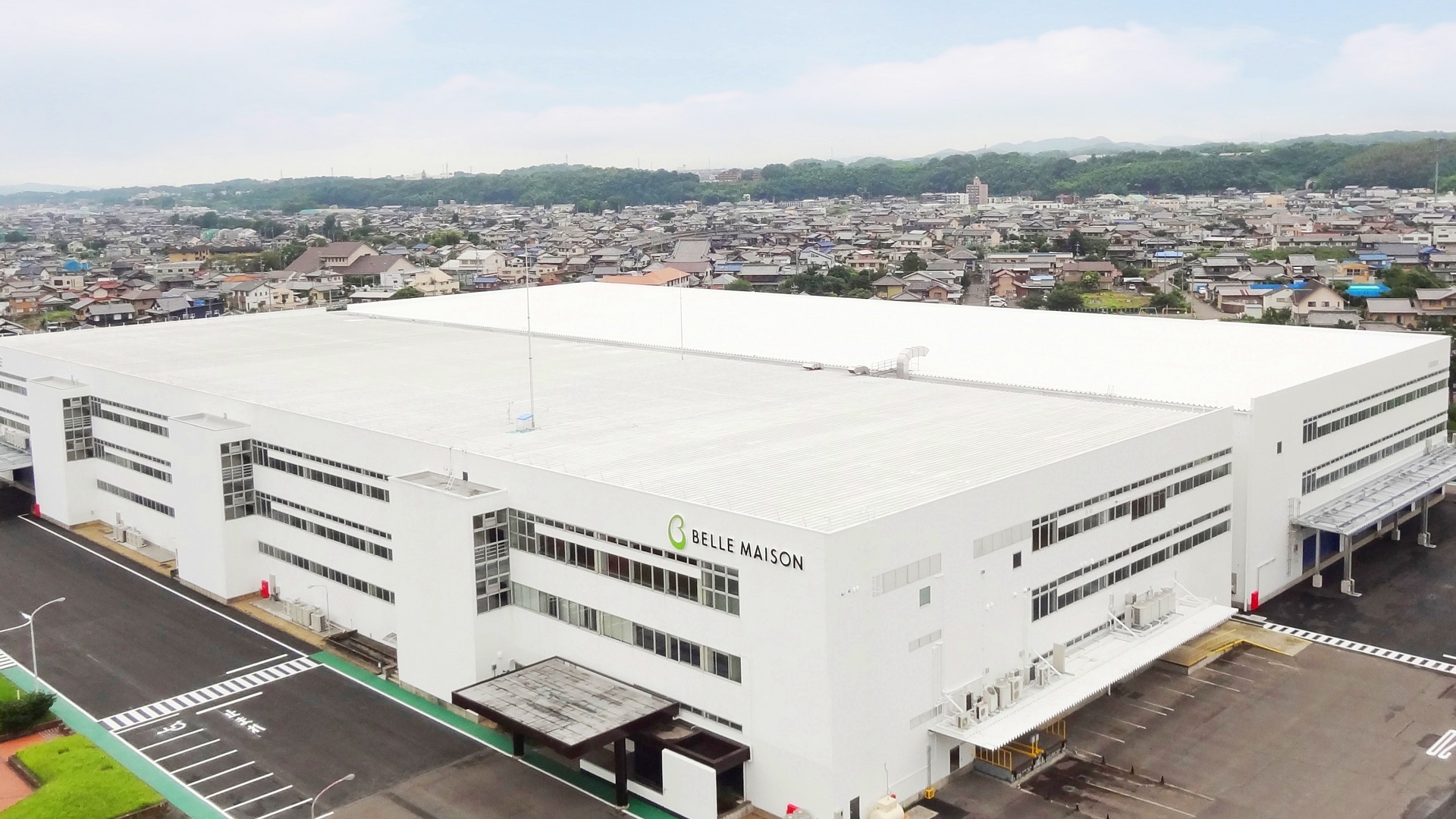 Global Cases
Helping businesses enliven and enrich everyday living: Direct marketing order fulfillment services and home building material production in Gifu
Corporate Communications Staff Explores the World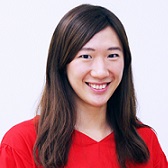 Mass Media Relations Team, Corporate Communications Department

Hikari Watanabe

Joined Sumitomo Corporation in 2017. She currently works with the Infrastructure Business Unit and Human Resources, General Affairs & Legal Group at the Media Relations Team of the Corporate Communications Department. She was a sun-kissed lacrosse player at high school and university, but converted to hot yoga after becoming a working woman. Though struggling with challenges she has never before attempted in her life, she is persisting with a positive, "if we only live once, why not enjoy it" attitude.
In early May I visited two Sumitomo Corporation group companies in Gifu Prefecture. One was Belle Maison Logisco, which provides order fulfillment services for direct marketing companies. Belle Maison Logisco has distribution centers in Kani City and Minokamo City, which together employ about 1,200 people. The other company I visited was Seven Industries, headquartered in Minokamo City. The company is a leading manufacturer, distributor, and installer of laminated wood(*1) products and other wood-based home building materials.
For the trip to Gifu, I took the Meitetsu Nagoya Main Line from Nagoya Station, changing to the Meitetsu Hiromi Line at Inuyama Station. Shortly after leaving Inuyama, I glanced out the window to find that the scenery had changed dramatically—it was all green paddy fields and woodlands, which had a very soothing effect.
*1 laminated wood: A type of wooden building material, laminated kiln-dried lumber
Making the work progress visible
Reached in about 10 minutes by car from Nishikani Station, the Kani Distribution Center is Belle Maison Logisco's main distribution center. The roughly 83,000 m² facility, larger than I had imagined, emerged abruptly from surroundings otherwise devoid of tall structures. The five-story building included an automated warehouse. The first thing I noticed during the guided tour of the center was the rhythmic movement of machinery. Automated distribution centers are not uncommon today, but the Kani Distribution Center was automated more than 20 years ago.
Touring each floor, I noticed numerous monitor screens installed here and there. "These are for improving throughput(*2) across the company," smiled Mr. Naoki Inuyama, Belle Maison Logisco's president and CEO. According to Mr. Inuyama, who has worked in logistics business for nearly 20 years since joining Sumitomo Corporation, the company keeps track of section-by-section output, service level attainment, and storage capacity on a daily basis. I could see that staff members were checking the monitor screens every now and then to keep abreast of work progress as they went about their tasks. The company has made its cost management more detailed, and has made output per hour visible, which is shared company-wide to encourage greater sensitivity to productivity.
*2 throughput: The amount of work a plant or machine can process in a given time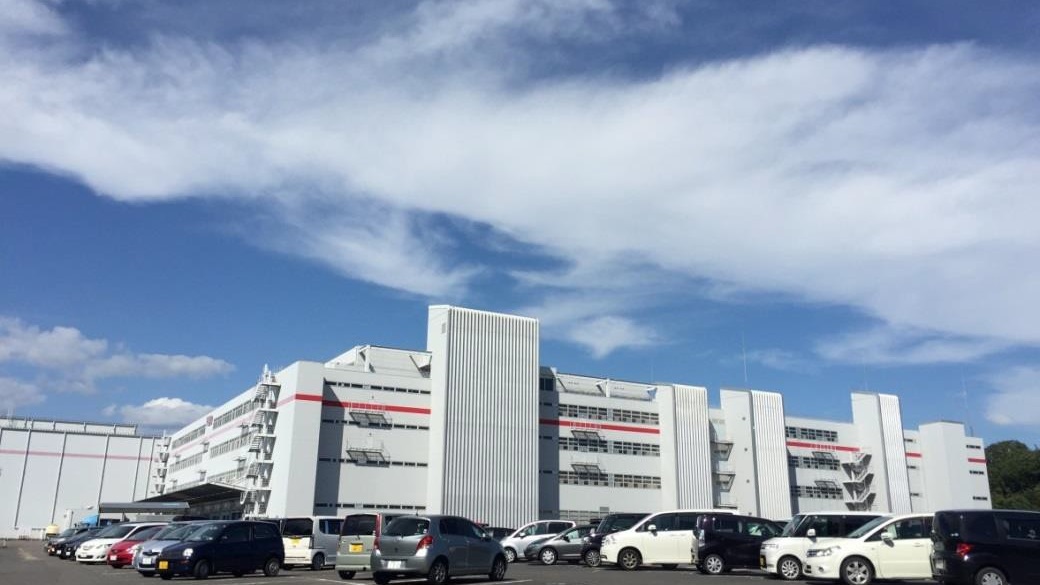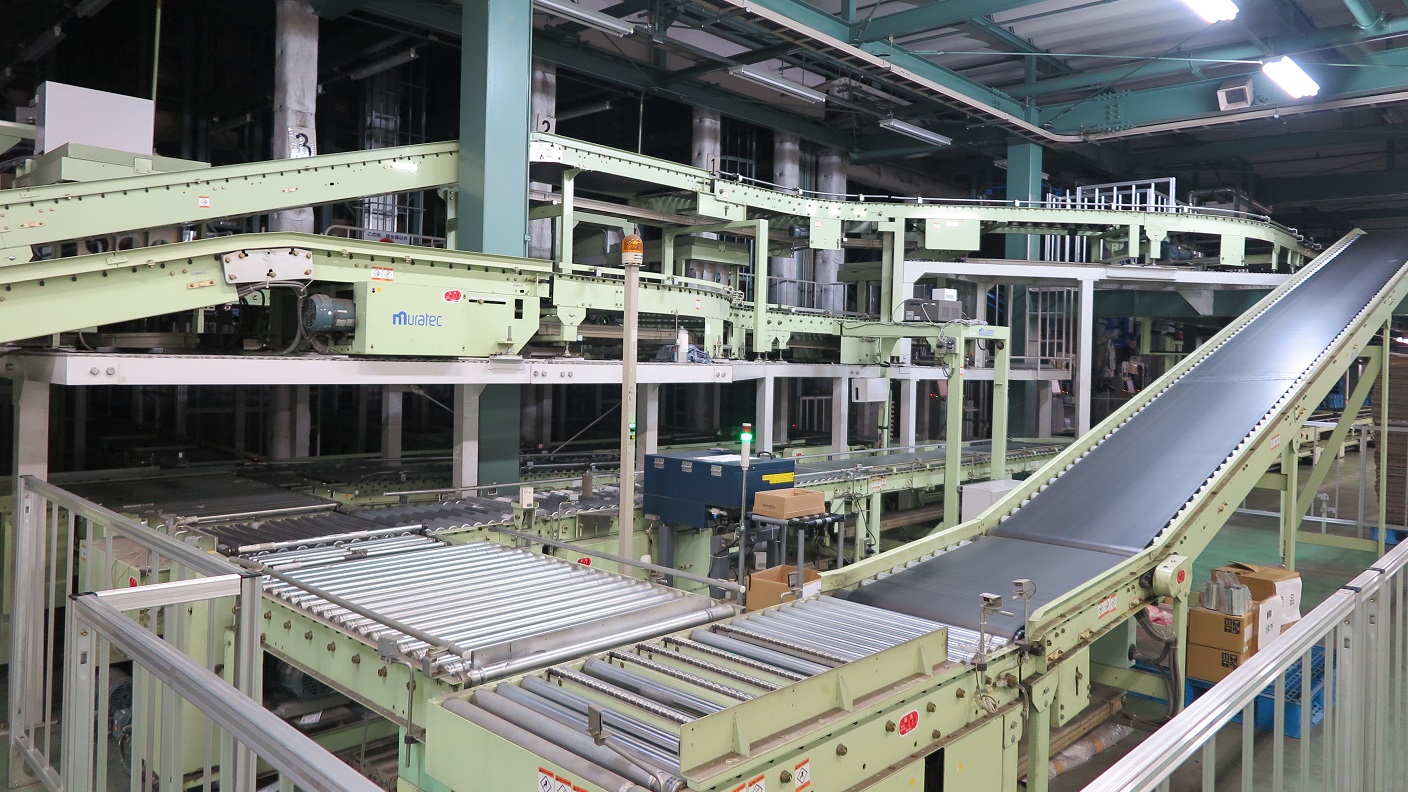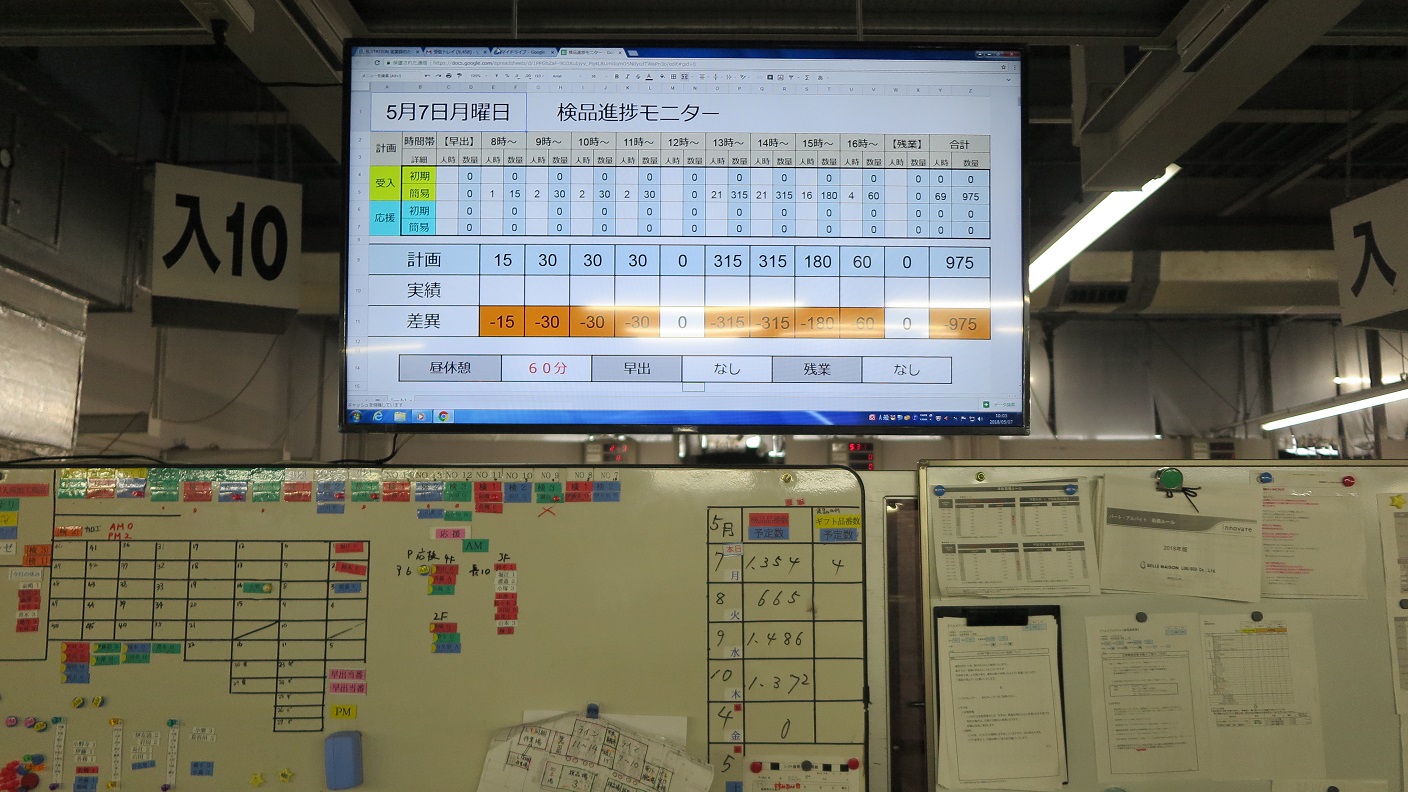 Ingenuity felt throughout the distribution center
My next destination was the Minokamo Distribution Center, which mainly processes orders for merchandise only available online. Opened in late 2015, the Minokamo Distribution Center is a three-story building with approximately 46,000 m² of space. The walls inside the clean distribution center are covered with shelves stocking all sorts of products. Because Minokamo handles web-only products, inventory items change at a rapid pace. To accommodate its growing inventory, the distribution center has fitted its shelves with dividers, which have almost doubled the number of available compartments.
Perhaps uniquely for a distribution center, Minokamo produces e-commerce product photography, measurements, and descriptions (satsuei, saisun, and genko, collectively referred to as "Sasage") in-house. Belle Maison Logisco has been conducting "Sasage"tasks in-house since 2017, reducing the time it takes to upload product information to e-commerce sites, and cutting costs as a result.
The Kani and Minokamo Distribution Centers work in coordination to ensure that an order is dispatched in one shipment, even if it includes products stocked at separate centers. Such orders are packed at Minokamo, where a conveyer device (Multishuttle) combines products picked at Kani with those picked at Minokamo, and ships them after adding inserts such as catalogs and leaflets. To improve the efficiency of this work, containers for picked products are color-coded for easy identification: green for Kani and blue for Minokamo. Many other ingenious measures were in place as part of Belle Maison Logisco's ongoing drive to achieve efficiency and high-quality service.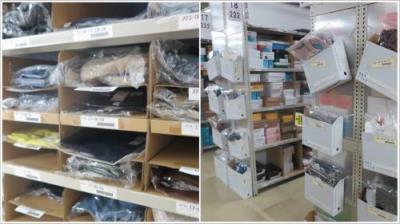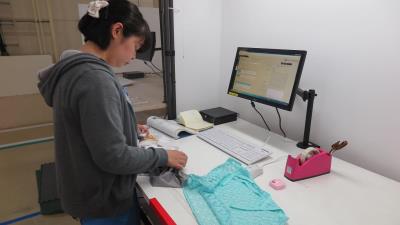 Laminated wood products by Seven Industries
About 10 minutes by car from Belle Maison Logisco, the headquarters of Seven Industries is in a mountainous location reached via narrow roads. Seven Industries is a leading laminated wood product company invested by Sumitomo Corporation. Laminated wood is a building material made from wood that is scientifically engineered and its qualities homogenized to retain the attractive look, texture, and superior properties of natural wood, yet the resulting material is stronger than wood and devoid of disadvantages such as warping and splitting. Seven Industries is one of Japan's pioneering laminated wood manufacturers, and as such has contributed to its widespread adoption. In terms of strength per unit weight, Japanese cedar wood has roughly four times the tensile strength of iron and five times the compressive strength of concrete. Laminated wood not only surpasses these other materials in strength, but can also be formed into any shape and retains the superior humidity-controlling and heat-insulating properties of wood. Using laminated wood, Seven Industries manufactures interior building materials such as staircases, countertops, and wooden components of Japanese-style interiors. It also processes and installs structural members for wooden buildings. To give a sense of the production volume of its main products, the company processes as many as 8,000 staircase units and 25,000 countertops per month. As for structural members such as pillars, joists, beams, and foundations of houses, it processes roughly 26,400 m² (200 buildings) per month. The highly mechanized factory was equipped with numerous kinds of processing machines.
Inside the Seven Industries showroom
Mr. Taro Tanaka, Seven Industries president and CEO, gave a tour of the showroom, located about 30 minutes away from the head office. Visitors to the showroom are greeted by the pleasant smell of wood, which fills a space housing displays of staircases, tables, and other products. Staircases on display can actually be climbed up and down, and tables can be touched to gain a sense of their exquisite finish and sturdiness.
Japan is facing a shortage of carpenters. To address this problem, Seven Industries is conducting research into ways of streamlining on-site work. The company responds to the demand for off-site fabrication and processing, which save time and labor on-site, by performing more of the processing (referred to "pre-cutting") at the factory. Staircases, in particular, require advanced carpentry skills to build. Employing a special, patent-pending processing technique, Seven Industries' staircase components are designed for assembly by workers without highly advanced carpentry skills. "The technique resulted from the close coordination between production and sales," says Mr. Tanaka. By putting in place a mechanism for collecting user feedback, the company has built a unique business model, which has in turn carved out new business opportunities.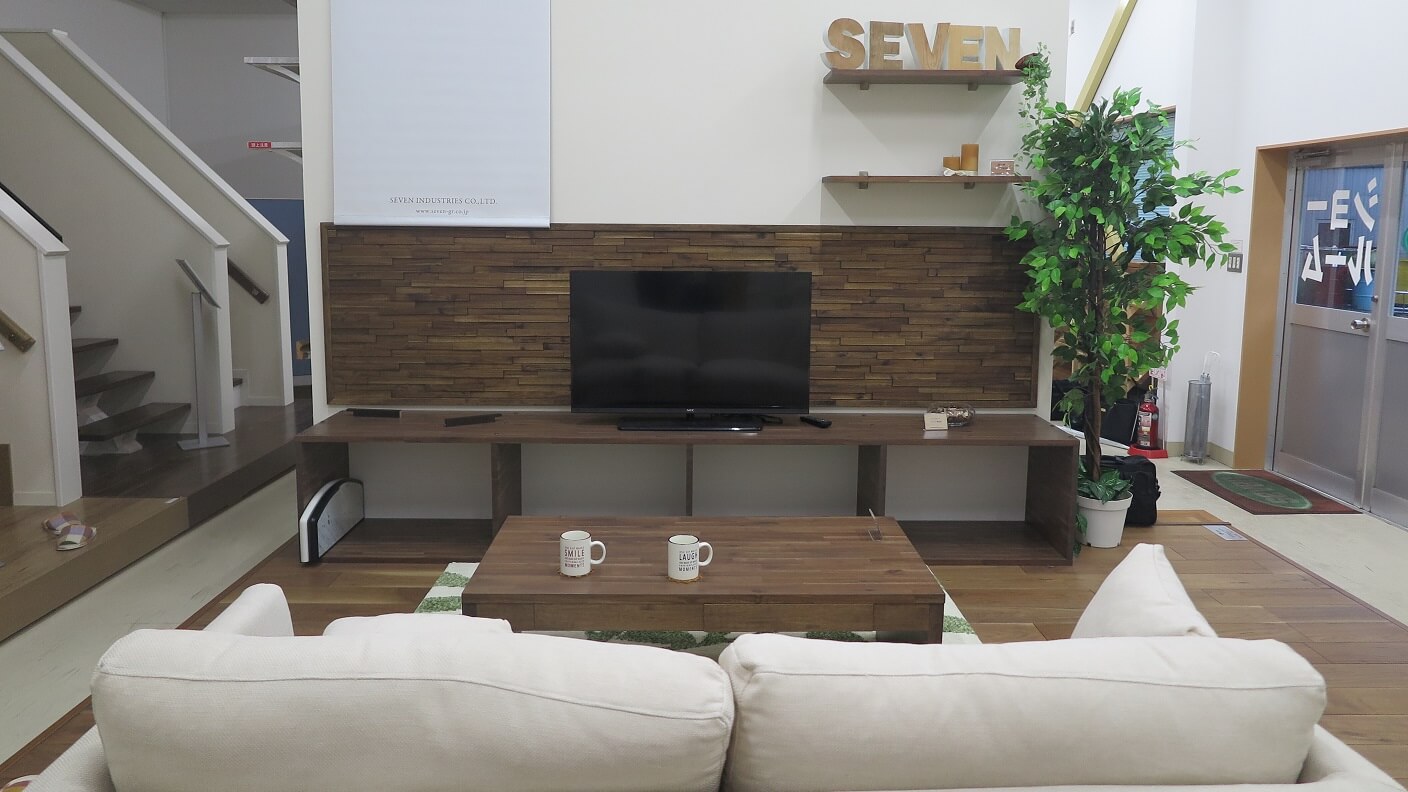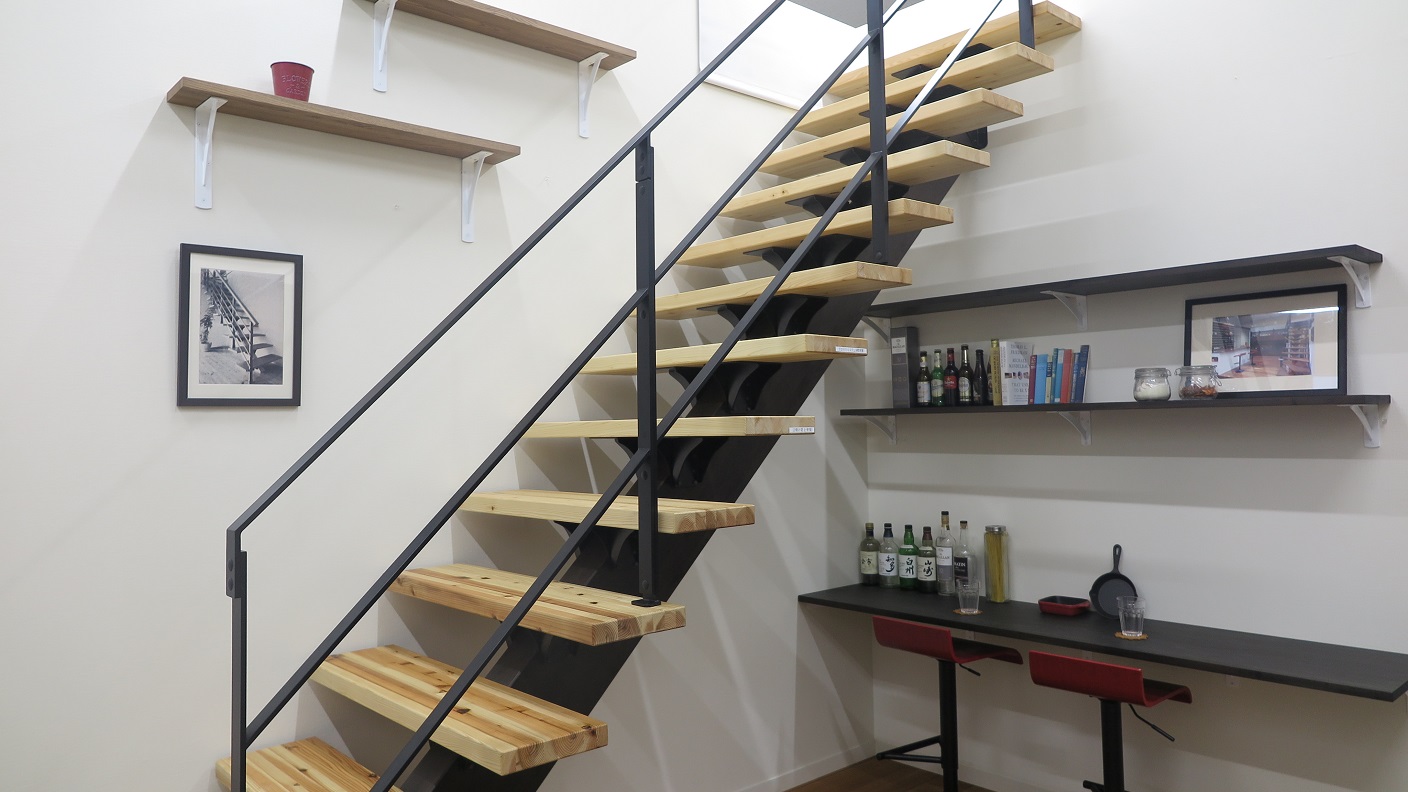 Highly driven two trading company persons in Gifu
I came back from Gifu particularly impressed by the passion the two company presidents have for their companies. Mr. Inuyama, president of Belle Maison Logisco, stated that his goal was to make it "Japan's most worker-friendly company" and "the most excellent and highly reputed order fulfillment service provider in the direct marketing industry." His energy was evident in the well-appointed canteen, lounge, and other workplace amenities, and in workspaces where Sasage and other services were performed for direct marketing clients. Enthusiasm of Mr. Tanaka, president of Seven Industries, could be felt in the attention to detail paid to the processes performed on the workshop floor, and in the beautiful finished products. "Each and every one of us engages in tasks as a professional would," was how Mr. Tanaka described the attitude. I could not help but admire Minokamo's two leaders making superb efforts in partnership with their staff.
Keyword
Infrastructure Business
Japan
General Productss
Retail Service Operations
Transportation