Business Development
"Our Unit is designed to address cross-border opportunities and fill the gaps between real market demand and areas where we already serve our customers through our product-based business organization."
Business Unit Overview
Business Development Unit (BDU) promotes cross-border business developments to further enhance SCEU's ability to create new business opportunities in the ever evolving business environment in Europe, North Africa and Israel from a mid to long term perspective.
Europe's diverse business landscape, multispeed regional economies and government policies within historical, political, and cultural contexts present great opportunities for global, multi-cultural and multi-disciplined organizations like Sumitomo. To capture these opportunities and create extra value for our customers and partners, BDU adds another dimension and insight to our existing product-based business organization.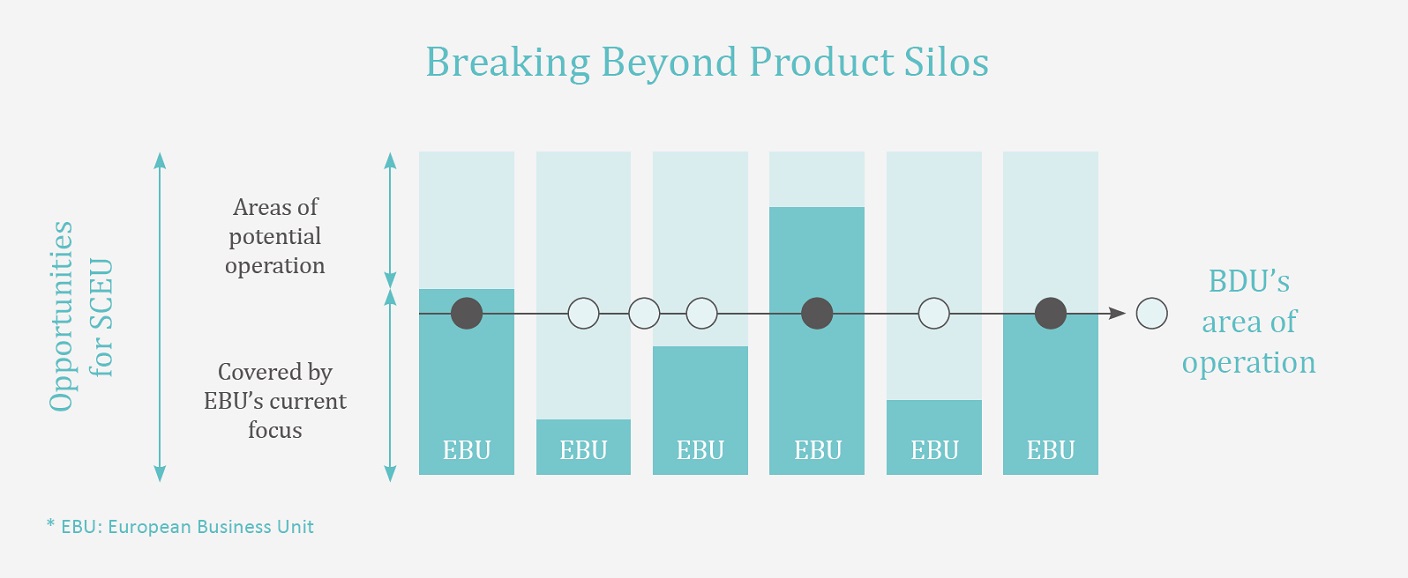 BDU is designed to address cross-border opportunities and fill the gaps between real market demand and areas where we already serve our customers through our product-based business organization.
BDU's core capability is to map markets for new exciting opportunities and utilize visionary insight to create greater value for our customers by developing creative business models, acquiring disruptive technologies and solutions through being an insider in European innovation communities, and enabling regional business to serve customers' local needs more proactively. We enable SCEU to further adapt and keep up with ongoing industry trends and market momentum in Europe and beyond, on a real time basis. As a result we help evolve SCEU with its sustainable growth by further leveraging our extensive product portfolio, services and global network.
BDU is working very closely with our key European partners and customers to identify new opportunities together with SCEU's regional offices and aligning these with existing business unit strategies. BDU also incubates and executes disruptive investment opportunities to evolve and transfer our product-focused organization activities.
We strategically selected three "Business Focused Areas" to further develop, in the medium to long term, which are : i) Mobility Services, ii) Environment & Energy, and iii) Agrifood Tech.
Mobility Services
Develop new business along the entire value chain of and beyond the European automotive industry, which is under disruptive transformation, including: Connected, Autonomous, Sharing, Electrification, and Lightweight-related technology and business models.
Environment & Energy
Develop new business in the environment & energy and smart city sector, which goes beyond our successful renewable energy, upstream energy, and European OCTG business, including; energy storage, on-street parking, and digitalized well-related system & service.
Agrifood Tech
Develop new business in the European agriculture and food industry, which engages new agricultural digital technology to enhance product yields and farmers' management efficiency.
Additionally, BDU is also strengthening SCEU's regional presence in Central Eastern Europe, Morocco and Israel, to better serve the market through numerous local initiatives.
BDU is committed to become the real engine to promote cross-border business development, aiming to realize the paradigm shift across SCEU and unlocking even more value for our customers, partners and stakeholders.