Basic Policy and System
Basic Compliance Policy
The basis for the Sumitomo Corporation Group's compliance is to win the trust of society by practicing the Activity Guideline that states "to comply with laws and regulations while maintaining the highest ethical standards."
Accordingly, we follow our principles of "Giving First Priority to Compliance," which means compliance takes priority over all activities of the Group and that we must never violate compliance as a result of giving priority to the pursuit of profit, and "Reporting Compliance Issues Immediately" or "Immediate Report," which means, in the event of a compliance problem, employees must report the situation without delay to their line manager or to the relevant department of the Corporate Group.
Sumitomo Corporation Group Compliance Policy
The Sumitomo Corporation Group Compliance Policy was developed in March 2019 based on the existing Compliance Guiding Principles to clarify and adopt the basic policy above throughout the group. Educational programs, such as seminars, are being provided on a continuing basis with the aim of spreading and ensuring the adoption of the policy throughout the group.
Compliance Management System
Aiming for more agile responses to compliance issues which arise in the Group, Sumitomo Corporation appoints a Chief Compliance Officer (CCO), who has ultimate responsibility for compliance. Further, the Compliance Committee, which plans compliance measures, includes the general managers not only of the Corporate Group but also of the business divisions, enabling it to examine such measures in a multifaceted way that reflects our actual business operations.
Our Group will continuously aim to establish and improve the internal systems that realize our principle of "Giving First Priority to Compliance."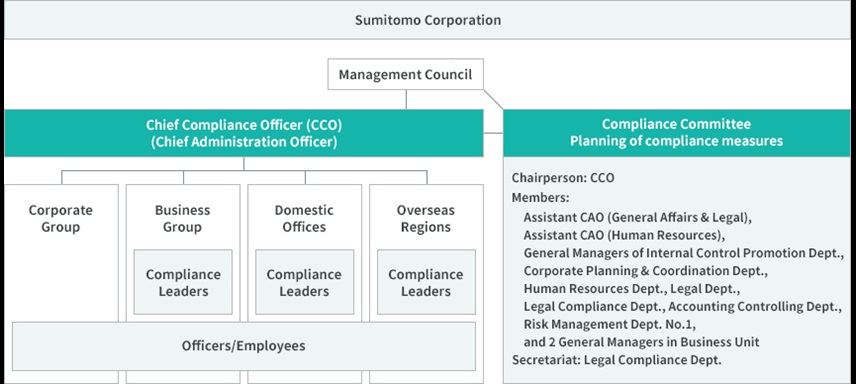 Speak-Up System
Continuous improvement of the Speak-Up System
Our internal rules stipulate that any issues or potential issues in relation to compliance must be reported immediately to their line manager or to the relevant department of the Corporate Group (Immediate Report). Such issues include not only the violation of antitrust/competition laws or anti-bribery/corruption laws but also workplace misconduct, falsification of accounts, or harassment. If reporting through the usual reporting line is difficult for some reason, we maintain a "Speak-Up System" available to officers and employees to report the issue to the Chief Compliance Officer through an internal or external hotline.
Under the System, the fact and details of the report are maintained in the strictest confidence, and it is ensured that the whistle-blower is not subject to disadvantageous treatment for making the report. Efforts to encourage the use of the System include seminars for officers and employees as well as internal notice and internal Q&A support, which are designed to spread the information on the System throughout the company. Additionally, "Speak-UpCards" with an overview of the System as well as the contact details for the hotline are distributed to all officers and employees, and posters are put up on all floors of our office to promote the use of the System.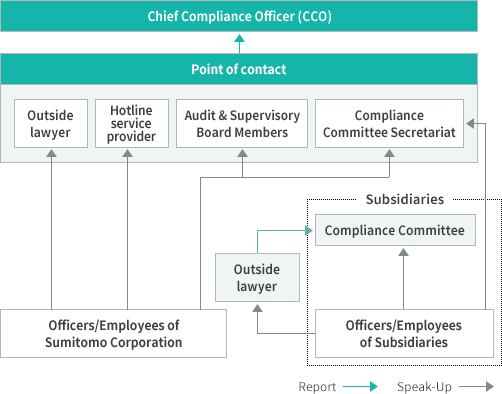 Launch of the SC Global Speak-Up system
The group-based Speak-Up system, which enables officers and employees of group companies both in and outside Japan to report compliance-related issues, has also been developed and launched.
Initiatives to ensure compliance
Appropriate responses to compliance violations and preventive measures
In case of a compliance problem, the Company, primarily through the Legal Dept. and Legal Compliance Dept. and in cooperation with relevant departments in and outside of Japan, promptly takes steps to establish the facts and clarify the causes of the incident, including the appointment of external specialists when necessary. Based on the outcome, we take corrective measures, disciplinary action, and preventive measures.
The Compliance Committee Secretariat keeps records of the details and number of cases occurring in the Group, and other information such as measures taken to prevent recurrence. These are evaluated and used to plan future compliance measures. The results are deliberated at meetings of the Compliance Committee, and reports are made periodically to the Management Council and the Board of Directors.
Through this process of repeatedly improving and enhancing such measures, we strive to further encourage thorough compliance throughout the Group.
Continuous education program initiatives
The Compliance Manual, which explains particularly important issues, such as antitrust, security trade control, and anti-bribery/corruption, is communicated to all officers and employees of Sumitomo Corporation.
Furthermore, both in Japan and overseas, we implement various education programs for each class of employee, such as newcomers, newly appointed general managers, and newly appointed corporate officers, as well as provide e-learning programs for all employees. In addition to these regular activities, we hold seminars and training sessions on an ongoing basis as required.
We also implemented a variety of support measures to reinforce compliance systems at Group companies including communication of e-learning content on Sumitomo Corporation Group Compliance Policy to Group companies.
Anti-bribery/corruption initiatives
Based on the principle of "Giving First Priority to Compliance" and as stipulated in the Sumitomo Corporation Group Compliance Policy, the Group implements strict measures to prevent all forms of corruption. Specifically, we have established the Rules for Prevention of Bribery of Public Officials, which regulate the provision of entertainment, gifts, invitations, and donations to domestic and foreign public officials as well as the selection of agents, and conduct required internal review. In addition, taking into account revisions to the laws and regulations of each country, and advice from various external specialists, we continuously review our internal rules and guidelines. Further, we extend these rules and guidelines to overseas offices and Group companies and encourage them to establish and implement a system that takes into account the bribery risk level of each company, and we also offer ongoing employee education and work constantly to prevent bribery and corruption.
In 2017, we announced the Sumitomo Corporation Group Anti-Corruption Policy, which summarizes the Group's principles and policies in this regard. This Policy includes the following statement. "The Sumitomo Corporation Group will not commit bribery or conduct any activity raising the suspicion of bribing Japanese government or other public officials; and will as a principle prohibit its officers and employees from providing such officials with entertainment, gifts, or the equivalent. It will not make any offer, payment, promise to pay, or authorize the payment of any money or anything of value to any foreign government or other public official, for the purpose of influencing any act or decision of such official in order to assist it in obtaining or retaining business." This statement declares the Group's principles in relation to preventing bribery. Furthermore, through this Policy we explain our anti-bribery system and our initiatives for the prevention of bribery to our business partners, and request their understanding and cooperation.
Sumitomo Corporation Group Anti-Corruption Policy(PDF/96KB)
Measures for ensuring compliance with laws concerning antitrust and fair competition
We stipulate fair competition in the Sumitomo Corporation Group Compliance Policy and our policy for compliance with laws concerning antitrust in the Compliance Manual. We have also published a separate manual concerning antitrust/competition laws for our officers and employees that stipulates key considerations in daily dealings. Additionally, we endeavor to ensure that antitrust/competition laws are observed by measures such as regularly holding internal training.
Security trade control and logistics compliance
As an integrated trading company, Sumitomo Corporation regularly implements various measures to ensure that we comply with treaties and international frameworks related to international trade, as well as Japanese laws and regulations related to trading activities. Our group companies do likewise. We implement various measures related to security trade control to prevent weapons or products and technology for civilian use that could be converted to military use from falling into the hands of states or non-state organizations (terrorists) which may develop weapons of mass destruction. We also provide internal rules, manuals, and guidelines, hold training sessions, and instruct and monitor as needed to ensure compliance with regulations related to tariffs and customs as well as those related to public order and safety.
Prevention of insider trading
To prevent violations of insider trading regulations related to our business activities as well as personal dealings by officers and employees, our company has established "Rules for Prevention of Insider Trading" as well as internal checking systems from various perspectives. To ensure compliance with insider trading regulations as well as internal rules, we also continuously provide internal training courses and other activities to raise awareness. In 2021, we held an internal training program for officers and employees of our company to remind the importance of appropriately managing insider information at each organization.