Human Resources Development
Basic Human Resource Development Principles
For the Sumitomo Corporation Group, human resources are the most important managerial resource. Based on its understanding and implementation of the Management Principles and Activity Guidelines, the Sumitomo Corporation Group is committed to contributing to society across a broad range of areas by leveraging its diverse workforce of people from all walks of life who are constantly creating new value on a medium- to long-term basis. To meet this commitment, the Group is striving to enhance the abilities of individual employees and speed up human resource development while fostering strategic and planned employment as well as the development and empowerment of its workforce as whole.
For the development of its human resources, the Sumitomo Corporation Group traditionally provides both OJT and OFF-JT. OFF-JT supplements OJT, which forms the foundation of the Group's human resource development. In OFF-JT programs, participants look back on their job successes and failures, generalize/conceptualize their experiences, and acquire the skills and knowledge required for their jobs in preparation for taking on more difficult tasks.
Sumisho Business College (SBC)
Each year, Sumisho Business College, which is a corporate university in the Sumitomo Corporation Group, offers 320 off-the-job training programs covering skill sets and knowledge. Among them, we give priority to enhancing individual capability by strengthening people's ability to innovate, originate alternatives, think logically, and ensure accountability.
In addition, we continuously provide long-term training program for selected employees to obtain the skill sets and knowledge to be required for management. Following such training, many participants go on to manage Sumitomo Corporation Group companies both in Japan and overseas. As well as in-house programs, we are strengthening human resource development through external training, such as an executive MBA program at overseas business schools.
Furthermore, we have been implementing a training program that involves visiting the Besshi Copper Mines, the starting point of the Sumitomo Corporation Group. The main objective of this training is to give employees an opportunity to experience and assimilate Sumitomo's Business Philosophy, the basis of the Group's Management Principles, and to ensure that the philosophy is passed on to younger employees. From fiscal 2017, the number of the training sessions and the scope of the trainees have been expanded to further instill the philosophy.
Sumisho Business College (SBC): Training Programs and OJT Programs
Data for training provided by SBC in Fiscal 2019
Total number of participants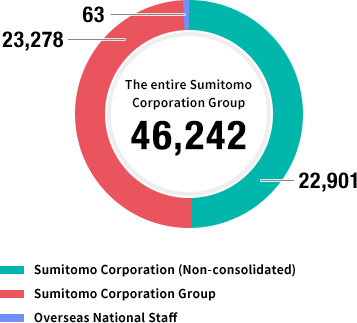 Number of participants by major program (including participants from Group companies)
Numbers of training courses and hours offered
The Long-term Programs for Selected Employees in Business Leader Development
Participants in the programs will work to establish their own management philosophy and acquire skills to foster self-directed learning and practical leadership, which are difficult to develop under short-term programs. Participants in the programs are selected from among those who are demonstrating their abilities at the forefront of business and those who are expected to take on leadership roles in the future. The programs are designed to help these employees take their skills to the next level. Also, in some of the programs, lecturers and participants will engage in two-way discussions so that participants can gain a broader perspective on organizations, the entire company, and society as a whole.
Workshop with General Managers of Business Units (6 months)
Leaders train future leaders: Facing questions that have no "right" answer
This is a workshop for those who are expected to assume executive positions in the Sumitomo Corporation Group and are therefore required to take a broad view for the management of the entire Group. They acquire the ability to think broadly from the viewpoint of management by participating in dialogues and discussions with senior management, and make findings about the ideas and attitude that are required of management.
Sumitomo Executive Management Program (10 months)
Establishing your management philosophy: To become a business leader who can survive in an age of dramatic changes
This is a program for Team leaders who are working at the forefront of business. They will become business leaders for each worksite by acquiring management literacy (knowledge and skills) and establishing their management philosophy and ideas as a foundation for taking a broader view, taking actions, and making decisions.

Leadership Cultivation Program (10 months)
Ultimate leadership to create the strongest team
This is a program for Young Class A career-track employees who are expected to demonstrate their abilities as team leaders and in other similar positions.They learn about the concept of "self-independent attitude" through the training and review one's own leadership style and actions, and how to contribute to business management that maximizes organizational productivity.
 
Executive Programs
For acquiring a business leader mindset
Through this program, Sumitomo Corporation will proactively dispatch candidates for its management team to business schools and other executive programs implemented in Japan and abroad. Participants in these overseas programs are required to at tend the orientation meeting and Pre-Executive Program to learn how case studies are conducted at business schools and enhance their presentation/discussion skills) provided by the Human Resources Department.

Elective Programs
In elective programs, there are more than 70 types of programs that cover a wide range of knowledge and skills required to be active as a business leader from basic level to advanced level. After taking the "Introduction" and "Basics" programs to acquire the standard knowledge and skills necessary to work for an integrated trading company, participants can freely choose programs to learn the knowledge and skills necessary to carry out their work from among a number of programs. In addition, "SC MBA" is prepared to acquire management literacy necessary for business leaders, including basic theories and frameworks, regardless of their present department or job details.
Global Human Resource Development Program
SBC implements this program to help participants acquire the basic knowledge and skills needed for cross-cultural communication, leadership and personnel management, which are essential for expatriate staff of an integrated trading company. SBC also implements three types of OJT programs as important capacity-building tools, and at least 100 young career-track employees are dispatched overseas annually through these programs.
Level-Specific Programs
Sumitomo Corporation implements level-specific programs to provide employees at different levels with training suitable for the leadership ability required of them and help them develop the required mindset, skills, and leadership qualities in a systematic manner. Participants in the training will understand what is expected of them and what roles they should fulfill, thereby acquiring tips on how to transform themselves. Participants who are at the same level will inspire each other to become more motivated to learn.
HRD Roadmap
Instructor system for the education of new employees
The instructor system is an important tool to provide new employees with initial education and help them become full-fledged members of society and Sumitomo Corporation. Each instructor receives training three times.
Instructor system
Instructors help new employees get their working life off to a smooth start by supporting their OJT (explanation of the details of the job and basic behavioral requirements) and by teaching them the values and organizational culture they are expected to share as employees of Sumitomo Corporation. The instructors thereby help new employees attain the basic mindset required for them to achieve growth as Sumitomo Corporation personnel.
Instructor
Promoter
Qualification
Class B career-track employee
Team Leader、Subleader、Class A career-track employee
Term of office
One year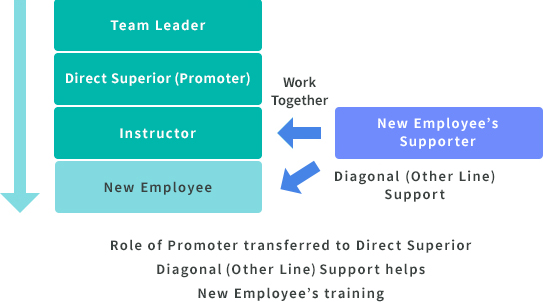 Programs for Sumitomo Corporation Group companies within and outside Japan
The Sumitomo Corporation Group also attributes importance to human resource development at Group companies in and outside Japan. We make use of the development know-how gained at Sumitomo Corporation to provide Group companies with training programs suitable for them. These programs also provide participants with opportunities for interpersonal exchange and to build great networks.
Development program for locally hired employees
Training of national staff overseas
We provide national staff of our overseas bases and Group companies with level-specific training in English, with a view to helping them achieve growth. We invite locally hired employees from across the world to the Head Office in Tokyo to speak to them about the Sumitomo Corporation Group's philosophy and strategies and help them acquire business skills such as cross-cultural leadership. Through this training they can develop a sense of unity and improve their skills as members of the Group.
Long-term programs to develop selected employees of Group companies into managerial talent
School for developing strategic professionals (Nine months)
Targeting Sumitomo Corporation Group employees who are expected to become managers and future leaders of the company, we implement a leadership program in which participants acquire the skills necessary to set visions and strategies from a long-term perspective and hone the leadership abilities they will need to implement the strategies.
Development program for employees of domestic Group companies
Level-specific programs for Sumitomo Corporation Group companies
For Group companies in Japan, we provide a range of programs for new employees, mid-level employees, senior managers and clerical employees to help them acquire the leadership mindset and skills required for their respective positions and make progress for further improvement.
Programs to meet the individual needs of Group companies
Theme-specific programs for Sumitomo Corporation Group companies
These programs are designed to meet the individual needs of Sumitomo Corporation Group companies and provide participants with knowledge and skills that could not be acquired in level-specific training.
Sumitomo Corporation Global HRD Center
A training center to develop global talent as well as to be used as a strategic multipurpose facility
| | |
| --- | --- |
| The Sumitomo Corporation Global HRD Center in Ginza, Tokyo serves as a training center to develop global talent as well as a strategic multipurpose facility. As a training center, it is used to further strengthen the development of a global and diverse talent. It also has a versatile multipurpose space, which is used for Head Office functions. International colleagues from different organizations and countries all over the world meet at this facility for intensive discussions on the future visions and strategies of the Sumitomo Corporation Group. | Sumitomo Corporation Global HRD Center |
| A seminar room on the 3rd floor | A dining hall on the 4rd floor |
当社は、東京都中央区銀座にある「グローバル人材育成拠点」と「戦略的な多目的施設」を兼ねた研修施設「住友商事グローバル人材開発センター」を活用しています。グローバルベースでのさらなる人材育成の強化と多様な人材の活躍促進の拠点として、また本社機能を補完する多目的施設として、当社グループの社員同士が職場や国を越えて集い、将来のビジョンや戦略を徹底的に議論する場となっています。
3階 セミナールーム
4階 ダイニングホール
住友商事グローバル人材開発センター