Human Resources Development
Basic Human Resource Development Principles
For the Sumitomo Corporation Group, human resources are the most important managerial resource. The Global Human Resource Management Policy established in 2020 describes that the "ideal individual" as "a person who is creating new value on a global scale, sharing SC Group's vision and mission, and maintaining high aspirations and a continuous intrinsic motivation with Enterprising Spirit". The most important thing to achieve this is the individuals enhance abilities those are effective in globally. And this abilities refer "expertise", and "professionalism". To develop a group of top-tier professions with this expertise and professionalism, OFF-JT makes it possible to engage in more advanced work by "generalizing and conceptualizing" experiences through "introspection and reflection" on work successes and failures and by acquiring skills and knowledge necessary for work.
Sumisho Business College (SBC)
As Sumisho Business College (SBC), we organize 250 courses of OFF-JT training a year and that offers individuals various types of programs to acquire the knowledge and skills needed to be active in each field. In addition, we believe human resource development based on individual career perspectives, experiences, aptitudes, and issues is important, and therefore, we focus on career development training to ensure that as many people as possible can work with high motivation and comprehensively demonstrate their professionalism. Moreover, there are training programs those enhances people management skills and promote diversity and inclusion (D&I) so that supervisors can address and motivate team members and unite diverse human resources to link organizational and individual growth. We also offer Long-Term Programs for Selected Employees that allows employees to acquire the knowledge and skills necessary for business management. Many of those completing the program have been playing a leading role in managing associated companies in Japan and abroad. In our efforts to enhance the development of human resources, we make effective use of external high level training programs, such as overseas executive programs, in addition to in-house training programs.
Sumisho Business College (SBC): Training Programs and OJT Programs
Data for training provided by SBC in Fiscal 2020
Total number of participants
Number of participants by major program (including participants from Group companies)
Numbers of training courses and hours offered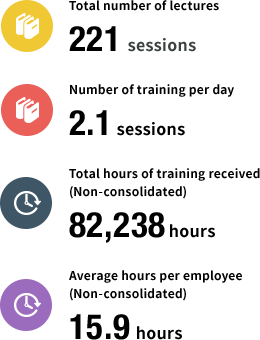 The Long-term Programs for Selected Employees in Business Leader Development
Long-term programs for selected employees are intended to foster a management perspective and for acquisition of the skills for self-directed learning and practical leadership that can be difficult to obtain through short-term programs. Participants in each program are selected from among those who are demonstrating their abilities at the forefront of business and those who are expected to take on leadership roles in the future. These Long-term programs contribute develop the foster of top-tier professionals to be active in various fields.
Workshop with General Managers of Business Units (4 months)
Leaders train future leaders: Facing questions that have no "right" answer
This workshop targets general manager and assistant general manager class personnel who are expected to hold executive positions in the future and seek companywide managerial perspectives. Participants acquire the broad perspectives, thinking, and attitudes required of management by participating in extensive dialogues and discussions with senior management, Each year, about 30 employees participate, attending eight sessions over four months and giving a companywide presentation on the future of the company.
Sumitomo Executive Management Program (10 months)
Establishing your management philosophy: To become a business leader who can survive in an age of dramatic changes
Targeting team leader (department managers) who have the potential to become executive managers in the future, this program provides the knowledge and skills needed by executives and fosters managerial perspectives and philosophy to create executive management human resources who can contribute to society through business. Approximately 25 employees participate each year, attending 30 sessions over about 10 months. At the conclusion of the program, participants give a presentation to executives on the ideal state of Sumitomo Corporation and their own managerial vision.
Overseas training at INSEAD (conducted online in FY 2021)
As one session of the Executive Management Program, a customized program is conducted with INSEAD business school on "introspection and behavioral reform." The program provides an opportunity for participants to examine more deeply their own axes, values, and leadership.
PX (Personal Transformation) Program (7 months)
Ultimate leadership to create the strongest team
This is a new program created in 2021 for non-managerial personnel. The 10-session program, conducted over seven months, is intended to be aware of personal and company strengths and its issues for more growth through dialogue with business leaders from the same age and people in different industries. Moreover, this program encourage personal transformation by completing the processes of new business creation (strategy formulation and execution), and participants acquire abilities as professional human resources capable working outside the company.
Executive Programs
For acquiring a business leader mindset
Department and division managers who are potential candidates for executive management positions in their respective organizations are sent to executive programs at domestic and overseas business schools at the company's expense.At least 30 employees participate in the domestic program with a focus on business schools in Japan, and for the overseas program, at least 30 employees are sent to leading overseas business schools with the objectives of fostering awareness and thinking as a future executive, acquiring comprehensive management knowledge and executive decision-making capabilities, and growing through interactions with other personnel and executives.
Elective Programs
More than 90 different selective programs are available, covering comprehensive knowledge and skills, from basic to advanced levels, that will be needed to play a leading role as an executive who can contribute to society through business. After completing the Introductory Seminars and the Basic Seminars where employees can acquire the basic skills and general knowledge (standard skills and knowledge) required to work for an integrated trading company, employees can choose any of the programs where they can learn about knowledge and skills required for them to do their work. Among these programs, in the course "SC MBA," participants can study and have discussions on subjects that are generally covered in an MBA program. This course is open to any employees and they can take any course regardless of direct relation to their department, so it can support their continuing effort to learn. Through the course, participants learn the literacy and fundamental theories and frameworks required to be a managerial.
Global Human Resource Development Program
SBC implements this program to help participants acquire the basic knowledge and skills needed for cross-cultural communication, leadership and personnel management, which are essential for expatriate staff of an integrated trading company. SBC also implements three types of OJT programs as important capacity-building tools, and at least 100 young career-track employees are dispatched overseas annually through these programs.
Level-Specific Programs
At the time of promotion, we arrange training programs that offers understanding to the internal rules and literacy necessary for conducting business. From new employee to senior management, participants in the training will understand what is expected of them and what roles they should fulfill, thereby acquiring tips on how to transform themselves. We offer Level-Specific Programs for the entire Sumitomo Corporation Group. Through the program participation, they build a rich network within the Sumitomo Corporation Group. In these programs, emphasis is placed on fostering leadership that can contribute to society through business, and programs that enable participants to gain awareness for independent personal growth are provided.
Instructor system for the education of new employees
The instructor system is an important tool to provide new employees with initial education and help them become full-fledged members of society and Sumitomo Corporation. Each instructor receives training.
Instructor system
Instructors help new employees get their working life off to a smooth start by supporting their OJT (explanation of the details of the job and basic behavioral requirements) and by teaching them the values and organizational culture they are expected to share as employees of Sumitomo Corporation. The instructors thereby help new employees attain the basic mindset required for them to achieve growth as Sumitomo Corporation personnel.
Instructor
Promoter
Qualification
P1
Team Leader, Subleader, AP
Term of office
One year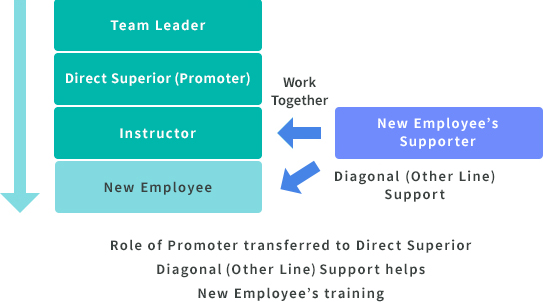 Programs for Sumitomo Corporation Group companies within and outside Japan
The Sumitomo Corporation Group also attributes importance to human resource development at Group companies in and outside Japan. We make use of the development know-how gained at Sumitomo Corporation to provide Group companies with training programs suitable for them. These programs also provide participants with opportunities for interpersonal exchange and to build great networks.
Development program for locally hired employees
Training of national staff overseas
We provide national staff of our overseas bases and Group companies with level-specific training in English, with a view to helping them achieve growth. We invite locally hired employees from across the world to the Head Office in Tokyo to speak to them about the Sumitomo Corporation Group's philosophy and strategies and help them acquire business skills such as cross-cultural leadership. Through this training they can develop a sense of unity and improve their skills as members of the Group.
Long-term programs to develop selected employees of Group companies into managerial talent
School for developing strategic professionals (Nine months)
Targeting Sumitomo Corporation Group employees who are expected to become managers and future leaders of the company, we implement a leadership program in which participants acquire the skills necessary to set visions and strategies from a long-term perspective and hone the leadership abilities they will need to implement the strategies.
Development program for employees of domestic Group companies
Level-specific programs for Sumitomo Corporation Group companies
For Group companies in Japan, we provide a range of programs for new employees, mid-level employees, senior managers and clerical employees to help them acquire the leadership mindset and skills required for their respective positions and make progress for further improvement.
Sumitomo Corporation Global HRD Center
A training center to develop global talent as well as to be used as a strategic multipurpose facility
| | |
| --- | --- |
| The Sumitomo Corporation Global HRD Center in Ginza, Tokyo serves as a training center to develop global talent. As a training center, it is used to further strengthen the development of a global and diverse talent. It also has a versatile multipurpose space, which is used for Head Office functions. International colleagues from different organizations and countries all over the world meet at this facility for intensive discussions on the future visions and strategies of the Sumitomo Corporation Group. | Sumitomo Corporation Global HRD Center |
| A seminar room on the 3rd floor | A dining hall on the 4th floor |
The Sumitomo Corporation Global HRD Center in Ginza, Tokyo serves as a training center to develop global talent as well as a strategic multipurpose facility. As a training center, it is used to further strengthen the development of a global and diverse talent. It also has a versatile multipurpose space, which is used for Head Office functions. International colleagues from different organizations and countries all over the world meet at this facility for intensive discussions on the future visions and strategies of the Sumitomo Corporation Group.
A seminar room on the 3rd floor
A dining hall on the 4th floor
Sumitomo Corporation Global HRD Center