Encouraging More Active Involvement of Women in Business
Based on our Global HR Management Policy, Sumitomo Corporation seeks to increase talents throughout the Group who can create new value on a global scale, sharing the Group's vision and mission and maintaining high aspirations and a continuous intrinsic motivation with Enterprising Spirit. We also aim to build a Great Place to Work on a global scale, where individuals continuously and passionately create new value. We aim to be an organization recognized for nurturing talents that continuously take on new challenges throughout the world.
As part of the promotion of Diversity & Inclusion that is set out in the Policy, we are promoting an HR management that is free of any bias based on nationality, age, gender, sexual orientation, gender identity or any other individual attributes and conventional values.
As for promoting a more active involvement of women in business in Japan, we have set the following goals to be achieved by 2030.
Female Manager ratio: At least 20% or more
Female Department General Manager ratio: At least 10% or more
Female Director and Audit & Supervisory Board Member ratio*: At least 30% or more
*In support of the "Challenge toward 30% by 2030" announced by KEIDANREN (Japan Business Federation) in March 2021
To achieve these goals, we are reinforcing talent development, allocation, and recruitment centered on the new HR system introduced in FY2021 and are working to create an environment where each individual can demonstrate their full potential. Through all these measures, we will leverage the power of our diverse talents as a source of competitive strength and will continuously seek further growth and corporate value enhancement.
Action Plan (Japanese) (PDF/184KB)
*Based on the "Act on the Promotion of Female Participation and Career Advancement in the Workplace", the period for the Action Plan is five years. Through the measures defined in the Action Plan, we will achieve our goals by 2030.
Number of female managers*
Number of female career-track employees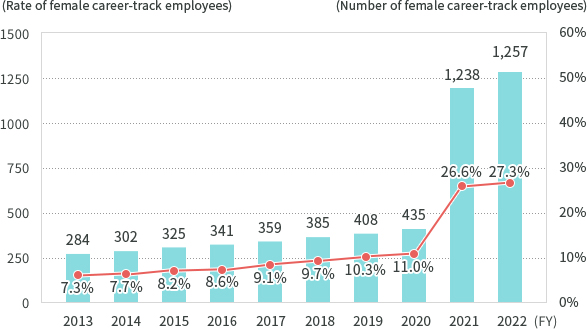 Female Department General Manager Ratio
Female Director and Audit & Supervisory Board Member Ratio
*Updated on June 30, 2021
Supporting employees in balancing work and childcare
To improve the working environment, Sumitomo Corporation has reinforced tangible aspectsincluding enhancement of systems to support our employees to balance life events and career development, and have addressed the intangible elements such as reforming employee awareness.
Specific examples include the following:
Support system for employees who are stationed overseas with only their children
Support Handbook for balancing work and child/family care
Childcare Consultant Serivces
Teleworking system and super-flextime systems
Training programs on various topics (e.g., unconscious bias)
Confirmation of intention to take child-care leave at birth (2022– )
Use of childcare-related systems by employees
Spouse's maternity leave
Leave to look after a sick child
Child-care leave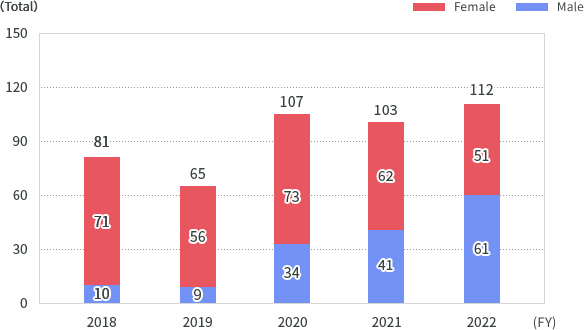 Those who have reduced working hours
Reemployment of workers who quit due to the overseas transfer of their spouse
We have a system to reemploy, under certain conditions, workers who had to quit their jobs with the company due to the overseas transfer of their spouse, with a view to providing them with an opportunity to once again put their abilities to work for the company.
|   | 2015 | 2016 | 2017 | 2018 | 2019 | 2020 |
| --- | --- | --- | --- | --- | --- | --- |
| Number of applicants for reemployment under the system for those who had to quit due to the overseas transfer of their spouse | 7 | 9 | 4 | 9 | 11 | 4 |
Female employees who are working globally
External recognition
"Platinum Kurumin" certification
| | |
| --- | --- |
| | We were granted "Platinum Kurumin" certification in June 2015 by the Ministry of Health, Labour and Welfare (MHLW) in recognition of providing superior childcare support among the "Kurumin" certified companies. |
"Eruboshi" company
| | |
| --- | --- |
| | In May 2016, we were certified as a second-highest class "Eruboshi" company in recognition of the effort to promote the active involvement of female employees on the basis of the Act on Promotion of Women's Participation and Advancement in the Workplace. |