Encouraging More Active Involvement of Women in Business
Promoting the active involvement of women in business is one of Sumitomo Corporation's important management strategies. Based on this recognition we are supporting female employees through various measures. We have striven to improve workplace environments to help working mothers continue to make meaningful contributions at their workplaces, in addition to implementing a range of support systems that exceed the legally required standards to help women develop their careers while experiencing various life events. These efforts include the establishment of the Triton Sukusuku Square in-house childcare center in 2008, distribution of a handbook on how to balance a professional career and childcare to each employee in 2014, introduction of a system to support employees who are working and raising children overseas and apart from their spouses in 2014, and the launch of a childcare consulting service in 2018.
Moreover, based on the Act on Promotion of Women's Participation and Advancement in the Workplace, Sumitomo Corporation formulated an action plan to help women fulfill more of their potential in March 2016.
Number of female career-track employees and managers
Number of female managers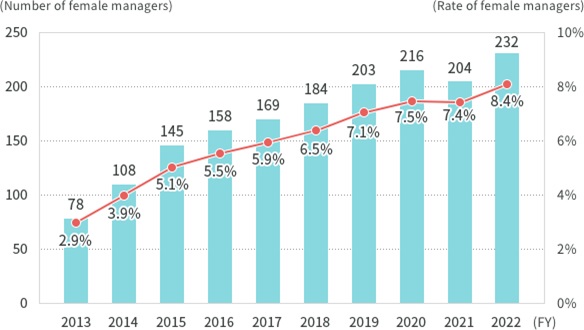 Number of female career-track employees
We interview female career-track employees to identify their needs and are formulating measures to give more support to them for further empowerment. We also provide younger female career-track employees with opportunities to mitigate their concerns and have a specific image of their future through meetings with senior colleagues who are working mothers on career tracks.
Career support
Career advisor system (from April 2007)
Expansion of scope for continued use of maiden names (from July 2007)
Childcare support
Childcare and family-care leave systems that exceed the standards required by law
Paid holidays for employees to take care of their sick children
Rental mobile PCs to provide employees taking childcare leave with relevant information (from June 2007)
In-house childcare center (from October 2008)
System to support employees working and raising children overseas and apart from their spouses (established in December 2014)
Publication of a handbook to help employees balance work and childcare (in December 2014)
Conclusion of a corporate contract with a babysitting company (in June 2015)
Launch of consulting service for childcare (in September 2018)
Supporting employees in balancing work and childcare
Sumitomo Corporation provides both male and female employees with a range of options so that individual employees can continue to demonstrate the full range of their abilities while raising their children. The HR department interviews employees who will take childcare leave and their managers to provide them with information about the support systems, thereby helping the employees take childcare leave and subsequently return to their workplaces in a smooth fashion.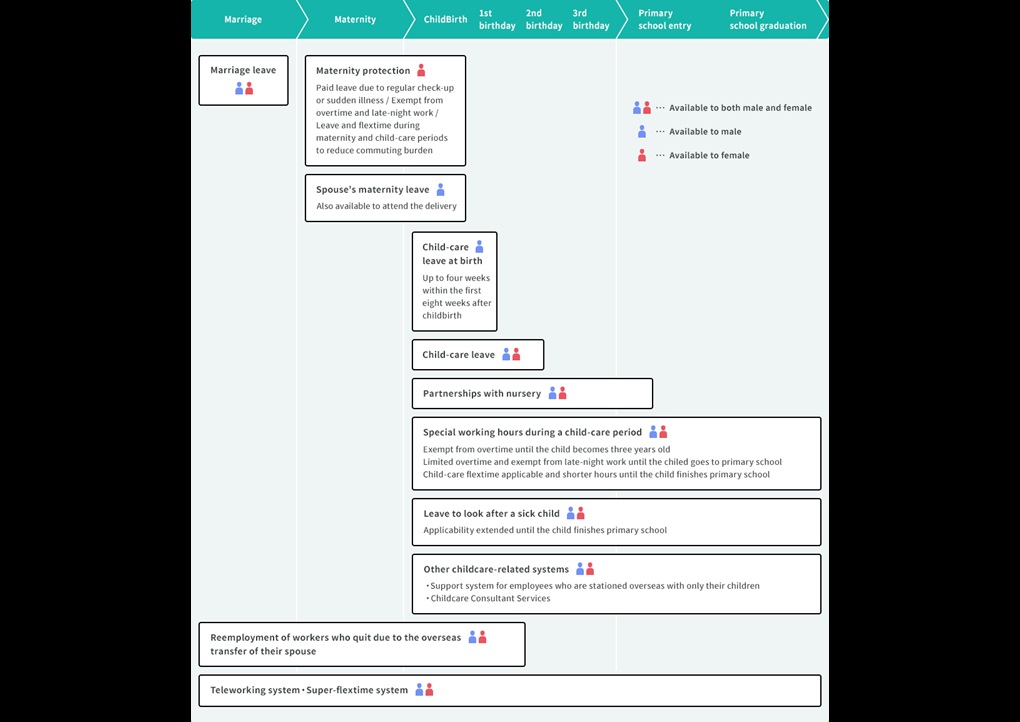 Company Daycare Center "Triton Sukusuku Square" Established
In October 2008, "Triton Sukusuku Square," an in-house daycare center, was opened in the commercial premises next to our head office building. The center, which is exclusively for employees of Sumitomo Corporation and Sumitomo Group companies, accepts up to 28 children aged from 0 to 5 years. The nursery was set up to help improve employee WLM, and is especially flexible in addressing the needs of employees who may return to work in the middle of the year, allowing them use of the services until the following April, when municipal nurseries will accept their children. It also acts as a temporary nursery that parents can use in an emergency.
The nursery, which is managed by an external company, is staffed with professional nursery workers and nutritionists. The spacious 200-square-meter room is partitioned into separate areas for each age group, and is brightly and freshly decorated in white with soft and odor-absorbing paulownia flooring. To make it easier for parents, we have an arrangement with Tomod's, a drug store operated by one of our group companies, to provide disposable diapers, baby formula and other delivery services. Parents no longer have to haul around extra clothes, diapers, and other supplies when taking their children to the nursery.
Reemployment of workers who quit due to the overseas transfer of their spouse
We have a system to reemploy, under certain conditions, workers who had to quit their jobs with the company due to the overseas transfer of their spouse, with a view to providing them with an opportunity to once again put their abilities to work for the company.
Use of childcare-related systems by employees
Spouse's maternity leave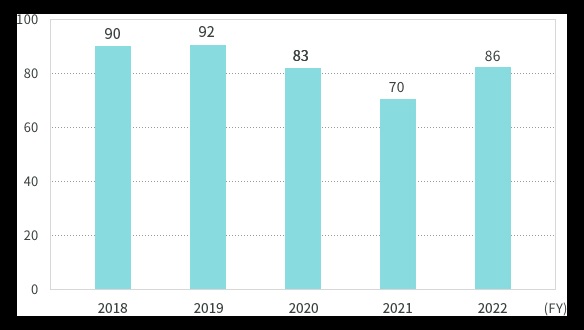 Leave to look after a sick child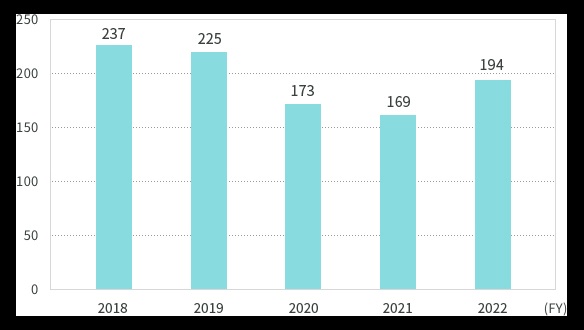 Child-care leave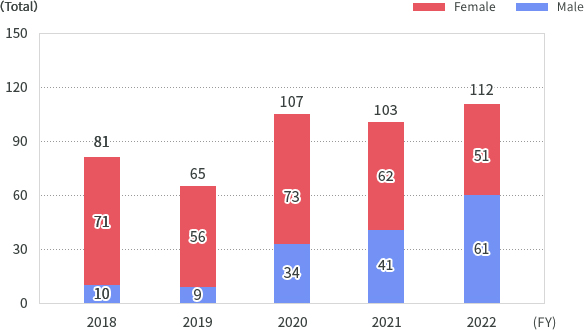 Those who have reduced working hours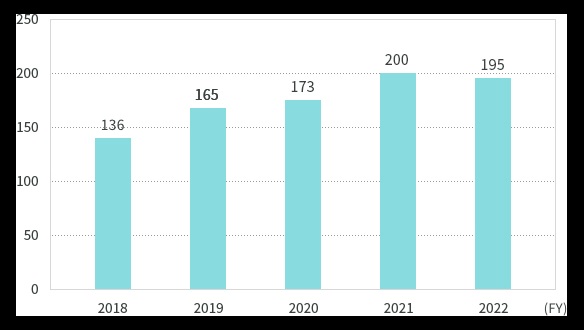 |   | 2014 | 2015 | 2016 | 2017 | 2018 | 2019 |
| --- | --- | --- | --- | --- | --- | --- |
| Number of applicants for reemployment under the system for those who had to quit due to the overseas transfer of their spouse | 7 | 7 | 9 | 4 | 9 | 11 |
(※1) Number of users as of the end of the fiscal year
Female employees who are working globally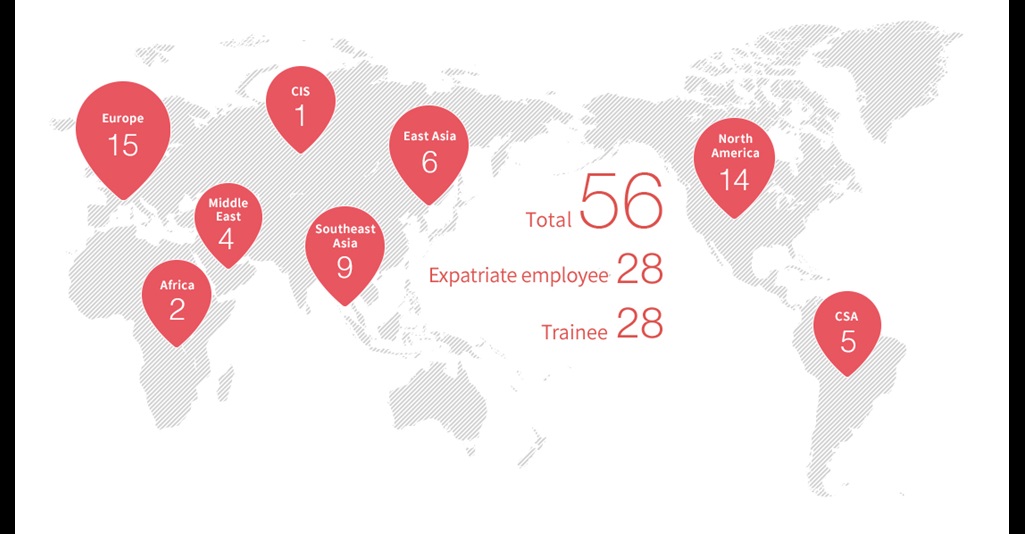 | Region | Number of people | Name of cities |
| --- | --- | --- |
| China | 4 | Shanghai |
| Taiwan | 3 | Taipei, Kaohsiung |
| Southeast Asia | 12 | Singapore, Jakarta, Jepara, Yangon, Hanoi, Bangkok, Duyen Hai, Bintulu, Ninh Hoa |
| Europe | 14 | London, Stavanger, Amsterdam, Düsseldorf, Milan, Surrey, Zug |
| Africa | 3 | Tunis, Johannesburg, Toamasina |
| Middle East | 2 | Dubai, Abu Dhabi |
| North America | 10 | New York, Houston, Denver, Atlanta |
| Central and South America | 2 | Sao Paulo, San Diego |
※ As of April 2020
External recognition
Selected as a "Nadeshiko Brand"
| | |
| --- | --- |
| | In March 2021, Sumitomo Corporation was selected as a "Nadeshiko Brand". Ministry of Economy, Trade and Industry and the Tokyo Stock Exchange every year select companies as "Nadeshiko Brands", which are outstanding in terms of encouraging more active involvement of women in business. |
"Platinum Kurumin" certification
| | |
| --- | --- |
| | We were granted "Platinum Kurumin" certification in June 2015 by the Ministry of Health, Labour and Welfare (MHLW) in recognition of providing superior childcare support among the "Kurumin" certified companies. |
"Eruboshi" company
| | |
| --- | --- |
| | In May 2016, we were certified as a second-highest class "Eruboshi" company in recognition of the effort to promote the active involvement of female employees on the basis of the Act on Promotion of Women's Participation and Advancement in the Workplace. |