Health and Productivity Management
Sumitomo Corporation has adopted the "Declaration of Iki-iki Waku-waku Health and Productivity Management" for the Sumitomo Corporation Group, based on the concept that a healthy mind and body are essential for each employee to perform at his or her highest level and are the foundation for the continuous creation of new value. In line with the "Declaration of Iki-iki Waku-waku Health and Productivity Management," the Sumitomo Corporation Group will engage in various initiatives according to current conditions at each group company.
Declaration of Iki-iki Waku-waku Health and Productivity Management
The Sumitomo Corporation Group aims to be a company in which all employees work with energy (Iki-iki), excitement (Waku-waku), and in good health, taking on challenges to create new value.

Our Group's Corporate Mission is: "To achieve prosperity and realize dreams through sound business activities." In order to fulfill this mission, it is necessary for all employees to perform at their highest level and to continue to create new value. To this end, it is crucial that each employee maintain good health.

As a human resources strategy, the Sumitomo Corporation Group will engage in "health and productivity management" that allows employees to work with energy, excitement, and good health, and creates value by further enhancing existing measures for maintaining and promoting employee health.

We will consider, implement, verify, and improve viable measures by establishing a foundation for health promotion that can be shared throughout the Sumitomo Corporation Group in accordance with the current circumstances at each group company.
The Sumitomo Corporation Group believes that its most important management resource is the health of its employees, who work in challenging global business environments characterized by complexity and rapid change, and declares its intention to strategically implement measures to maintain and promote the health of its employees in mind and body.
In addition, Sumitomo Corporation has set three main pillars for health and productivity management: "Improvement of health literacy," which will enable employees to continue to work energetically, "Reassurance in emergencies," which provides reassurance that employees will be taken care of when they fall ill, and "Global medical support," which is unique to trading companies. With these three pillars, Sumitomo Corporation will further promote health and productivity management in accordance with the aforementioned Declaration.
We have been certified by METI (Ministry of Economy, Trade and Industry) as a "White 500" enterprise with outstanding health and productivity management for six consecutive years from 2017 to 2022.
Supporting employees' health
Sumitomo Corporation has set up an in-house clinic (internal medicine and dentistry) to support employee's health management on a day-to-day basis. The internal medicine department is open five days a week for outpatients, with specialists in lifestyle diseases such as diabetes and hyperlipidemia, infectious diseases, and the liver, kidney and respiratory organs. The department also provides employees at high risk of developing lifestyle diseases with ongoing support, including nutrition counseling by registered dietitians and regular blood tests done through collaboration with specialists in diabetes and nurses. At the dentistry department, checkups are provided twice a year in addition to regular treatment. Dental and oral hygiene education is also offered on an individual basis as needed. Moreover, we hold a monthly meeting of the health committee, which is composed of industrial doctors, members of the Health Insurance Society and others, in which participants discuss health and productivity management measures.
Health checkups
The in-house clinic provides employees younger than 35 with a regular health checkup service. New employees as well as employees to be transferred overseas and those who have returned to Japan can also undertake health checkups at the clinic. Employees aged 35 and older are required to take a comprehensive medical examination at an external medical institution, for which they can receive financial support from the Health Insurance Society. The percentage of employees who undertook a regular health checkup or comprehensive medical examination at an external medical institution was 100%. Based on the results of the regular health checkups and comprehensive medical examinations at external medical facilities, the in-house clinic offers careful follow-up medical service to employees, and the Health Insurance Society also gives specific health instructions to employees to help them with the prevention and early detection of any diseases.
Mental healthcare measures
We provide training on mental health several times a year, including self-care education and training for managers. Through these comprehensive programs implemented by inviting external lecturers, trainees learn key points about their own mental health and that of those around them. About 450 employees (including those from Group companies), mainly young employees and managers, take this training in the form of 10 sessions per year. We have also set up the SCG Counseling Center "for everything, with confidentiality totally protected," which is used by a total of over 1,200 employees annually. In addition, we conduct an annual stress checkup, which is extended to employees working overseas. The in-house clinic offers counseling services for both physical and mental health, which is also available to expatriate employees. To prevent the progression of mental illness and help employees return to work, the in-house clinic also has a specialist in psychosomatic medicine.
Supporting the health of employees working outside Japan
Sumitomo Corporation has bases in 65 countries and about 1,000 employees are staying with their families (about 1,160 people in total) outside Japan to work for the company. In order to protect the health of these employees working in environments different from that in Japan, we make them undertake an annual health checkup. In addition, we have established systems for them to receive a counseling service at a clinic or the SCG Counseling Center when feeling physically or mentally ill. We have also concluded an agreement with an emergency medical assistance service provider for employees to receive health counseling service from external doctors and health nurses and to be urgently transported to hospital in case of medical emergency. For employees who will make overseas business trips and those to be transferred overseas and their accompanying family members, we hold seminars and training sessions about 40 times a year on specific themes, with an eye to raising their awareness about the need to get vaccinated to prevent infectious diseases as well as about the security and anti-infection measures to be taken locally.
Anti-smoking measures
Following the relocation of the head office in September 2018, we completely banned smoking on the office floors of the head office building. We give financial support for employees wanting to stop smoking to buy gum sold for the purpose and have been implementing programs to help them attain the goal.
SCG Counseling Center
Sumitomo Corporation has the SCG Counseling Center within the head office to help Sumitomo Corporation Group employees work energetically. It is staffed with multiple counselors, who work to mitigate employees' concerns and help them solve problems. It was opened in April 2005 as a center where employees could consult about any issue and all the details would be treated in strict confidence. Being widely recognized as such, the center has been used with ease of mind by a range of employees. (The center received more than 1,000 requests for counseling per annum.)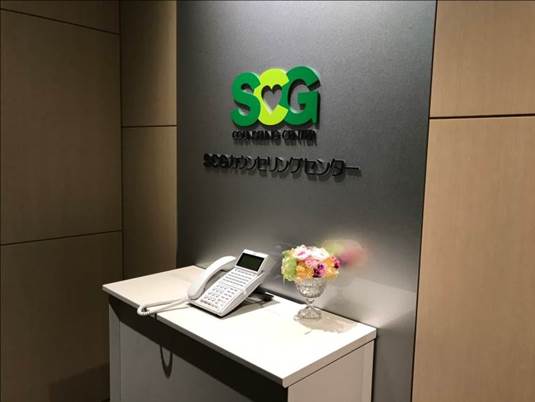 Provider
Service
Target
Function
SCG Counseling Center
Counseling in person
Mainly for employees in Tokyo
Qualified counselors provide counseling to employees in Japan and overseas. Qualifications of the counselors include senior industrial counselors, clinical psychotherapists, career consultants, and family consultants.
Counseling by phone
All employees
Counseling by visiting the employee's site
Employees outside of Tokyo including overseas
Various seminars
All employees
Implementing seminars for managers, general employees, employees overseas, and employees' families
Consultation
Management
Consultation for managers regarding how to respond to their subordinates
External contracting company
Counseling in person, by phone, by visiting the employee's site
All employees
Contracting external companies to provide counseling in person, by e-mail, phone, and visiting the employee's site.
SCG Massage Room "Koriton"
The "Koriton" massage room was opened within the head office in April 2008, with a view to helping Sumitomo Corporation Group employees promote their health and recover from fatigue. This service is highly evaluated by users, because it helps them improve their health condition in their spare time and subsequently increase their work efficiency. In fiscal 2017, a total of 3,600 or more employees used this massage service.