HR Initiatives of "Medium-Term Management Plan"
Creating a corporate culture able to benefit from the strengths and individuality of diverse human resources to make invisible diversities a source of growth
The business environment surrounding the Sumitomo Corporation Group is changing at a hectic pace and the local communities and business fields in which we operate, and even our business models, are becoming increasingly diverse.
In an era hailed as the Fourth Industrial Revolution, it is essential for the Group to promote diversity as a management strategy in order to adapt to change and continue achieving sustainable development.
As overseas markets expand, the development of managerial human resources able to take charge of business growth at a global level has become a pressing issue.
Under "Medium-Term Management Plan 2020," we declared the basic concept of our human resources strategy to be "Diversity & Inclusion: Make diversity a source of competitiveness." There are four elements to this basic concept: "Encourage individuals to challenges," "Expand the strengths of individuals," "Capitalize on the strengths of individuals," and "Value, respect, and accept individual differences."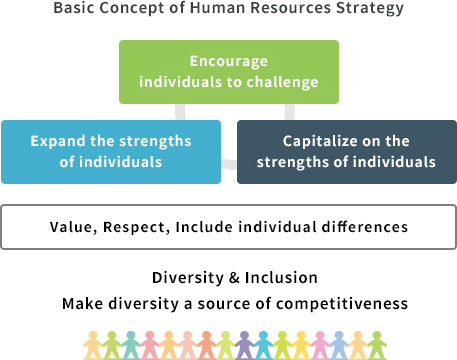 It is essential to utilize the rich mix of "knowledge" of diverse humans as a source of competitiveness in order to survive and stay competitive in complex business fields. We will focus on the diversity of our human resources on a global basis, particularly on their individual strengths, and bring these strengths together in combination. By doing so, we will drive the progress of our growth strategies.
As an absolute precondition, we need to develop and apply a mindset that acknowledges, respects, and accepts individual differences and then utilize them as a source of competitiveness. In other words, we need to practice inclusion.
Before setting out the concrete measures of our human resources strategy, we will explain the level of diversity that the Sumitomo Corporation Group aspires to.
It would not be enough if we focused on "visible" diversity such as gender, nationality, ethnicity, and age. Our focus, rather, is on "invisible" diversity in the form of differing opinions, perspectives, ideas, values, capabilities, skills, and experiences. Respecting these differences while at the same time progressing in a united direction as an organization, we aim to reap their benefit as a source of competitiveness, stimulating added value and growth.
To encourage the promotion of growth strategies at the level of the individual Group employee, in addition to giving consideration to invisible diversity, we also need to allocate the right person in the right place at the right time on a global basis, strategically carry out the appointment and development of human resources as well as build organizational structures, and ensure the necessary organizational culture and awareness to support these.
To realize this strategy, as well as top-down measures from management, the bottom-up approach is also important. One of these bottom-up initiatives was the launch in fiscal 2017 of the Diversity & Inclusion Promotion Project as an advisory body under the direct control of the President. The project leader, Chief Administration Officer and Chief Compliance Officer, attends almost all of the project meetings, where project members from a wide range of backgrounds engage in frank discussion of issues and ideas rooted in their workplace experiences.
The opinions and suggestions flowing from the Project have been fed into the human resources strategy of "Medium-Term Management Plan 2020." We have initiated similar projects in our overseas organizations and will continue to pursue diversity across Group global operations while also seeking to forge cooperative links.
In promoting Diversity & Inclusion, two very important elements are commitment as a company from a long-term perspective and creation of a corporate culture able to benefit from diversity. To ensure these elements, we are moving forward with and enhancing the range of measures constituting our human resources strategy. The measures presented in "Medium-Term Management Plan 2020" are divided into three categories, as follows.
Measures of "Medium-Term Management Plan 2020"
Strategic human resources management on a global basis
Strategic allocation of human resources
Active use of interdivisional job rotation
Building of the systems required for global human resources operations
Growing as an organization unceasingly challenging for new value creation
Introduction of "Diversity & Inclusion" as an evaluation criterion
Introduction of the Medium-Term Management Plan Challenge and Evaluation System
Creating an environment in which diverse individuals can develop their capabilities to the fullest
Promotion of health management
Pursuit of workstyles that help generate higher added value
Enhanced utilization of professional human resources and actively pursuing recruitment of mid-career human resources
Enhanced human resources development measures
For more information, please refer to the integrated report FY2020.