Work-Life Management Policy
Respect diverse values and lifestyles to help employees lead fulfilling personal lives as a driving force for greater business development. Provide employees with a better work environment where each of them can work with vigor and peace of mind to display their abilities to the fullest.
Sumitomo Corporation launched a corporate-wide Work-Life Balance (WLB) Promotion Project Team in April 2005 to develop and implement various measures. Subsequently in December 2015, we renamed our "Work-Life Balance Policy" to "Work-Life Management (WLM) Policy" to promote lively and flexible work arrangements to help employees separate and manage their work and private life on their own initiative on a medium- to long-term basis. Although the form of WLM differs depending on the value and lifestyle of each employee, it is our belief that fulfillment of various aspects in their overall lives, both private and professional, will generate energy and function as a driving force for creating new value. Based on this belief, we offer various optional programs to support employees in eliminating problems that may hinder their WLM, while also encouraging them to have high-value-added, output-oriented work styles.
Creating an environment in which diverse individuals can develop their capabilities to the fullest

Reducing long working hours
 
Organization of Time Management Training sessions
Regular holding of labor-management roundtable discussions
Implementation of Work Style Kaizen Seminars (held jointly by labor and management)
Other awareness raising measures

Encouraging employees to take more holidays
Promoting to have paid leave utilization
Spouse maternity leave, Refresher leave, Volunteer leave 

Promotion of flexible work styles
 
Teleworking system
Super-flextime system
Sumitomo Corporation has formulated an action plan to speed up its work style reform, specifically to (1) reduce long working hours, (2) encourage employees to take annual paid holidays, and (3) foster flexible work styles, as Keidanren (Japan Business Federation) urges its member companies to do.
As a result, we achived goals in action plan such as target number of paid leaves and introduction of teleworking and super-flextime system.
Reducing long working hours

Sumitomo Corporation has been fostering the separation of professional and private life, aiming to increase the work efficiency of employees. In this age of diversification and sophistication of businesses, it is not appropriate to manage working hours simply to reduce the hours regardless of the specific business conditions, although longer working hours do not always lead to better business performance. In recognition of this fact, we need to pursue more value-added work styles also from the viewpoint of global competition.
Average Monthly Overtime Hours (Non-Consolidated Basis)
Awareness-raising seminars
We hold a range of seminars to raise employees' awareness and provide them with useful information. The following are some examples.
Training and Seminars on Labor Management
We provide training on labor management as a part of the new manager training and new team leader management programs. In 2019, we conducted a seminar on labor management for all employees to provide cautionary information relating to labor management in conjunction with legislation on work style reforms coming into effect in April of that year. We undertake ongoing educational activities to raise awareness regarding labor management.
Encouraging employees to take more holidays

Sumitomo Corporation fosters the separation of professional and private life to encourage employees to increase their productivity to achieve greater results within a limited time.
Number of paid holidays taken by employees
From 2016 to 2019, we set a company-wide target number of paid leaves to be taken as follows.
Targets and results of paid leaves taken by employees
2016: each employee taking at least 12 days / 92.7%
2017: each employee taking at least 14 days / 95.7%
2017: each employee taking more than 16 days on average / 100%
2018: each employee taking at least 14 days / 94.3%
2018: the non-binding target set to 16 days / 64.8%
2019: each employee taking 16 days off / 82.7%
The number of days of paid leave taken has steadily increased, and the target was achieved. Starting in 2020, rather than setting a company-wide target that applies uniformly to all employees, we adopted a policy of allowing each organization and individual to perform independent management.
Fostering flexible work styles

The teleworking and super-flextime systems are designed to provide employees with an environment that enables them to work autonomously and flexibly beyond the conventional framework and thereby promote high-value-added, output-oriented work styles. By working autonomously and flexibly, employees will proactively make more effective use of time to foster their own mental and physical health and increase their own value, which will lead to the maximization of their performance.
Teleworking system
We introduced a teleworking system (working from home, satellite office work, and mobile work) in November 2018. From March 2020 onwards, in response to COVID-19, we have abolished the original upper limit of 14.5 hours per week (equivalent to two days) in principle, and we are allowing employees to telework while taking care of children or family members at home, conducting our operations with work-life management into mind.
Average Attendance Rate in FY2020 (Domestic Employees)
| Period | Apr. - Jun. | Jul. – Sep. | Oct. – Dec. | Jan. – Mar. | Annual Average |
| --- | --- | --- | --- | --- | --- |
| Attendance Rate (%) | 10.4 | 22.2 | 36.3 | 29.0 | 24.5 |
Our teleworking system expands the flexibility of where employees can work by allowing them to work from a variety of locations, including their homes and more than 100 satellite offices which are primarily located in Tokyo. As a general rule, there are no eligibility restrictions for use, and the system makes more autonomous and flexible work styles a reality across the entire company, which includes employees with unique circumstances, such as childcare or nursing care.
In our Medium-Term Management Plan SHIFT 2023, we will continue to promote health and productivity management, and seek new ways of working in the new normal. While taking thorough measures to prevent infection, we will pursue the best mix of work styles—one which makes best use of the respective advantages of going to work and working from home for organizations and individuals—and strive for both a guarantee of safety for our employees and continuity in our business operations.
Super-flextime system
Sumitomo Corporation updated its conventional flextime system to a super-flextime system in November 2018. Under the previous flextime system, employees must be at work during the "core time" period (11:00 a.m. to 3:00 p.m.), but we have done away with the core time under the super-flextime system so that employees can work more flexibly by choosing when to start and end their work within a period of the day from 5:00 a.m. to 10:00 p.m. Under the super-flextime system, individual employees are expected to design and manage their own work style to increase the performance of themselves and the entire organization.
Providing Employees with Workplaces Where They Can Work with Vigor and Peace of Mind
Workplaces with no harassment
Sumitomo Corporation regards all issues related to harassment, including sexual harassment, power abuse, and discrimination against pregnant women and minorities including LGBTQ people, as a serious infringement of human rights and deals with these issues sincerely and strictly.
Specifically, we have implemented the following measures:
Clearly stated in the working rules that any forms of harassment will be subject to disciplinary action.
Clearly prohibited any forms of harassment in the compliance manual.
Made all directors and employees aware of the fact that the company will deal with harassment-related issues strictly by launching a website and providing level-specific training on the issues. Since 2014, the company has also been holding training sessions to help all managers deepen their understanding of sexual harassment and power abuse.
In order to prevent any harassment and solve a harassment issue if it unfortunately happens, established a contact for employees to make complaints about harassment within the departments supervised by the Chief Administration Officer and Chief Compliance Officer.
Using the Speak-up System, also established a system for detectors of harassment to directly inform the Chief Compliance Officer (COO) of the fact.
Supporting employees in balancing work and child-rearing/long-term nursing care
Sumitomo Corporation provides both male and female employees with a range of options so that all employees, including those taking care of their children and other family members, can work with vigor and peace of mind and display their abilities to the fullest at their workplaces.
■Supporting employees in balancing work and child-rearing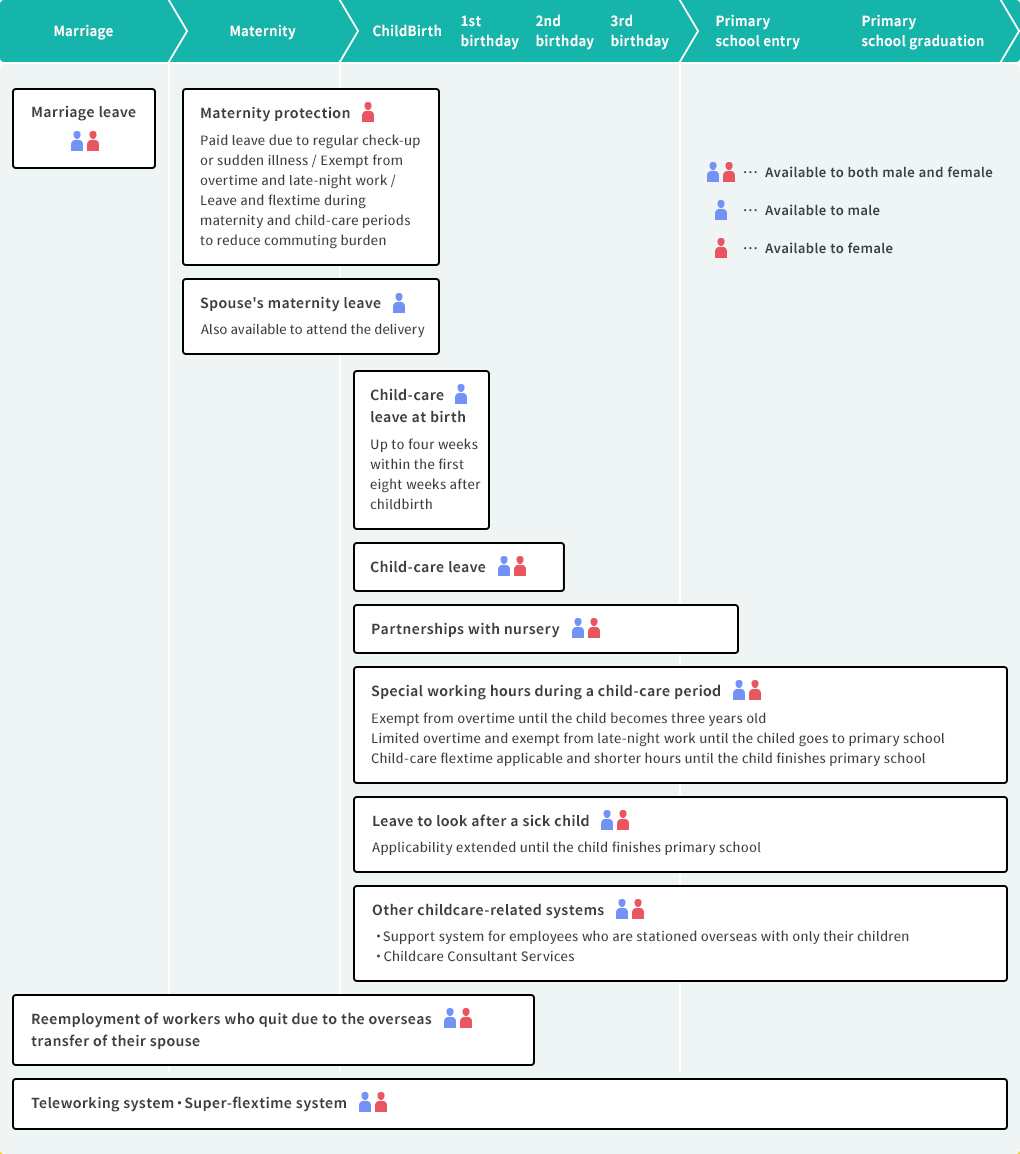 ■Supporting employees in balancing work and long-term nursing care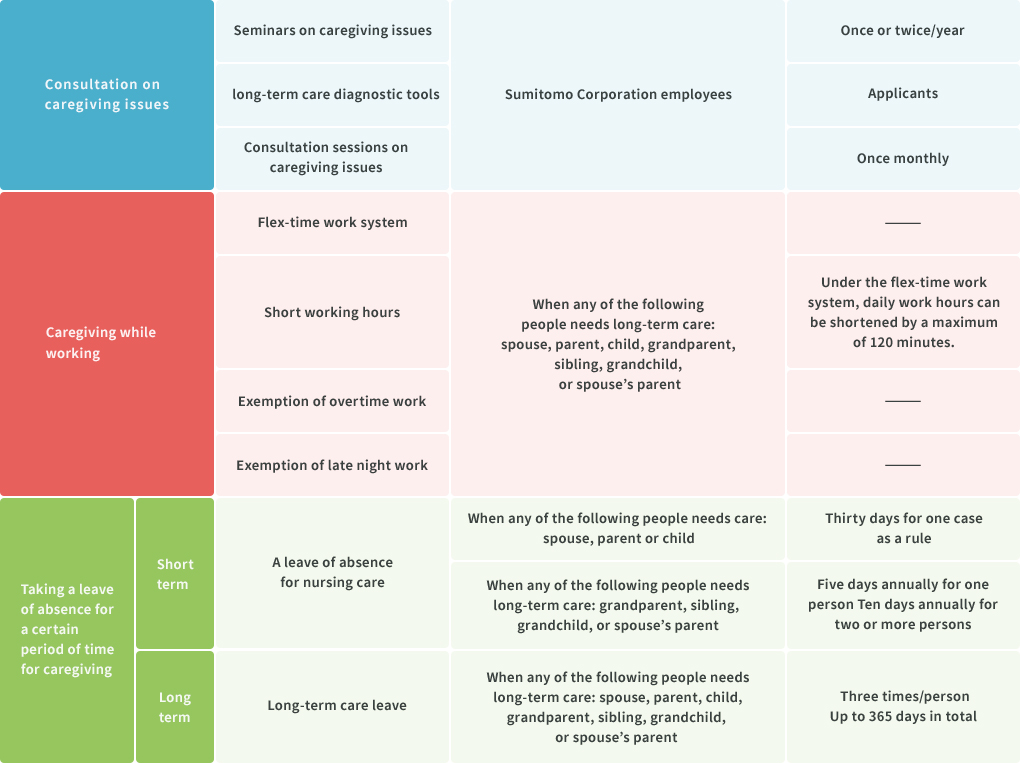 Organization of various seminars
Nursing Care Seminar
Held once or twice a year since 2007 on themes including "Introduction to long-term nursing care insurance," "How to live a happy old life," "Final abode and nursing care facilities," "Saving money by learning about long-term nursing care insurance," "Tips to give nursing care to family members living separately," "Preparation for nursing care from the financial aspects" and "Introduction to dementia, which tends to be misunderstood."