Global Cases
Ensuring a stable supply of tubular products through the proactive management of health, safety, security and environment -Global HSSE management system-
U.S.A./ U.K.
Oil and natural gas are major energy sources that support today's society. To extract these resources and process them into products, oil country tubular goods (OCTG) and other tubular products are indispensable. In the U.S. market, Sumitomo Corporation is the largest supplier of OCTG. The company globally operates a range of OCTG-related businesses in addition to selling OCTG products, including providing supply chain management service to keep the necessary products in stock and ensure their just-in-time delivery to customers, as well as engaging in the processing and manufacturing of tubular products. In conducting these activities, we have been enhancing the management of health, safety, security and environment (HSSE) as an important issue to be tackled to ensure a stable product supply. Recently, in accordance with diversification of the business, our HSSE management scope was expanded to include logistics processes, processing sites of our Group companies, and contracted factories. Also, in the globalization of our business, the regions where we now operate include areas where people's safety and environmental concepts are different than those typical in Japan and Western countries. Accordingly we have established a global HSSE management system under the basic policy of placing first priority on legal compliance and HSSE in all our businesses.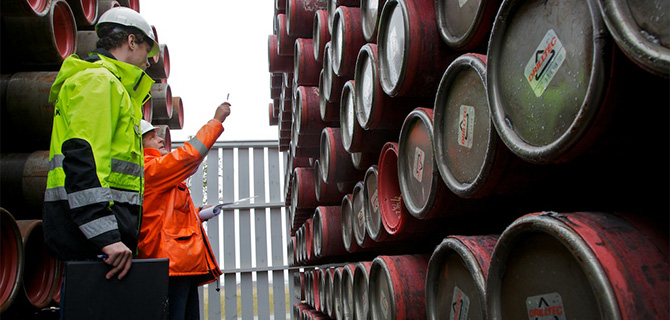 Building up a global HSSE management network with the support of professionals stationed at major global bases
In 2006, Sumitomo Corporation entered into a consultant agreement with a British engineer with expertise in HSSE management in the oil and natural gas industry (and in 2008, appointed this person as the company's global HSSE adviser). In 2007, we upheld the slogan "Zero Harm," to reduce labor and environmental accidents to zero, and formulated the Global Standard Documents as our globally shared HSSE management criteria, which are composed of 12 elements, including leadership commitment; risk identification, evaluation and countermeasures; safety work rules, procedures and equipment; and PDCA cycle-based continuous improvement. Subsequently, during the period from 2008 to 2010, we introduced the criteria-based HSSE management system to all our overseas bases targeting the supply chain management projects.
Further, in 2011, we began to enhance our HSSE management system to encourage its use across the board, including Group companies and contracted parties. We employed specialists with knowledge of the OHSAS 18001 international standards for occupational health and safety management and other experts as our global HSSE managers and stationed them at our core bases in Europe, the Americas and Asia. We have thus built up a global HSSE network in the four regions of the world (the three aforementioned and Japan), where we are enhancing HSSE management in consideration of the features of the local business.
Nurturing risk assessment and the sharing of know-how for more effective HSSE management
At our business bases around the world, we are raising awareness of HSSE among all employees under the leadership of global HSSE managers and implementing measures based on the HSSE management system. As part of this effort, we are completing onsite risk assessments. We identify, analyze and evaluate the different HSSE risks posed to individual sites due to their business and equipment conditions, and based on the results, plan and implement effective onsite controls & counter-measures. Since 2012, global HSSE managers in each region have been attending semiannual global HSSE network meetings to share information about their activities and risk assessment results as well as examples of successful cases and know-how, and to exchange opinions to further improve HSSE management.
We are also focusing on employee education to enhance the HSSE management system. At present, we are holding "level 1" educational seminars to make all employees aware of HSSE and ensure that they will take actions that are in compliance with the safety rules. In the future, we will hold "level 2" seminars, including those for managers who need to acquire risk assessment methodology skills and other technical knowledge and know-how, as well as training seminars designed for each employee grade.
Firmly establishing HSSE management as part of our corporate culture to make "no disasters and accidents" the routine standard
Since the introduction of the global HSSE management system, the number of accidents within our Group has been steadily decreasing, and we will further enhance the management system to achieve "Zero Harm." To this end, we need to promote the global sharing of information and know-how, for which we plan to make more use of IT tools. For example, we will improve the collection and analyses of accidents and risk assessment-related information and expand our existing information database. Moreover, HSSE managers in each region will mutually carry out internal audits to ensure the quality of HSSE management in each region and base.
In 2014, Sumitomo Corporation upheld the new slogan of "Beyond Zero Harm" to establish and entrench HSSE management as part of its corporate culture, thereby becoming a company for which "Zero Harm" is no longer a goal but a regular routine standard. Based on this principle of "Zero Harm," we will continue to fulfill our social responsibility as the top supplier of tubular products by ensuring their stable supply.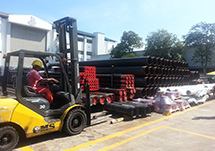 Frequency of the occurrence of accidents and disasters at Group companies
Keyword
Metal Products
The Americas
Europe, Middle East, Africa and CIS