Dec. 01, 2011
Sumitomo Corporation
Sumitomo Corporation Integrates Grain Business in Australia
~Strengthen the Synergy between Accumulation, Storage and Export operation Toward Expansion of Grain Business ~
Sumitomo Corporation (President and CEO: Susumu Kato; Head Office: Chuo-ku, Tokyo, hereinafter "Sumitomo") has decided to integrate its associate company, Emerald Group Australia Pty Ltd (Head Office : Melbourne, Australia, hereinafter "Emerald") and its subsidiary, Australian Bulk Alliance Pty Ltd(Head Office: Melbourne, Australia, hereinafter "ABA").
Demand of grain such as wheat, oilseeds and feed grain has been strongly increasing in Asia and Middle East due to continuous growth of population and changing dietary habit. In response to this situation, Sumitomo acquired 50% shares of a grain storage and export terminal operating company ABA from GrainCorp Limited in January 2005, which became the first foreign investment into Australian grain export terminal. Since then, Sumitomo continued to invest actively; it has acquired 50% shares of Emerald, a grain accumulation company, in March 2010, and also made ABA its wholly owned subsidiary a month later.
As a consequence of this integration, Emerald and Sumitomo will now be able to offer assured quality and service across the whole grain supply chain - origination, storage, logistics, port access and shipping, and marketing to overseas customers, responding the demands from overseas.
With this integration, Emerald will pursue to maximize the efficiency, and try to synergize both companies' business fields. Emerald targets to become one of the largest grain marketers in Australia by accumulating 10 million tonnes a year and taking 30% market share of Australian grains. Sumitomo, with its experience in Australia, will expand its grain business worldwide.
【Emerald】
Establishment:2004
Main Business:Grain accumulation
Business Area:All over Australia
Annual Volume:Approximately 4.5 million tonnes
【ABA】
Establishment:1999
Main Business:Grain storage at 13 upcountry sites and export terminal operation
Business Area:mainly Victoria, South New South Wales, South Australia, in Australia
Storage Capacity:Approximately 1.4million tones
Annual Export Capacity:Approximately 2.0million tones
Australian wheat is highly appreciated in Japan as an ingredient for producing premium Udon noodle and Chinese-Style Noodles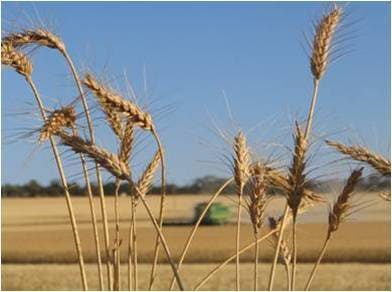 Emerald's grain accumulation business expands across Australia
Export terminal of ABA
Taking advantage of the location, Australian grains are exported mainly to Asia