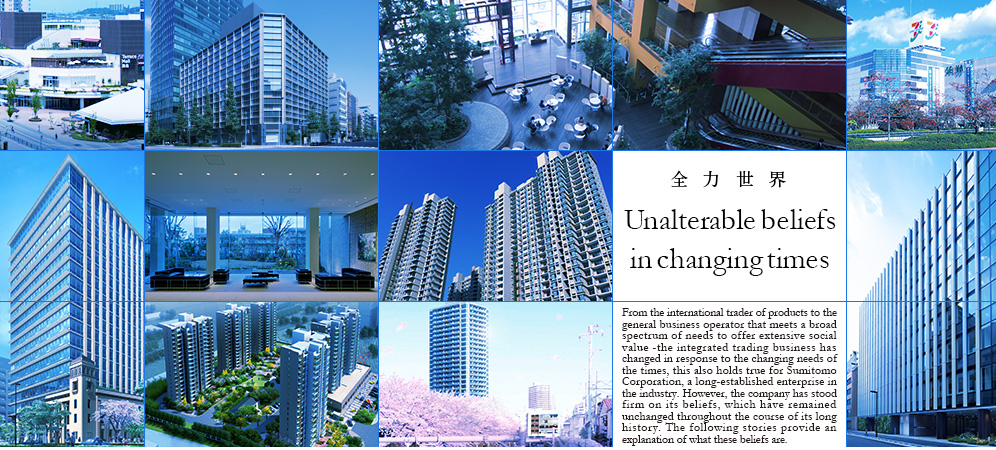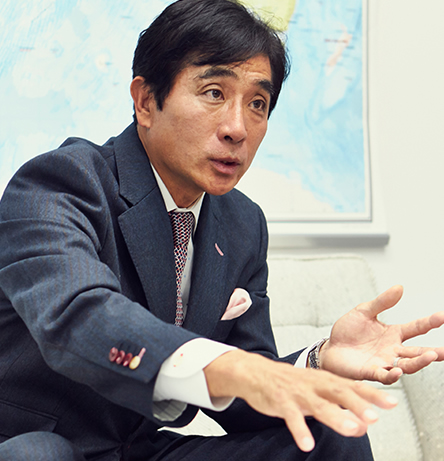 Nobuki Ando, General Manager of the Construction & Real Estate Division. Since joining Sumitomo Corporation in 1982, he has built his career exclusively in the construction and real estate sector. He believes that in order to demonstrate the integrated strength of a general trading company, each business unit needs to adequately understand the business of other units. He specifically describes this concept, taking his unit as an example: "The Construction and Real Estate business leads a project, and expands the business by capturing opportunities to meet related needs, such as those for delivery of building materials and CATV connection work for subscribers, inviting other units to offer relevant functions. I am keen to achieve overall growth driven by dynamic cross-divisional cooperation."
The history of Sumitomo Corporation originated in the real estate business. This background lies behind the "hands-on ethos" and "field-oriented management style," key backbones underlying the corporate culture of Sumitomo Corporation. This report introduces how the Construction and Real Estate business, through pursuing aggressive expansion, maintains these cultural backbones and passes them down like DNA over the generations.

Sumitomo Corporation's predecessor, The Osaka North Harbour Co., Ltd., was founded in 1919, as a real estate developer focusing on the development of the port area, where Universal Studio Japan is currently situated. The company later changed its name to Sumitomo Real Estate Building Co., Ltd., and then to Nippon Engineering Co., Ltd., before assuming its current appellation of Sumitomo Corporation in 1952. Nobuki Ando, General Manager of the Construction & Real Estate Division, views that in light of this background, the company's uniqueness as an integrated trading house can be traced back to its roots as a project manager directly engaged in area development and the operation of facilities.
"Having a direct hand in the development and marketing of products. This 'hands-on' oriented approach has formed the base of the company's business style," said Ando.
Previously, Japanese trading houses were generally engaged in international trading of products and materials between domestic and foreign markets. Compared with this past standard industrial model, Sumitomo Corporation made a unique start as a later trading company, as described above. Not merely investing in businesses, the company also undertakes projects as a leader that dispatches personnel and develops products and services. This strong orientation toward the field management of business has taken root to foster the hands-on ethos and has been inherited as the "DNA" of the company throughout its history, largely by the Construction and Real Estate business, a long-standing core segment within the company.
The Construction and Real Estate business has developed in three key domains: office buildings, residential facilities and retail facilities. Specifically, we manage 55 office buildings (as of the end of March 2014) in the Tokyo area. More than 60,000 units of "Classy House" condominiums have been sold. Among large-scale retail facilities, Terrace Mall Shonan and Harumi Island Triton Square shopping malls enjoy long-time popularity. Many of these properties are directly managed by the Sumitomo Corporation Group, participating in the process spanning planning and development to operation.
Recently, the Construction and Real Estate business has entered the financial instruments sector, its 4th domain. The new business focuses on funds investing in logistics facilities and private REITs (unlisted open-end private-placement real estate investment trusts), both formed using properties developed/operated by the company. As opposed to typical financial instruments, our offerings are formed from embedding properties that are fully understood by the operator who can maximize the value of the assets for investment. This unique strength is a benefit from maintaining the hands-on ethos.
Image of Terrace Square, scheduled to be completed in March 2015. The project aims to reinvent six adjacent buildings located in Jimbo-cho, Tokyo, including the former head office building of Hakuhodo Inc., to construct a single complex tower accommodating multiple functions, such as offices, a retail facility and outdoor spaces.

A project leader who closely engages with local communities and residents - this notably more-than-expected role for an integrated trading company is played by Sumitomo Corporation via the Construction and Real Estate business. For the recent redevelopment project in the Kanda area in Tokyo, the team is striving to fulfill that role.
Ando describes the background and purpose of the project as follows: "Sumitomo Corporation attaches special weight to Kanda as the area where its former Head Office was based until it was relocated in 2001. Also, currently 10 Group-owned office buildings are situated in the same area, which are under the management of the Group. Against this backdrop, we are carefully planning and implementing the project, aiming to enhance the attractiveness of the area steadily and effectively.
"Located in central Tokyo, Kanda area is known for its traditional retail streets lined with mom-and-pop type small, old establishments, such as secondhand bookstores, mini-theaters, traditional entertainment halls, coffee houses and Western-style restaurants, which still attract many fans. Also, the area is home to a sizable population of urban dwellers, which is a marked difference from other business districts in Tokyo. We intend to incorporate these local characteristics into the redevelopment plan for reinventing the town as a more attractive destination.
"We are committed to maintaining the cultural assets of the area and increasing their value in cooperation with local communities. To this end, we hold dialogues with local residents on a continuous basis to draw up and implement an urban development plan from a long-term perspective. We believe that the long-range, persistent approach involving local communities is essential to achieving truly effective area development."
With a long-term view on the project goal, the team takes and creates various opportunities to interact with local residents, including festivals hosted by neighborhood associations, seeking their understanding and support for our plans and explaining our intentions in full detail. We will continue these persistent efforts vigorously through to the end. Following this policy, the team is working on the project that has steadily progressed to the start of construction of Terrace Square, a new office building, and the development of the former site of the Tokyo Denki University campus. Our goal, however, is not merely the completion of these facilities.
"Area development projects should be undertaken from the long-term standpoint, looking ahead usually five to 10 years. Our thoroughgoing approach to these long-term undertakings marks the distinctive quality of Sumitomo Corporation's offerings," added Ando.
Oriental Palace, located in Shanghai, China, is a large-scale complex development project consisting of 39 detached houses, six townhouse buildings (3 and 4 stories), three condominiums and one retail facility. A major venture launched in China's housing market, utilizing the know-how accumulated over years of engaging in housing and commercial facilities development in Japan.

Sumitomo Corporation is demonstrating its integrated strength as an integrated trading company particularly for the Ginza 6-chome District 10 Category 1 Urban Redevelopment Project, among other recent undertakings. The project was planned to redevelop the area in and around the former site of the Matsuzakaya Ginza department store and construct a large-scale, multi-purpose building (13 floors above ground, 6 floors below ground) mainly comprised of a retail facility, offices, a cultural facility and crowned by rooftop gardens. Construction has commenced, and the scheduled opening is November 2016.
"For this project, we have developed a new business model incorporating fund scheme in the plan while drawing on our past experience in developing and operating office buildings and retail facilities," says Ando, touching on the new challenge.
This ongoing major initiative has been undertaken by a consortium consisting of J. Front Retailing Co., Ltd., Mori Building Co., Ltd., L Real Estate and Sumitomo Corporation. Sumitomo's role as a project member encompasses more than just administrative duties, such as procurement of building materials, coordination among companies and schedule control, which are generally all that are expected from a trading house participating in many similar property development consortium programs. In addition to the above responsibilities, Sumitomo Corporation Group employees have been sent to be directly involved in the main processes including planning/development, strategy development, and negotiation with financial institutions. Once the building opens, we will participate in the operation of the retail facility. These capabilities for directly participating in field management as a trading company are one of our key strengths, which have been built up in part through the hands-on ethos.
In recent years, the Construction and Real Estate business has been expanding into overseas markets, promoting the hand-on ethos. Ando underscores that point in overviewing the business:
"We have launched ventures for the development and operation of office buildings and housing projects in three US cities, San Diego, Chicago and Houston; two Chinese locations, Shanghai and Suzhou; and in Indonesia. In addition, we are planning to enter the market in Vietnam, India and other countries. For these overseas ventures, we form a partnership with local developers to help us, but we do not entirely leave the task to them. Instead, we send our team members to work with the local partners on a range of processes from development, construction management, marketing and sales to operation. This is the way we accumulate experience and know-how for engaging in this field."
Going forward, the property development business will increase its focus on overseas expansion. The plan is to "increase investment threefold from the current level" (Ando). The hands-on ethos will be maintained to underpin the future expansion.
Ando presented a bottle of wine to each member of THE TOKYO TOWERS project, an apartment/condo complex located in Kachidoki, Tokyo, in celebration of the completion of the project developed under his leadership. Engagement in a business directly targeted at end-consumers helped him build his professional competence.

Since joining Sumitomo Corporation in 1982, Ando has built his career solely in the construction and real estate sector, with a specialty focused on housing. Over years of working in this area, which involves engagement with end-consumers, he has formed a firm belief through actual negotiations with individual customers. He summarizes the belief as follows:
"I attach great importance to face-to-face communication with individual customers to accurately understand the real needs of consumers. I believe that this is indispensable to be able to offer products and services that will widely meet the needs of society. When I face a difficulty with business development, I turn to field operations to seek the answer, as I actually did to address each issue."
Specifically, as a manager in the Housing & Urban Development Business Dept., he visited model condominium units almost every day. He did so to talk with potential customers in the showcase venue and observe how the frontline staff members were acting there, and identified the cause of various business-related issues through these activities. Ando continues:
"The integrated trading business, by definition, encompasses diverse sectors that involve different processes and practices. We need to take heed of one thing common to all the diverse businesses, that is, each business is developed based on the frontline process. In trading companies, once assigned to managerial positions, we tend to lose touch with real consumers. To remedy this, I believe that it is important to make conscious efforts to stay close to field operations to keep in touch with the real needs of consumers."
In line with his belief, Ando upholds the "Ten Credos for the Construction & Real Estate Division" which was created by his third preceding General Manager. He occasionally revisits the time-honored Ten Credos that stipulate basic business principles, specifically including a field-oriented approach, a customer-centered stance, a pragmatic attitude, and organizational autonomy, in order to verify the ongoing practice of his team.
"Sumitomo Corporation started out as a real estate developer, and directly managed area and building construction projects. The company's notable field-oriented approach originated in the founding business, and has been passed down through the generations like DNA, fostering the hands-on ethos," says Ando to conclude the story, showing eagerness to face future challenges as head of the Construction and Real Estate business, a leading successor of the hands-on DNA.
(Honorific titles are omitted)
*As of December 2014