Naoki Murakata (left) joined Sumitomo Corporation in 1999. Engaged in energy market transactions in Asia, CIS and the Middle East, and assigned to the US office before being appointed to lead the Belgian projects. He rates highly the company's workplace culture that encourages individual workers to display an open-minded attitude to each other, including younger members.
Reina Kosaka (right), a member of the project team, was employed in 2002 in a clerical position. She was later transferred to a career-track position through the company's career track selection system and participated in the 18-month overseas trainee program in the US. She appreciates the company for offering systematic opportunities for individuals to pursue their career plans.
Pioneering new business domains is an important role and expectation of integrated trading companies. Sumitomo Corporation is strongly committed to this social role, with among others, a particular focus on the renewable energy business. Pioneers in the renewable energy sector need to develop effective business models that achieve the goal of social contribution. This section reports on the trailblazing efforts of our teams to carry out this challenging mission, focusing on three ongoing projects.

In the North Sea, located approximately 46 kilometer off the coast of Belgium, a wind farm has been built which consists of a total of 55 elegant silhouette wind turbines that look like a flock of egrets resting on the water. Around 10 kilometer closer to the coast a similar park accommodating a total of 72 turbines rotating their blades to generate electricity has also been built. These spectacular offshore wind turbines installations, known as Belwind and Northwind, respectively, were developed by the Belgium-based offshore wind IPP company Parkwind NV.
Following these, a third offshore wind project, named Nobelwind, is under development in the same sea area that is scheduled to commence commercial operations in 2017.
Sumitomo Corporation invested in these projects in September 2014, making them the first offshore wind power projects that Sumitomo has ever participated in. Prior to this, the Sumitomo Corporation group had gained considerable experience in developing and operating onshore wind power businesses in the US, China and South Africa as well as Japan. Specifically in Japan, we are currently operating wind power plants in Sakata (Yamagata Prefecture) and Kashima (Ibaraki Prefecture), and a new project is under construction in Oga (Akita Prefecture) (as of January 2015). However, Sumitomo Corporation had never previously invested into the offshore sector until the recent agreement with Parkwind.
Naoki Murakata, a member of the Renewable Energy Business Department No. 2 who is in charge of the Belgian projects, summarizes the advantage of offshore installations compared with onshore wind farms, suggesting there is greater profitability potential with offshore installations despite the risks entailed, as follows:
"On the sea, larger turbines with bigger output can be constructed and wind energy can be more fully harnessed due to the absence of topographic features, such as mountain ranges, and artificial structures that would disrupt wind flow. The downside is greater technical difficulty, which, accordingly, requires a larger investment."
Intending to exploit the potential of the offshore wind power business, Sumitomo Corporation has decided to invest in venture into this new realm. Taking advantage of its strong network as an integrated trading house, the company will utilize its capabilities for financing, procuring materials and project management among other functions, as well as drawing on its past experience of engaging in onshore wind projects.
An offshore wind turbine in the process of installation, performed by a service vessel with attached legs anchored to the seabed. The construction and maintenance of offshore wind facilities entails greater technical difficulty than onshore facilities, which requires higher project management capabilities as well as stronger funding ability.
The global wind power generation market is expected to double by 2020, including trifold growth for offshore wind projects. However, it is difficult to pursue a growth opportunity in this business in Japan in the near future, which lacks favorable terrain conditions.
"One of the most preferred locations for an offshore wind site is a shallow sea area, where the foundations for installing turbines can be directly built on the sea bed, which is a relatively easy and proven technique. The Belgian wind farms are situated in one such spot, with shallow water depths of 30 meters or less stretching 40 kilometer off the coast, spacious enough to accommodate scores of turbines." (Murakata)
Recently in Japan, in an effort to overcome the limited accessibility for sea floor mounted towers due to the unfavorable seabed features, development (including prototype experiments) has begun to introduce a floating type of wind turbine system. The development of this alternative method may help expand the offshore wind energy market in Japan in the future, creating opportunities for Sumitomo to utilize expertise that the team is currently building up while working in the field outside Japan. With their eyes set on Japan's future energy market, Murakata and his team are vigorously pressing ahead with the Belgian projects.
Tomohiro Osawa entered Sumitomo Corporation in 1992. Appointed to be president of the new company in recognition of his past career including managing director of a Thai subsidiary engaged in power producer. He highly evaluates the company's strong teamwork culture, which is important when undertaking a new project. He emphasizes the importance of ensuring that the members from different departments adequately share opinions and goals to draw up plans from multiple perspectives.

Biomass is biological material that usually refers to plant or plant-based materials, including wood as well as straw and husks of crops, is considered as a renewable source of energy used to generate electricity. This theory is based on the concept of "carbon neutrality." This means that carbon generated from burning biomass is offset within a closed loop, because the emitted carbon was absorbed by the plants during their photosynthesis activity. The grown plants are the biomass fuels. In a long-term cycle, biomass fuel, or the biomass power generation can achieve net zero carbon emissions, or be carbon neutral.
Biomass, meanwhile, is different from other major renewable resources, such as wind or solar energy, in a number of aspects. One key difference is its higher ability to generate electricity as a base-load power source.
Tomohiro Osawa, President of Summit Handa Power Corporation (Summit Handa Power), emphasizes the strength of biomass-fired power generation, saying:
"Unlike natural energy power generation that is susceptible to weather conditions, biomass power plants can operate on an around-the-clock basis to stably produce electricity. Taking advantage of this and in combination with solar and/or wind power generation, biomass-fired power generation can be employed to compensate for the limitations from the unstable supply from weather-sensitive renewable energy generation."
Summit Handa Power was established in 2012 by Summit Energy Corporation, a subsidiary of Sumitomo Corporation, to launch a biomass power generation project in Handa City, Aichi Prefecture, to enforce its electricity retail business. The Handa Biomass Plant is currently under construction and scheduled to be start commercial operation in the spring of 2017. As it is a dedicates biomass firing plant, Summit Handa Power will procure wood chips and palm kernel shell (PKS) from overseas, the majority from the US and Australia. The company has built an effective scheme for importing biomass, utilizing the unparalleled know-how accumulated by Sumitomo Corporation as a long-established integrated trading house.
Wood chips processed mainly from forest thinning will be the major fuel for the Handa Biomass Power Plant. The facility is located near the port so that imported wood chips can be delivered to the site immediately following the discharge.
"We can sell the power produced at fixed prices using the Feed-in Tariff mechanism. However, changes in fuel prices can significantly impact the profitability of the project. To reduce this risk, we have joined forces with the division in the company that engages in procuring wood materials and created a scheme that enables us to purchase wood materials for fixed prices over the long term." (Osawa)
The Handa biomass project also plans to use wood chips produced in Japan, on a perspective of creating a scheme for cooperating with environmental conservation activities in the country. According to Osawa, the plan specifically involves "tree thinning activities, a practice conducted in many parts of the country to maintain forests in healthy conditions. We intend to use forest thinning for biomass fuel, which will facilitate the effective use of resources and contribute locally."
The completed Handa plant will be Japan's largest pure biomass-fired power facility. Deeply committed to the epoc making project, Osawa is keen to fully exercise the abilities he has, which he developed over years working as a trading business professional.
Yasuhiro Fujita (left), leader of the Koshiki Islands project. Joined Sumitomo Corporation in 1992 upon completing a graduate school course as a biotechnology researcher, and has been constantly involved in activities for introducing new technologies and launching new projects. Throughout his years with Sumitomo, he has been consistently pursuing the goal of offering solutions for social issues through developing effective businesses.
Ryuzo Yamamoto (right), a member of the project team, entered the company in 2009 upon graduating from a US university. His dream is to help raise the international recognition of Japan through the businesses he manages.

One limitation common to major renewable power generation projects is unstable output. Among recently proposed solutions, the battery power storage system has been attracting increasing attention. The system can be used to store surplus electricity generated from the whether-dependent resources, such as solar power produced during sunny daytime hours and wind power generated under favorable wind conditions, thereby helping stabilize the availability of electricity derived from renewable energy.
Focusing on the expected battery application, the Battery Business Development Department of Sumitomo Corporation has launched a joint project with a local government to create a new business model for introducing renewable energy. Yasuhiro Fujita, Deputy Department Manager, provides an outline of the project:
"We are working on a joint project with Satsumasendai City, Kagoshima Prefecture, to introduce solar power facilities and battery power storage systems on the Koshiki Islands, remote islands which are part of the city, aiming to establish a new energy management model. The highlight of the project is to employ low-cost used battery units to achieve the economic viability of the model."
Fujita continues, introducing the specific approach: "At present, battery systems are too costly to be applied for the energy management of renewable energy. We have found a less costly alternative in used batteries, particularly those collected from electric vehicles."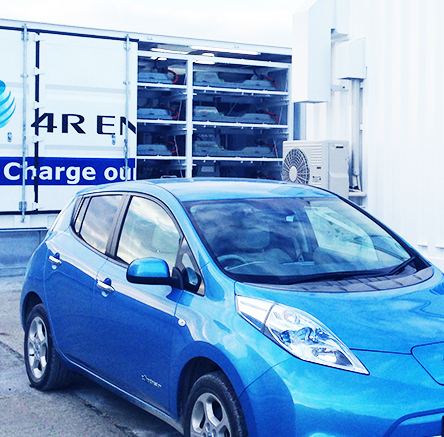 Reused EV batteries will be supplied by 4R Energy Corporation, a joint venture company founded by Sumitomo Corporation and Nissan Motor Corporation, collecting used units mounted on Nissan LEAF. This is the key component of developing low-cost power storage systems. Incorporating utilization of used batteries in a renewable energy business model is a unique approach of Sumitomo Corporation.
The technological feasibility of used EV battery systems was verified through the world's first demonstration that was conducted in Yumeshima, Osaka, in 2013. Following the technological assessment of the reused battery systems, establishing an economically viable model is an objective of the Koshiki Islands project.
On many remote islands, almost the entire electricity supply is covered by diesel power generation that emits large amounts of CO2. By replacing such a low efficient generator even partially with renewable energy, total CO2 emissions can be reduced. In addition, the model is expected to improve toughness of power supply infrastructure in the remote island that is normally vulnerable to outages in the event of typhoons and other disaster.
"The business model, featuring an installation of renewable energy stabilized with an energy management service by the economically viable energy storage systems, will be widely catered to small remote islands in and out of Japan. At the same time, we consider the possibility of introducing the same model with larger scale to mainland locations whether expansion of renewable energy is also imperative." (Fujita)
In relation to the joint project, Satsumasendai City is laying out a plan to promote the Koshiki Islands as an environmentally aware tourist destination - "eco-islands" - based on the pioneering energy management infrastructure to be completed in coming years.

Expanding the usage of renewable energy is imperative to create and maintain a sustainable society. For this purpose, it is crucial to establish systems that ensure stable profitability in the renewable energy business. In a bid to tackle this global issue, the renewable energy business of Sumitomo Corporation takes on the challenge of developing models that can economically sustain the business while achieving social and environmental contributions.
From the above-described broad standpoint, individual projects are developed to consider potential business expansions and social implications that go beyond the completion of each undertaking. This holds true for the reported businesses. Through working on the Belgian projects, the team is obtaining experience and expertise that will help launch offshore wind power projects in the island nation of Japan in the future, as Murakata expects. The Handa Biomass Plant project includes the aspect of making social contributions through revitalizing the domestic forestry industry, going beyond the border of the energy sector. The Koshiki Islands battery business will present a new model for linking the EV sector with power supply infrastructure improvement.
"Developing new projects and innovations is often likened to blazing a trail in the wilderness. However, this is the only way to open up a new world. We will push forward strenuously in pursuit of the new realm," says Fujita, shedding light on the eager endeavors of individual employees to fulfill the mission of creating new business that can contribute to society, a challenging role expected from an integrated trading company.
(Honorific titles are omitted)