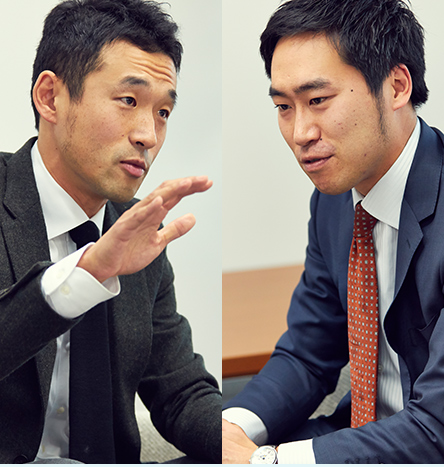 Hiroyuki Tanaka (left). Since entering Sumitomo Corporation in 2003, he has built his career exclusively in the food sector, including feed materials and grain processing businesses. He chose to work for the company looking for opportunities to achieve personal and professional development.
Koji Masuda (right) joined Sumitomo Corporation in 2006. Engaged in accounting and other fields before being transferred to the Grain & Oils Department at his request, expecting to participate in a business with high growth potential. Engaged in the Australian grain projects including assignment to the Emerald office. He occasionally faces difficulty working with people from different cultural backgrounds, to which, however, he responds positively, viewing that such issues make the job more interesting and stimulating.
Investment businesses primarily aim to achieve a financial return. However, this is not necessarily the only purpose of equity investment. Business investors may also pursue the operational enhancement of invested ventures. The Grain & Oils Department of Sumitomo Corporation is promoting investment activities with the aim of improving the operational efficiency of target businesses and the stability of product distribution, thereby contributing to an enhanced food industry that supplies essentials for human life.

In the past, Japanese integrated trading companies engaged mainly in importing resources and materials from abroad and exporting Japanese products to other countries. Serving as international traders, the sector played a significant role in fostering close relationships between Japan and the rest of the world in the modern age.
In more recent years, particularly since the 1990s, the integrated trading segment has been transforming its business structure, shifting the primary focus from international trading, though still performing a certain role, to investment in ventures. On the latest business front, integrated trading houses are emerging as global, proactive investors seeking out opportunities in various sectors, intending to assume a leading role in the operation of production and distribution of the target businesses.
Sumitomo Corporation is encouraging the recent transition, centering on the food business, among others. The first major relevant project was launched in 2005. We acquired 50% of the shares of Australian Bulk Alliance (ABA), a grain storage and export company, to become the first Japanese company to launch a full-scale project of developing a grain distribution business infrastructure in the country.
Describing the background behind the investment project that marked the turning point for the business to shift its emphasis from trading to investment, Koji Masuda, a member of the grain business development team in the Grain & Oils Department, says:
"Back in those days, demand for grains and oils was soaring, reflecting the burgeoning population growth in Asia. Recognizing that trend, we decided that we would establish a business for building functional food distribution networks in order to ensure a stable food supply for Asian countries, in addition to the existing operations of importing food products and materials to Japanese manufacturers and retailers. This was the grand goal of acquiring equity in ABA."
Following the initial step, Sumitomo acquired a stake in Emerald Grain (Emerald), an enterprise engaging in grain collection and sales, and later integrated the Emerald and ABA businesses. Attaining the objective of the integration initiative, the team built a scheme for seamless operation flow for the process starting from collecting crops from farmers through to exporting from the port. Subsequently in February 2014, Sumitomo made Emerald its 100% subsidiary, seeking to maximize synergies.
Over the past 10 years, Sumitomo has established a grain business infrastructure in Australia, the world's major producer of wheat. Following the Economic Partnership Agreement (EPA) between Japan and Australia taking effect in January 2015, the bilateral economic ties are expected to become stronger, which will help increase the transaction volume of the grain business.

Sumitomo Corporation's investment initiative extends across the entire value chain spanning the upstream and downstream of the food industry. While developing the upstream-oriented Australian grain project, the company, as part of its activities directed at midstream and downstream markets, has entered a business and investment collaboration agreement with Prima Limited, Asia's top flour mill group based in Singapore.
Hiroyuki Tanaka, a member of the food product team in the Grain & Oils Department, summarizes the goals and achievements of the joint investment activities with Prima as follows:
"These investments have allowed us to be able to participate in food processing and sales businesses targeted at Asian countries. In addition, in 2012, we acquired a business from the Yarrows Group, one of Australia's largest frozen dough manufacturers, a move to obtain business infrastructure in food processing and manufacturing in the country. Based on these obtained assets, we are drawing up effective value chain models that will efficiently connect the three functions of upstream (material procurement), midstream (processing) and downstream (sales)."
He emphasizes the importance of building and managing a complete value chain scheme in the food business under single company control, in order to ensure stable quantity and quality of food supply.
"Through integrated management of the entire process ranging from material procurement, import/export, processing and manufacturing to sales and marketing, we believe that we can ensure that products of adequate quality will be supplied to manufacturers and retailers." (Tanaka)
Asian countries are seeing their national living standards rising steadily in line with economic growth, which is in turn increasing consumers' expectations regarding food quality. Meeting these increased expectations is becoming a major issue facing food business enterprises operating in Asian and Oceanian markets. As an approach to addressing the issue, the Grain & Oils Department plans to build and operate an efficiently integrated value chain scheme extending from the upstream to downstream functions.
Sumitomo has launched ventures for producing products based on wheat and rapeseed jointly with Singapore-based Prima and Sumitomo Corporation's subsidiaries in Japan. In 2015, as a joint project with a Korean company, a new flour mill will come online in Vietnam.

According to recent UN forecasts, the world population is expected to increase by 2 billion to reach 9.55 billion in 2050. This tremendous population growth is occurring notably in Asia and Oceania. In contrast to many other Asian countries, Japan's population has begun to shrink, and will continue to fall to below 100 million by 2050, according to government predictions.
The country's depopulation trend is a crucial factor behind our long-term food business strategies with a heavier weight placed on global markets than on the Japanese market. Still, below-100 million is not too small a population to provide a substantial market, given the current demographic data for major European nations, for example, 64 million for the UK and France each and 80 million for Germany, the most populous EU member. More importantly, Japan's food companies operating overseas are expected to play a vital role in sourcing adequate products globally to ensure stable food supply in a country lacking sufficient resources.
"We are working to build a global value chain that can stably supply quality food to the Japanese market. We are also striving to help forge cross-border connections between the production and consumption sectors, which we believe is another important social mission of Japan-based international food business operators. Specific plans include visiting Australian wheat farms together with persons from Japanese food manufacturers and inviting representatives of Australian agricultural companies and bodies to Japan." (Masuda)
Meetings are frequently held for related team members to discuss and exchange opinions. In order to create plans for a functional comprehensive value chain ranging from upstream to downstream, close communication is indispensable to ensure that the responsible persons for each different process share the overall picture of the project.

Previously, Sumitomo Corporation's food business was not large in scale, compared with other Japanese integrated trading companies. However, recently, Sumitomo has redefined the segment in line with the transformation of its trading business structure with the focus shifted from trading to investment. The food business will receive greater weight for further expansion as a focus of the company's overall growth strategy.
"Our goal is to develop a strong business on our own that can compete with global food market leaders. To achieve this, each member needs to fully exercise their abilities and efforts." (Tanaka)
Some may view food supply and distribution as a low-profile business, given that the process prior to delivering final products to end users or consumers is less visible to them. Irrespective of the low-key nature of the business, Grain & Oils Department teams perform an indispensable role in supplying a wide variety of popular foodstuff, specifically bread, noodles, frozen food and confectionery, that will be consumed by individual people to support their healthy life physically and mentally. The team members, including Tanaka and Masuda, are working strenuously to fulfill this vital mission for supporting human life, with a strong sense of pride and professionalism.
Masuda emphasizes his "eagerness to do good to society through business and constant efforts to meet the commitment. This is a source of the feeling of professional accomplishment. I believe that business should make earnings in return for benefit to society."
For the benefit of people and their lives - this is the philosophical driver behind investment projects promoted by Sumitomo Corporation's food business. Upholding a shared social cause, the Grain & Oils Department members are striving to address day-to-day challenges to achieve individual goals.
(Honorific titles are omitted)