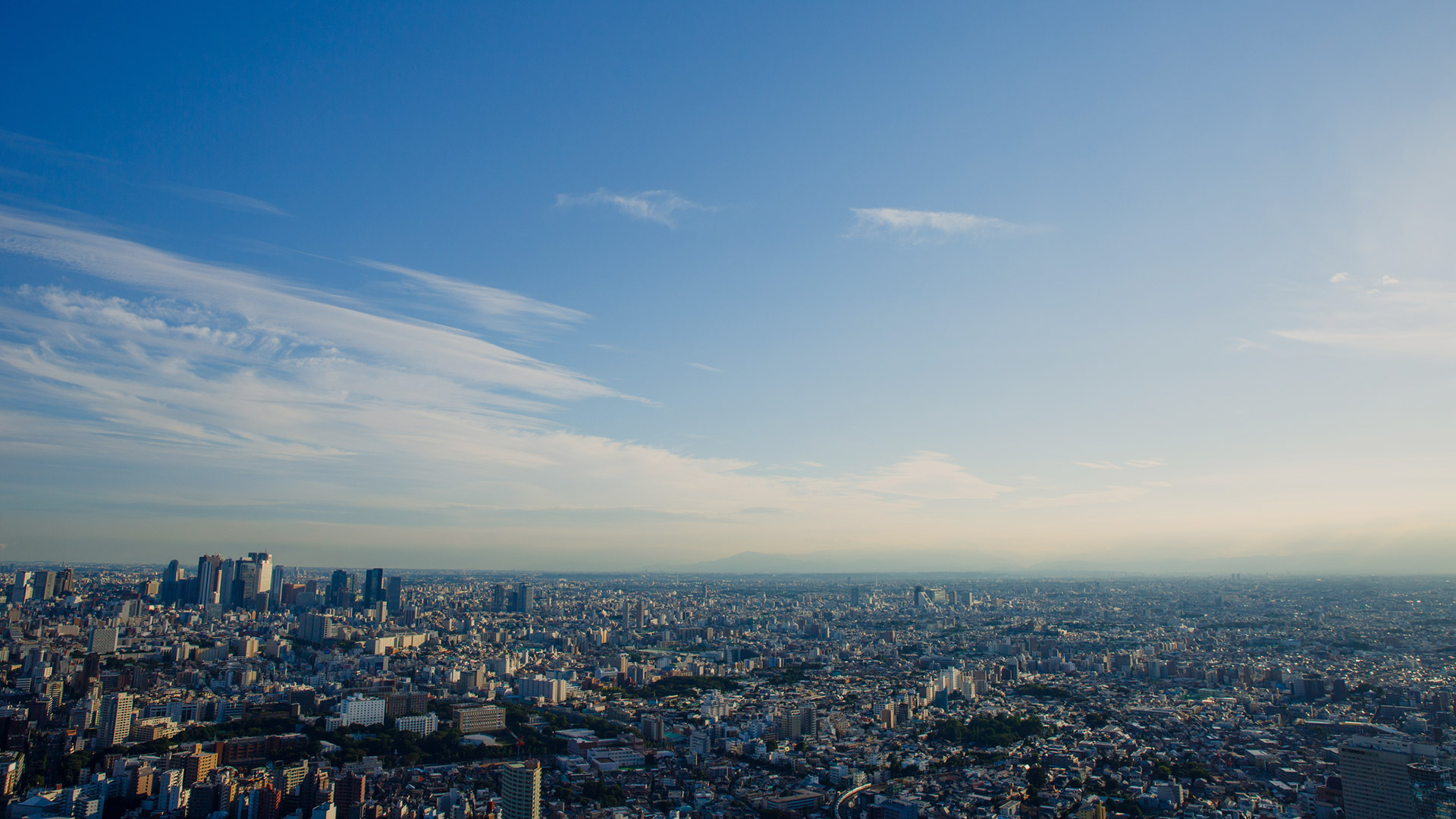 Work Health and Safety
Basic Policies
The Sumitomo Corporation Group offers a safe, hygienic and healthy working environment for its employees. The Group positions physical and mental health management as the foundation of work-life management, and encourages employees to work efficiently to create sufficient time for their private lives. The aim is to promote a work style that allows employees to maintain and enhance their health while being highly productive.
"To achieve prosperity and realize dreams through sound business activities" is a management principle upheld by Sumitomo Corporation. The Company believes that its corporate mission is to deliver financial and emotional enrichment to people around the world including its employees, shareholders, business partners and local community members, and realize their dreams. Maintaining and enhancing employee health is one of the most critical factors that underpin this pursuit. Sumitomo Corporation will continue with its diverse health management initiatives.
In recognition of these initiatives, Sumitomo Corporation has been certified, for seven consecutive years from 2017 to 2023, as an Excellent Enterprise of Health and Productivity Management―White 500 by METI (Ministry of Economy, Trade and Industry) for its superior management practices that focus on promoting employee health.
Measures against global health problems
Currently, many countries around the world are struggling with serious health issues, including HIV (AIDS), tuberculosis and malaria. The Sumitomo Corporation Group is determined to take active measures against these global health problems.
In order to ensure that officers and employees of our Group have accurate information about and protect themselves from these infectious diseases, the Company provides health checkups in advance for officers and employees who are assigned overseas and, when necessary, encourages them to be vaccinated against infectious diseases. We also provide a variety of training before their assignments.
Moreover, we started organizing e-learning and seminars on safety measures in FY2017 in response to requests by employees about to go on their first overseas business trip as well as those looking for the latest information on infectious diseases. These programs aim to enhance awareness of crisis management and disseminate accurate and up-to-date information. We make these programs available to officers and employees not only of Sumitomo Corporation but also of the entire Group within and outside Japan.
Through these activities, we support employees' health and safety while they are overseas.
Employee engagement
Sumitomo Corporation holds a monthly health and safety committee meeting, which is attended by labor union officials on behalf of employees, to discuss health promotion for employees and a better work environment. A roundtable conference on work styles is also held twice a year by management and the union, where participants exchange opinions with a view to improving work styles qualitatively and quantitatively in terms of working hours for union members.
Report on work-related accidents
Sumitomo Corporation strives to prevent work-related accidents. When an accident does occur, we have a system that ensures prompt reporting to the Employee Relations & Compensation Department.
The following summarizes the number of work-related accidents in the last three years among Sumitomo Corporation employees on a nonconsolidated basis.
(Number of work-related accidents)
FY2019:3 / FY2020:2 / FY2021:2
Crisis management system
We employ workers in many parts of the world. In order to prepare for the incidents, accidents and disasters that could occur anywhere in the world, each employee needs to be aware of risks on a daily basis and to take appropriate safety measures. At the same time, each organization also needs to develop an infrastructure for safety measures to prepare for emergency. In addition, in the event of an emergency, it is important to establish a support system and promptly resume business operations with a sense of speed.
We have therefore centralized reporting of all domestic and international emergency cases to the Disaster Response and Safety Management Dept. and ensure prompt reporting to the president by appointing the executive in charge of human resources, general affairs and legal affairs as General Manager of Emergency measures. This structure also allows us to provide necessary support in a prompt and centralized manner. If a major natural disaster occurs, our fundamental policy is to prioritize (1) protecting human life, (2) mutual assistance, and (3) prompt recovery of business operations. We have stated this in manuals and inform employees.
Initiatives
The Sumitomo Corporation Group is engaged in a wide range of business categories , including plants, construction sites, mining sites and offices. Therefore, to provide secure and safe work environments, we carry out safety and health activities in accordance with the characteristics of each business category. Here, we introduce an initiative for HSSE (health, safety, security & environment) of steel tubular products that we provide globally.
Stable supply of tubular products based on strict HSSE management
As one of the major suppliers of pipes for the Oil & Gas industry, Tubular Products Division is engaged in diverse pipe supplying activities around the world. At Tubular Products Division, Health, Safety, Security and Environment is more than just a priority, it is a core value. We promote a culture that drives exemplary behavior, incorporating HSSE as part of our everyday lives. To achieve this, we have developed a robust management system, fully supported by strong leadership engagement, disseminated throughout all our operations. At the outset of our HSSE journey and to improve our performance by way of reducing our occupational Health, Safety, Security and Environmental accidents the company introduced the "Zero Harm" initiative. Since 2014 we have established and spread HSSE as our corporate culture under the "Beyond Zero Harm" framework, focusing on continual improvement and recognizing HSSE is not a process in its own right, but an outcome of business decisions, strategy, culture and performance.
We developed an HSSE management system that applies to all global activities based on continuous improvement through the PDCA cycle. We also assigned staff specializing in OHSAS 18001 and ISO 45001 to major overseas offices and established a global HSSE network connecting all five regions in the world. Through these efforts, we are enhancing HSSE management taking into account regional business activities.
The General Manager of the Tubular Products Division demonstrates strong leadership and commitment by publicizing an annual HSSE Policy and Objectives, these are compatible with the strategic direction of the organization. The policy places emphasis on our commitment to ensuring HSSE as a core value for all, from managers and employees to customers, contractors and suppliers.
The most impactful HSSE management program is one that equips any employee to quickly access the information they need and report any issue. Whether that information is reporting an incident, accessing a training record, or reviewing the results of a safety audit. Tubular Products are now leveraging advancements in HSSE management software, as well as mobile solutions, to improve the timeliness and consistency of reporting ensuring better efficiency and greater compliance. Through continued consultation and stakeholder engagement we strive to enhance and further strengthen our HSSE management system to go "Beyond Zero Harm". Simultaneously we will work with our Supply Chain, Subsidiaries and Partners to meet and exceed our customers' expectations and fulfil our social mission as the top supplier through stable supply of tubular products.
Expanding the Metal Products and Equipment Business Value Chain in the Energy Industry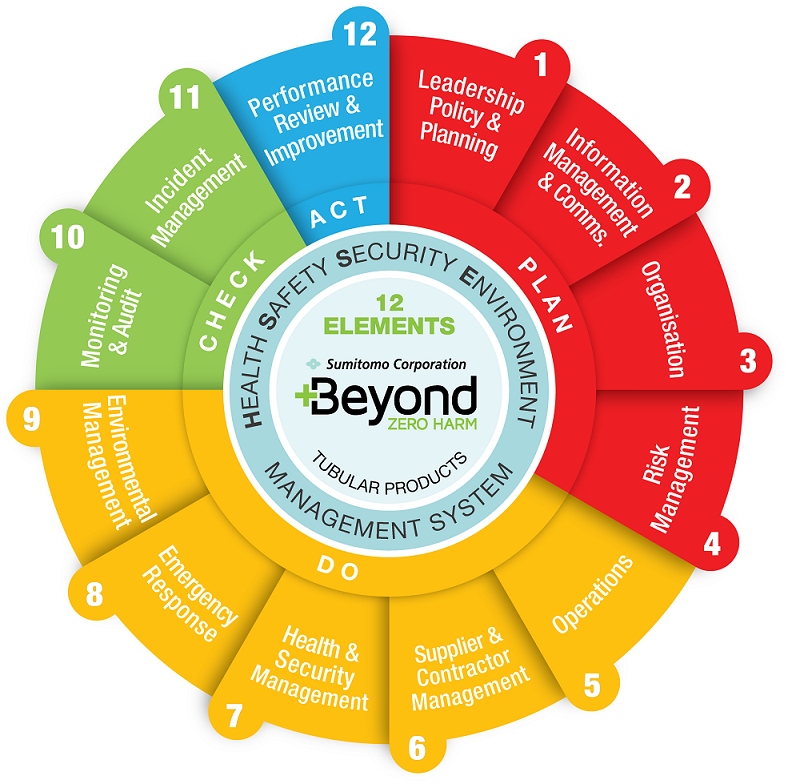 Education on crisis management
Sumitomo Corporation offers a variety of training programs and seminars in order to foster crisis awareness and to equip each employee with necessary knowledge.
As a countermeasure against natural disasters, each year we conduct emergency response exercises of the Crisis Management Team and on each floor of the Tokyo Head Office in anticipation of an earthquake under the Tokyo Metropolitan region. Throughout the Group, we also develop, and conduct exercises for, impact based BCPs that can be used to respond to multiple disasters, including not just earthquakes, but also typhoons, floods, pandemics, etc.
Seminars on safety measures are divided into 4 grades and 6 courses, allowing participants to attend according to their experience and learning levels. Also, we support the development of manuals on safety measures in each business site, and we have established a system that can provide prompt and effective relief and support through cooperation with domestic and international partners in case of emergency.
We also develop safety net systems as part of our daily operations. For example, we have introduced a system to obtain real-time information on troubles in various parts of the world (e.g., terrorism, serious accidents, severe weather, natural disasters, etc.) and push forward the information to employees posted or on business trip in various regions. Another example is a system to provide support when emergency medical care is needed.
Safety measures in uranium mining
Our Groups development of uranium mines, production and sales of uranium concentrates(*1), and trading of various kinds of nuclear fuels containing radioactive materials comply with each country's laws and regulations based on the IAEA (International Atomic Energy Agency) standards. With our highest priority on HSSE (Health, Safety, Security and Environment), we place the utmost importance in ensuring the safety of onsite employees and local residents. Specific measures taken in production and sales of uranium concentrates include the measurement of radiation exposure of all those entering and leaving the plant, and the management and monitoring of cumulative radiation doses in employees(*2). Furthermore, the uranium concentrates and various kinds of nuclear fuels we deal in are all used for peaceful purposes such as power generation. Our relevant activities comply with security trade control-related laws and regulations.
(*1) Products manufactured in the said business are natural uranium concentrates, and waste materials produced in mines and refining plants are limited to a small amount of low-level (naturally occurring) radioactive waste derived from the refining process. Such waste materials are appropriately treated in accordance with IAEA standards and Kazakhstan's laws. Furthermore, no high-level radioactive waste or medium-level radioactive waste has been produced in the business for the two years from FY2020 to FY2021. In addition, a management structure for ensuring safety and quality has been put in place.
(*2) We have established an internal standard for the maximum permissible exposure of workers that is stricter than the laws and regulations of Kazakhstan, where we conduct the business, and we are compliant with such standard. Further, no external radiation leaks have occurred in the two years from FY2020 to FY2021.
Clinic
Sumitomo Corporation has set up an in-house clinic (internal medicine and dentistry) to support employees' health management on a day-to-day basis. The internal medicine department is open five days a week for outpatients, with specialists in lifestyle diseases such as diabetes and hyperlipidemia, infectious diseases, and the liver, kidney and respiratory organs. The department also provides employees at high risk of developing lifestyle diseases with ongoing support, including nutrition counseling by registered dietitians and collaboration between specialists in diabetes and nurses, as well as regular blood tests. At the dentistry department, checkups are provided twice a year in addition to regular treatment. Dental and oral hygiene education is also offered on an individual basis as needed.
Mental healthcare
We provide training on mental health several times a year, including self-care education and training for managers. Through these comprehensive programs taught by external instructors, trainees learn key points about their own mental health and that of others. About 450 employees (including those from Group companies), mainly young employees and managers, take this training in the form of 10 sessions per year. We have also set up a counseling center "for everything, with confidentiality totally protected," which is used by a total of over 1,200 employees annually. In addition, we conduct an annual stress checkup, which is extended to employees working overseas. The health consultation office within the in-house clinic, also covering mental health, is also available to employees working abroad. To prevent the progression of mental illness and help employees return to work, the in-house clinic also has a specialist in psychosomatic medicine available three days a week.
Financial support for health checkups and comprehensive medical examinations
Financial support for health checkups and comprehensive medical examinations
At Sumitomo Corporation, employees younger than age 35 are required to undertake a regular health checkup at the in-house clinic, while those aged 35 and older are required to take a comprehensive medical examination at an external medical institution. For the checkups and examinations at an external medical institution, employees can receive financial support (up to 10,000 yen for a regular checkup and 80,000 yen for a comprehensive medical examination) from the Health Insurance Society.