Structure of Promoting Our CSR Practices
Since establishing the Environment & CSR Department in 2008, the Sumitomo Corporation Group has earnestly advanced CSR activities in cooperation with relevant internal departments, domestic and overseas regional organizations, and Group companies.
Also, we have established the CSR Committee as an advisory body to the Management Council. The committee analyzes changes in conditions facing the Group and discusses initiatives in light of stakeholder expectations. Moreover, as an advisory body to the CSR Committee, we have established the Global Environment Committee, which promotes environmental management activities based on the ISO 14001 standards.
Aiming to increase the scope and momentum of initiatives focused on sustaining the growth of the Group and society, the Group renamed this department the Corporate Sustainability Department in fiscal 2017. The new department will lead stepped-up efforts to tackle social issues.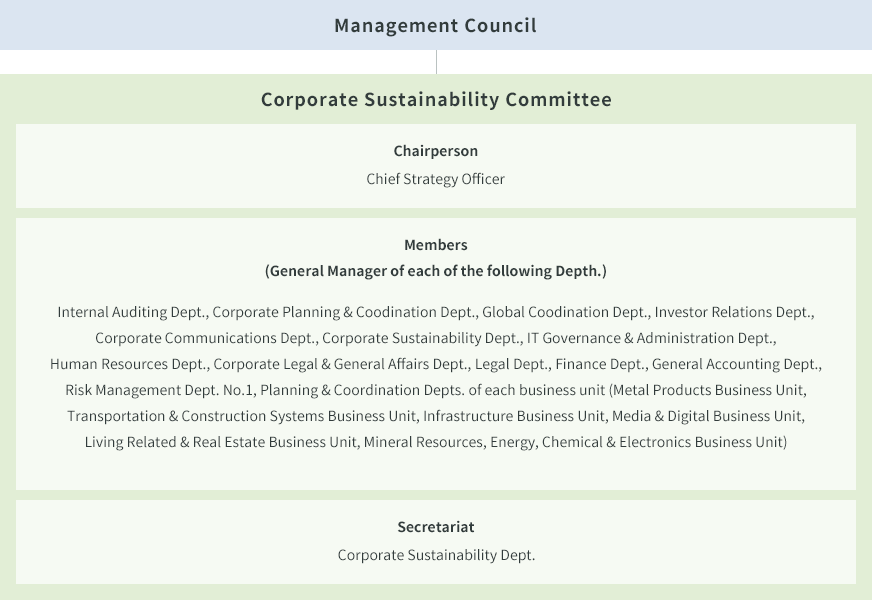 The Sumitomo Corporation Group's Management of Environmental, Social and Other Nonfinancial Aspects(PDF/135KB)