The TOMODACHI Sumitomo Corporation Scholarship Program
Through this scholarship, Sumitomo Corporation gives support to Japanese university students wishing to study in the United States, with a view to contributing to the development of global talents with global insights.
Sumitomo Corporation participates in the TOMODACHI Initiative led by the U.S. Embassy in Tokyo and the U.S.-Japan Council (Japan), and has been implementing the TOMODACHI Sumitomo Corporation Scholarship Program since 2014.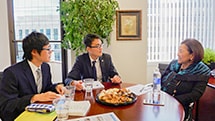 Under this program, Sumitomo Corporation gives financial support to cover the travel and living expenses of students who will participate in a year-long exchange scheme based on the mutual agreements made between Japanese and the US universities. In addition, Sumitomo Corporation of Americas provides the supported students with training to have experiences that would be unavailable on campus. Moreover in New York, the students visit Columbia Business School to exchange opinions with professors and students at the school. In Washington, they are also given opportunities to talk with Ms. Irene Hirano Inouye, President of the U.S.-Japan Council as well as officials of the Japanese and US governments, those related to the Congress and NGOs, and others. Through this program, Sumitomo Corporation will continue to contribute to the development of talents who can act as a bridge between Japan and the US and become leaders of next generation.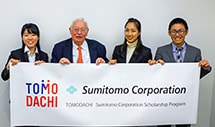 [TOMODACHI Initiative]
The TOMODACHI Initiative is a public-private partnership led by the US-Japan Council (Japan) and the US Embassy in Tokyo. Born out of support for Japan's recovery from the Great East Japan Earthquake, TOMODACHI invests in the next generation of Japanese and American leaders through educational and cultural exchanges as well as leadership programs.