Advertisement Gallery

Advertisement
The world faces numerous societal issues. Leveraging the integrated strength of our global networks, Sumitomo Corporation has formed the Sumisho scrum to address these issues one by one and generate new value.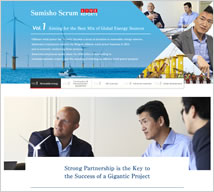 Patterned Advertisement
A team generates unlimited power
There are still challenges to be overcome in this world.
Finding the answers is not easy, but by pooling our individual strengths,
we create new ideas that go beyond conventional solutions.
At Sumitomo Corporation, we work with our partners
to tackle one challenge after another.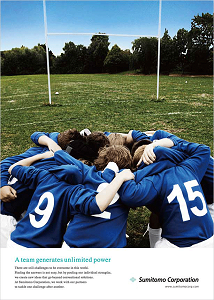 A world of incalculable interest
If everything in this world was predictable, would we have hopes and dreams for the future?
The world is brimming with potential. Sumitomo Corporation identifies possibilities
one by one, and takes every available approach to turn them into realities
by working together with our partners, now and into the future.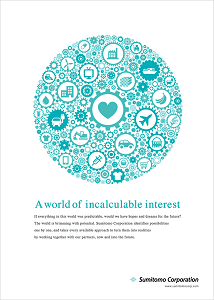 Unalterable beliefs in changing times
From the international trader of products to the general business operator that meets a broad spectrum of needs to offer extensive social value - the integrated trading business has changed in response to the changing needs of the times, this also holds true for Sumitomo Corporation, a long-established enterprise in the industry. However, the company has stood firm on its beliefs, which have remained unchanged throughout the course of its long history. The following stories provide an explanation of what these beliefs are.
Uploaded: NIKKEI Online
Period: December 18, 2014 - March 15, 2015