Global Cases
High-quality bananas are maintained through "Cold chain system"
Philippines
Nearly one in three bananas sold in Japan
Supermarkets, greengrocers, convenience stores—bananas are sold at all sorts of outlets right throughout the year. One of our most ubiquitous fruits, the banana is also packed with nutrition. Sumitomo Corporation has a lengthy track record in the growing and import of bananas.
Japan's banana import trade fully got started in the 1960s. This was when European and American companies, seeing Asia's economic development, entered the Japanese market to promote banana sales. Many of them eventually withdrew, however, as market conditions failed to stabilize due to insufficient cultivation technologies and distribution systems, which gave rise to significant risks. Sumitomo Corporation was one of the few firms that managed to push through the challenges by adapting its business models.
Sumifru Corporation, a subsidiary of Sumitomo Corporation, currently supplies about 30% of the bananas sold in Japan. Sumifru offers a variety of brands, including "Kanjuku-oh" ("the king of banana"), "Banage," and "Gracio," all of which are enjoyed by both adults and children.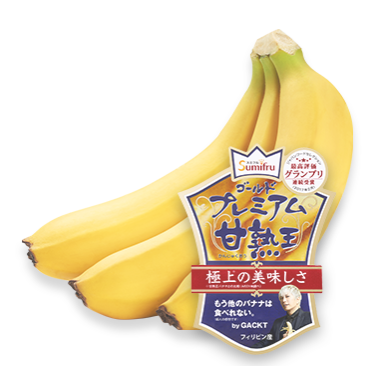 R&D and production in the Philippines
Most people are surprised to learn that the banana tree is not a tree at all but is actually a perennial plant.
The Sumifru Group owns a banana plantation on the Philippine island of Mindanao. Here, specialists working in research facilities conduct research to discover more productive banana varieties and new cultivars.
In developing disease-resistant and tasty bananas, Sumifru's researchers begin by selecting the best-quality suckers from the banana plants and raising them using the meristem culture technique. Reportedly, there are several hundred banana varieties, any one of which, due to mutations, can produce suckers with new characteristics. Daily monitoring is therefore needed in order to ensure new developments are not overlooked. "Banapple," for example, which has a fresh, apple-like flavor, was developed from a species closely related to the original species of banana. Research and development on the banana can sometimes feel like a treasure hunt, where you never know what you'll find.
Based on its corporate principles focusing on quality, taste, safety, and the environment, Sumifru's production system also has a long history and a reputation for reliability.
It takes 10 to 14 months from planting to harvesting. During this period, Sumifru employs a number of ingenious measures to keep the bananas healthy. These include protecting the bananas from insect pests by introducing their natural enemy, frogs, as well as companion planting with repellent plants, thereby minimizing the need for agricultural chemicals. Also, home-made organic fertilizers are used to revitalize the soil and maintain soil health in order to produce healthier and tastier bananas. Most of these tasks, which start early in the morning, are performed by local staff. In fact, the Sumifru Group's vast Mindanao plantation, which stretches over an area of 10,000 hectares, is a significant local employer, providing about 20,000 manual labor jobs to earnest and diligent Philippine workers.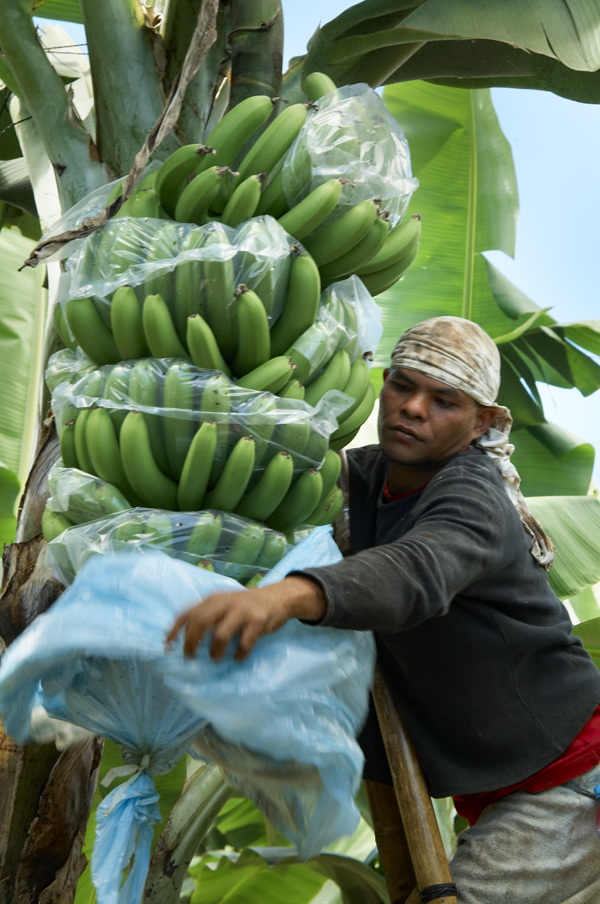 Precise temperature control to deliver high-quality bananas to stores
To ensure that Japanese consumers can get the best-tasting bananas, Sumifru was the first in the industry to establish a fully temperature-controlled supply chain, known as a cold chain, starting from the place of production. The banana is so sensitive to temperature changes that it can suffer chilling damage even when the temperature drops only slightly below its preferred temperature of around 13.5 degrees Celsius.
Bananas harvested on the plantation are therefore packed at the sorting facilities and, within four hours, sent to temperature-controlled consolidation points or dedicated refrigerated facilities for temporary storage. They are then shipped from the Sumifru Group's own port facilities on banana carriers, arriving at their destination Japanese port around five days later. During this entire process, the temperature is controlled at an optimum level.
Because of provisions of the Plant Protection Act, bananas are imported into Japan while they are still green. They are then placed in ripening facilities for about five days, where they are artificially ripened with ethylene gas. With their arrival timed to coincide with their ripening schedule, the bananas are then shipped to supermarkets and other stores. These processes, from harvest to delivery, take about two weeks in all. The strict temperature control makes it possible for fresh and tasty bananas to be delivered to consumers. The cold chain is the key to enabling consumers to enjoy fresh, high-quality bananas during all four seasons. The Sumifru Group's own port facilities work untiringly, shipping bananas 24 hours a day, 365 days a year.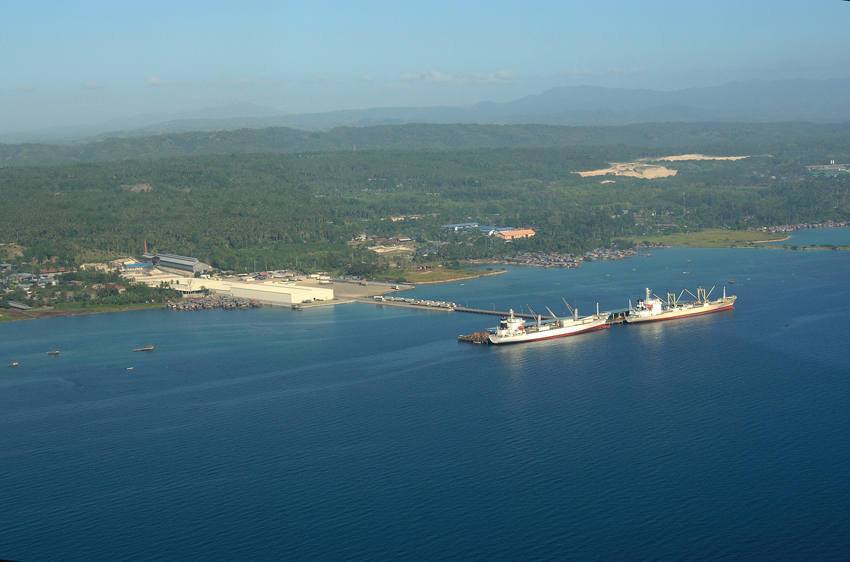 Planning to enter Asian markets
Japanese consumers have diverging preferences when it comes to bananas. To satisfy these varying needs, Sumifru is stepping up its marketing activities.
As part of efforts to differentiate its brands, Sumifru has widened its product range by developing, for example, the "Kanjuku-oh" banana, which takes advantage of the differences in sugar concentration produced by the different altitudes of various production sites. It has also created a banana packaged with the "bell mark" (a voucher for schools), as well as the "Shizen Ohkoku Eco" ("natural kingdom Eco"), an eco-friendly banana with carbon emission credits. Sumifru is also enhancing its public relations efforts, including its TV commercials, website, and SNS presence.
Thanks to ongoing efforts such as the above, Sumifru bananas are very popular among consumers and have become an accepted part of the Japanese diet.
Turning its eyes to overseas markets, the Sumifru Group is currently exporting Philippine-grown bananas to other countries in Asia and Oceania as well as the Middle and Near East, providing a foundation for Sumitomo Corporation's banana business to go from strength to strength.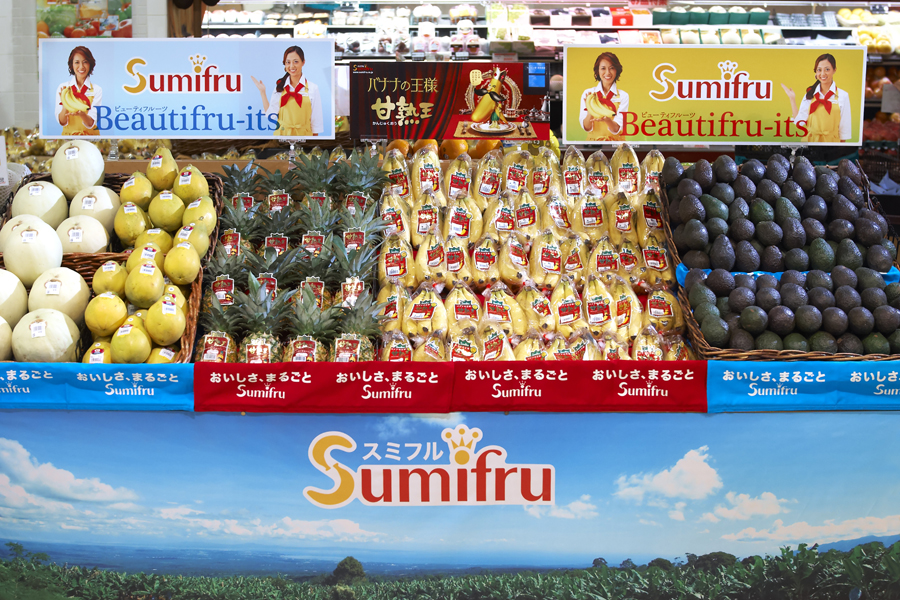 Keyword
Living Related & Real Estate Business
Asia and Oceania
Food Products