Jun. 22, 2021
Sumitomo Corporation
Utsunomiya Station East Exit District Development Project: Community planning partnership agreement concluded with tenants
Sumitomo Corporation (Head Office: Chiyoda-ku, Tokyo; Representative Director, President and Chief Executive Officer: Masayuki Hyodo) is participating in the Utsunomiya Station East Exit District Development Project (hereinafter the "Project"), sponsored by Utsunomiya City. The company is engaged in a project for a commercial complex which is scheduled to open in August 2022. Recently, we have signed a community planning partnership agreement with planned major tenants of the complex. Based on this agreement, we will facilitate cooperation with the city government and local organizations, aiming to build an attractive community and create new value through the complex.
This Project is hosted by Utsunomiya City with the aim of building a "new, attractive and vibrant hub of exchange and creativity as a driver for future regional development." This is a public-private joint program that embraces various development plans. These include a convention center with the region's largest capacity,*1 a new public transportation LRT system,*2 a spacious greenery park, a major medical institution for highly specialized medical care services, lifestyle-oriented commercial facilities catering to local residents as well as those visiting for business or pleasure, a quality and convenience-focused hotel, family support functions, and business offices.
Since May 2018, when Sumitomo Corporation was granted a preferential negotiating right as a member of the bidding consortium led by Nomura Real Estate Development Co., Ltd., the company has discussed development plans with the city government in detail in that capacity. Within the Project, our undertaking is related to two facilities: a 14-story commercial complex (retail and hotel) that directly connects to JR Utsunomiya Station and the LRT station, and a five-level car park adjacent to the complex.
This business represents one of the latest of many similar projects undertaken by Sumitomo Corporation. The company has been engaged in a number of commercial complex projects in major cities across Japan, under public private partnership (PPP) agreements and within government-led urban development programs for town redevelopment and land readjustment. In these projects, Sumitomo Corporation uses its strengths as an integrated trading company, particularly its know-how for community planning and networks. We will promote the new Project, looking to contribute to Utsunomiya City's economic and industrial growth and improve the convenience of residents and station users.
*1. Convention center
Complex facility housing venues for exhibitions and conferences, scheduled to open in November 2022
https://www.city.utsunomiya.tochigi.jp/shisei/machizukuri/higashiguchi/1025897.html
*2. LRT: Light rail transit
This next-generation tram system is attracting the attention of the public. Utsunomiya City is introducing the system to local public transportation networks, including for a planned service to connect Utsunomiya Station East Exit and the Haga-Takanezawa Industrial Park (14.6 km).
(Reference material)
【Profile of commercial complex】
| | | |
| --- | --- | --- |
| Address | : | 1-2 Miyamirai, Utsunomiya-shi, Tochigi |
| Access | : | One minute walk from Utsunomiya Station on the JR Tohoku Shinkansen Line and Tohoku Main Line |
| Site area | : | Approx. 7,700 m2 |
| Building structure | : | 14 stories, steel construction |
| Gross floor area | : | Approx. 37,400 m2 (including separate car park) |
| Construction period | : | April 2020 to July 2022 (scheduled) |
| Scheduled to open | : | August 2022 |
【Facility composition】
■Commercial (1st to 6th floors)
・Major tenant composition
| | | |
| --- | --- | --- |
| 6F | : | Offices |
| 5F | : | Wedding venue/restaurant, offices |
| 4F | : | Product retail |
| 3F | : | Food service, product retail, non-food services |
| 2F | : | Food service, product retail, non-food services |
| 1F | : | Supermarket |
■Hotel (5th to 14th floors)
| | | |
| --- | --- | --- |
| ・Trade name | : | CANDEO HOTELS UTSUNOMIYA (provisional) |
| ・Number of guest rooms | : | 288 |
| ・Floor area of rooms | : | 18 to 20 m2 |
| ・Available functions | : | public bath (with open-air bath), sky view restaurant |
■Multi-level car park (separate five-story building)

■Related images (current plans subject to future changes)
South side: Convention center and park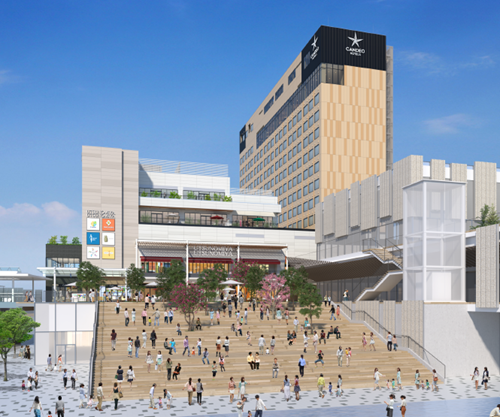 West side: Commercial complex facing JR Utsunomiya Station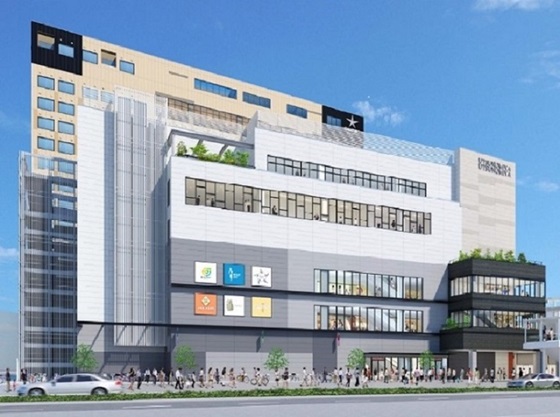 <Attachment>【Tenants and community planning partners】(PDF/225KB)
Sumitomo Corporation's Material Issues
Sumitomo Corporation Group positions "Six Material Issues to Achieve Sustainable Growth with Society" as an important factor in developing business strategies and in the decision-making process for individual businesses. Going forward, we will pursue sustainable growth by resolving these issues through our business activities. This project especially contributes to the following material Issues.

Achieving Harmony with the Global Environment

Contributing to the Development of Local Communities and Industries

Establishing a Foundation for Comfortable and Enriching Lifestyles

Providing Diverse "Accessibility"
---

Developing Human Resources and Promoting Diversity

Enhancing Governance