Apr. 03, 2023
Sumitomo Metal Mining Co., Ltd.
Sumitomo Corporation
Commencement of Commissioning and Bulk Copper Concentrate Production at Quebrada Blanca Phase 2
Sumitomo Metal Mining Co. Ltd. (headquarters: Tokyo, Japan, "SMM") and Sumitomo Corporation (headquarters: Tokyo, Japan, "SC"), together with Teck Resources Limited (headquarters: Vancouver B.C., Canada, "Teck"), have started the feeding of mineral ore into the main facilities at the Quebrada Blanca Phase 2 project ("QB2 Project"), and the production of bulk copper concentrate* has begun.
Going forward, we plan to complete the construction and commissioning of the remaining facilities, such as shipping facilities in the port area, and the ramp-up of those facilities towards full production. The QB2 Project will produce product-standard copper concentrates with improved copper purity through the separation of by-products, etc., and plans to continue long-term, stable production for more than 20 years.
SMM's long-term vision for the QB2 Project is to achieve attributable copper production volume of 300,000 tons per year. Commencement of production at the QB2 Project is a major step towards achieving our vision.
SC will participate in the operation of the QB copper mine business and work together with its partners to contribute not only to the stable supply of copper, an essential resource for the widespread use of renewable energy and electric vehicles, but also to the development of the local economy by creating employment and business opportunities in the surrounding area.
* Bulk copper concentrate: Copper concentrate produced through crushing, grinding, and flotation processes prior to the separation of molybdenum.
Overview of Quebrada Blanca Copper Mine
・ Location: Tarapacá Region, Republic of Chile (Northern Chile, 1,500 km from Santiago, 240 km southeast of Iquique, altitude 4,400 m)
・ Extraction method: Open-pit mining
・ Metallurgical operation: Copper and molybdenum concentrates are produced by floatation method.
・ Reserves: Copper approximately 7 million tonnes
・ Resources: Copper approximately 24 million tonnes (*originally 18 million in 2019)
・ Mine life: Approximately 28 years (only by Reserves)
・ Average annual production volume (metal volume contained): Copper 240,000 tonnes, molybdenum and silver
・ Project area layout:
From the left, shipping port and seawater desalination plant, transmission line (purple line), pipelines (light blue line for fresh water, orange line for copper concentrate), QB copper mine facilities (Mill Plant, Tailings Management Facility, Open-pit Mine)
Overview of Production Process in Quebrada Blanca Copper Mine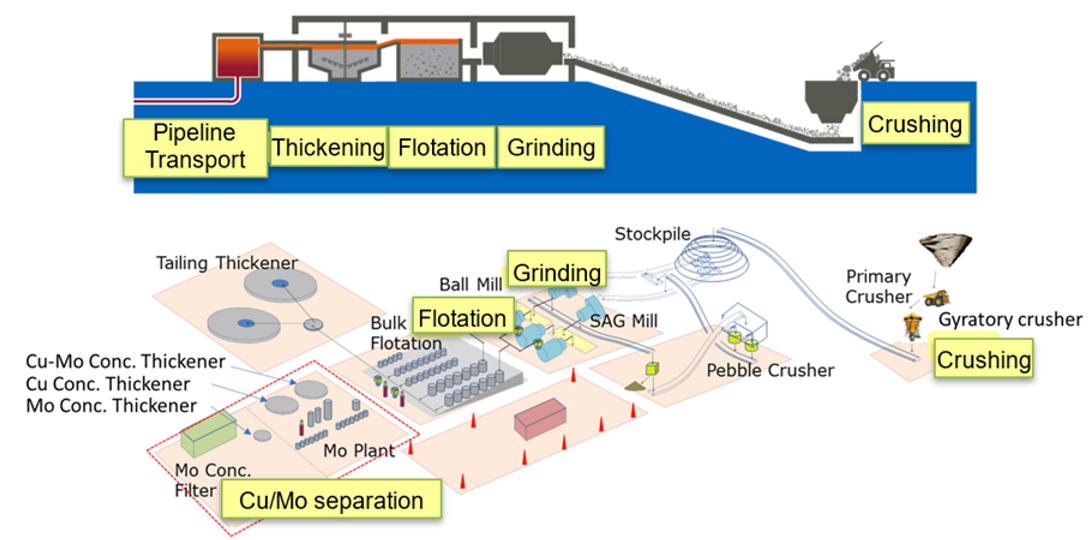 Sumitomo Corporation's Material Issues
Sumitomo Corporation Group positions "Six Material Issues to Achieve Sustainable Growth with Society" as an important factor in developing business strategies and in the decision-making process for individual businesses. Going forward, we will pursue sustainable growth by resolving these issues through our business activities. This project especially contributes to the following material Issues.

Achieving Harmony with the Global Environment

Contributing to the Development of Local Communities and Industries

Establishing a Foundation for Comfortable and Enriching Lifestyles

Providing Diverse "Accessibility"
---

Developing Human Resources and Promoting Diversity

Enhancing Governance