May 15, 2023
Sumitomo Corporation
Capital increase for M-KOPA, a digital financial services company in sub-Saharan Africa
Sumitomo Corporation (Head Office: Chiyoda-ku, Tokyo; President and CEO: Masayuki Hyodo) has invested US $36.5 million in M-KOPA Holdings Limited (Head Office: London, UK, CEO and Co-Founder: Jesse Moore hereinafter "M-KOPA"), a company providing digital financial services in sub-Saharan Africa by leveraging data to combine digital micropayments with the Internet of Things [IoT] technology. Following an initial smaller investment into the company in 2018, Sumitomo aims to further support M-KOPA to grow and create new business lines through this capital increase.
In the African market, where the total population is 1.4 billion, and the population is increasing annually by an average of 2%, 70% of the population does not have a bank account, and many have limited or no access to financial credit, often due to a lack of payroll or steady income source. In many markets, mobile money has become widespread as a cheaper and more convenient financial infrastructure than traditional banking. Mobile money enables individuals to send money to remote areas using short message functionality of mobile phones such as SMS and USSD. Currently, mobile money is used not only for remittances but also for day-to-day payments, and an ecosystem of financial services utilising mobile money is rising, including those provided by M-KOPA.
M-KOPA's fintech platform provides access to life improving productive assets such as smartphones, solar home systems and electric motorbikes to underbanked individuals in Kenya, Uganda, Nigeria and Ghana. Through its flexible model, customers pay a small deposit and get instant access to products, which is followed by digital micropayment instalments. M-KOPA has delivered their products and services to more than 3mil people since 2011 and is heavily investing in their IOT technology and software to expand into new markets to reach an additional one million customers by the end of 2023
Sumitomo Corporation has a longstanding history of engagement in Africa, and more recently has been investing in the region's technology and digital areas. In 2020, Sumitomo Corporation announced a strategic alliance with the UK-based Vodafone Group Plc ('Vodafone'). As part of a global consortium, Sumitomo Corporation and Vodafone jointly obtained the first new telecoms license in Ethiopia, bringing competition to the market under the brand Safaricom Ethiopia. In 2022, Safaricom Ethiopia became the first foreign mobile network operator to launch a mobile communication service in the country.
Now, Sumitomo Corporation's investment in M-KOPA is the next major stage in Sumitomo's investment in Africa. Sumitomo's strategic alliances will be leveraged by M-KOPA to accelerate the growth of its customer base and its expansion to new markets, including where Vodafone operates. In addition, by utilizing Sumitomo Corporation's knowledge and networks in a wide range of business fields and M-KOPA's business foundation and customer base, Sumitomo Corporation and M-KOPA will jointly develop the new products and services, such as electric motorbikes, insurance and other various digital services, to meet the demands of the African consumers.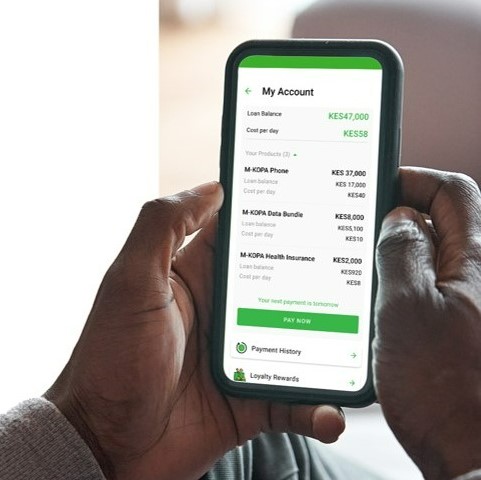 Sumitomo Corporation's Material Issues
Sumitomo Corporation Group positions "Six Material Issues to Achieve Sustainable Growth with Society" as an important factor in developing business strategies and in the decision-making process for individual businesses. Going forward, we will pursue sustainable growth by resolving these issues through our business activities. This project especially contributes to the following material Issues.

Achieving Harmony with the Global Environment

Contributing to the Development of Local Communities and Industries

Establishing a Foundation for Comfortable and Enriching Lifestyles

Providing Diverse "Accessibility"
---

Developing Human Resources and Promoting Diversity

Enhancing Governance