Underwriting of Capital Increase by Nileworks through Third-Party Allotment
–Aiming for Further Functional Enhancement through Collaboration with Yamaha Motor–
Sumitomo Corporation has underwritten a third-party allotment of shares of Nileworks, a company that designs, manufactures, and sells full-automated agricultural drones. Through this investment, Sumitomo Corporation will further accelerate its collaboration with Nileworks and contribute to solving issues facing the agriculture industry in Japan through the development of agricultural drones and other DX-based agriculture-related businesses. In addition, with the participation of Yamaha Motor, a new strategic partner, we will work together to further improve the aircraft design and operability of agricultural drones and establish a presence in the market.
Solving Japan's Agricultural Challenges with Technology
In recent years, due to the factors such as the falling birthrate and aging population, the agricultural population have been declining and there is a shortage of successors. In addition, the environment surrounding Japanese agriculture has reached a major turning point, as some farmers are becoming larger as a result of the consolidation of farmland. In 2025, the domestic market for agriculture using technology called "agri-tech" is expected to be worth approximately 180 billion yen and the domestic market for agricultural drones is seen to skyrocket to approximately 94 billion yen.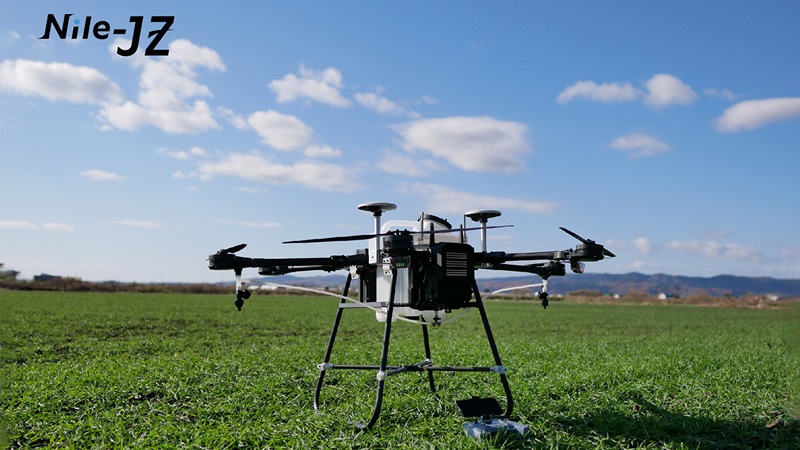 Nileworks is a startup established in 2015 with the aim to "solve the problems facing the agriculture industry in Japan through technology". To realize "precision agriculture from the sky," the company is developing a digital platform that aggregates and analyzes agricultural data, including growth diagnosis using agricultural drones and specialized cameras on them. The company's proprietary drones are highly regarded for their advanced automated drone control technologies, as they do not require special piloting skills and can be used by anyone to spray agrichemicals with the same accuracy, and that they can simultaneously spray and monitor growth data in real time.
Sumitomo Corporation Aims to Change and Create Agriculture
Sumitomo Corporation has been collaborating with Nileworks since investing in the company in 2017. In 2018, we signed an agreement on strategic partnership with Japan Agricultural Cooperatives Miyagi Tome to introduce advanced agricultural technologies suitable for the climate within the district covered by JA Miyagi Tome, and conducted a demonstration project on pesticide application and growth diagnosis using Nileworks' agricultural drones.
In April of 2022, Sumitomo Corporation launched a new organization to develop innovative businesses in the field of agriculture and livestock production, with the themes of Smart Farming (agricultural DX and precise farming), Clean Farming (enhancement of GHG reduction farming technologies and methodologies), and the establishment of next-generation food production. Through this investment, we will continue to promote Nileworks' further growth by leveraging our accumulated expertise from a global and broad range of industries. In the field of smart farming, we will develop support services for farmers with the collaboration with material sales companies, contract farming companies, food processing companies and brewing companies, utilizing the field management and disease diagnosis systems developed by Nileworks.
Under the collaboration with Nileworks, Sumitomo Corporation will reduce the burden and man-hours of farming as much as possible and create a system that enables farmers to produce safe and delicious crops in an environmentally friendly approach at low cost, thereby contributing to solving the issues facing the agriculture industry in Japan.
Outline of Nileworks
Establishment
:
January 2015
Address
:
Kanda Square Front 2F, 1-4-3 Kandanishikicho, Chitoda-ku, Tokyo
Representatives
:
Yasuhiro Kojima
Main Business
:
Agricultural drones: design, development, manufacturing, and sales
Research and development: growth analysis technologies and cultivation technologies
Agricultural cloud services: development and sales
URL (Japanese)
:
https://www.nileworks.co.jp
Establishment
:
January 2015
Address
:
Kanda Square Front 2F, 1-4-3 Kandanishikicho, Chitoda-ku, Tokyo
Representatives
:
Yasuhiro Kojima
Main Business
:
Agricultural drones: design, development, manufacturing, and sales
Research and development: growth analysis technologies and cultivation technologies
Agricultural cloud services: development and sales
URL (Japanese)
:
https://www.nileworks.co.jp