Global Cases
Striving to be your essential service provider with services that reach your heart
―JCOM―
Japan
JCOM, Japan's largest cable TV operator, is a core company leading the Sumitomo Corporation Group's Media & Digital Business. Centering on the cable TV business, it has grown into a diversified media service provider that is engaged presently in the Internet, telephone, mobile phone, energy, and other sectors. Also, since its founding, the company has been committed to CSR activities to contribute to local community by pursuing locally based business models. Through this business, JCOM aims to contribute to the "Improvement of living standard" and "Development of local society and economy." This article provides an introduction to the company's endeavors to achieve this aim.
---
Offering services to support daily life in a variety of fields
JCOM Co., Ltd. (hereinafter "J:COM") is a Sumitomo Corporation group company and a facilitator of the group's media, ICT, and lifestyle related goods and services. J:COM was established in 1995, and now, a quarter-century after its founding, J:COM has dramatically developed into Japan's largest cable TV operator with the total number of subscribing households up to 5.62 million.
While J:COM offers quality entertainment through cable TV, production of movies and video works, operation of various thematic channels, and many other services, the company also develops lifestyle related services to support many aspects of daily life, including essential telecommunication infrastructure such as Internet, telephone, and mobile phone as well as electricity; home IoT services, and insurance services.
Providing both upstream and downstream services in the TV value chain
J:COM is a major player in the cable TV field. As of September 2022, J:COM TV provides services to 3.89 million households, giving it a 50% share of the number of households that subscribe to cable TV multichannel broadcasting services in Japan.
The company has a total of 65 CATV system operations, mainly in the Sapporo, Sendai, Kanto, Kansai, and Kyushu areas, that provide subscribers with local services.
The number of channels available to subscribers totals around 100, including those featuring movies, dramas, sports, animation, music, variety shows, and various other programs of all genres. In recent years, responding to growing demand for online viewing, J:COM has also been facilitating partnerships with video streaming service providers. The company also offers a wide range of services to accommodate different needs, including "J:COM TV Flex," a plan offering specialized channels along with Netflix/Disney+, and the "J:COM LINK mini" smart streaming dongle that enables customers to enjoy various online streaming services by simply plugging it into their TV.
You can enjoy online videos on your large-screen TV. All you need to do is to plug in the J:COM LINK mini dongle.
You can enjoy online videos on your large-screen TV. All you need to do is to plug in the J:COM LINK mini dongle.
As a content creator and channel operator, J:COM delivers a wide range of programs to its subscribers. The company covers both upstream and downstream businesses in the value chain of the TV industry, offering content, media, and infrastructure services. This comprehensiveness is what makes J:COM uniquely strong.
In the field of media content, in addition to the creation of locally rooted community channels, the company also operates a total of five thematic channels, including "Movie Plus," the "Golf Network," and "J SPORTS." Moreover, Asmik Ace (a subsidiary of J:COM) operates a range of world-spanning film-related businesses, from the production and distribution of motion pictures and animations to the rights business, which deals with international licensing of these products. The scope of business has also expanded thanks to new companies joining the J:COM group, including ANY (planning and operating music and other events) and PROOX (video marketing agency). Through these and other initiatives, J:COM strives to develop its unique media content business offering a broad range of quality services.

Offering convenient Internet services
High-speed and large-capacity Internet access is becoming essential to many people in line with the growing popularity of video streaming and online gaming. To accommodate this trend, J:COM has been working to make its Internet services more convenient, for example, by offering high-speed Internet services with 1Gbps downloads or faster as well as better home Wi-Fi environments.
"J:COM Mesh Wi-Fi" has been available since 2019 as an optional Internet service. It solves problems such as unstable and slow Wi-Fi connections by using AI, tri-band, and other advanced technologies to provide a high-speed and stable Wi-Fi environment for the home. Since 2022, the company has also been offering a modem with "Next-Generation AI Wi-Fi" as a standard feature, and customers can expand their Wi-Fi coverage by using an additional mesh Wi-Fi pod.
Taking on challenges: expanding to new service domains
In July 2021, J:COM announced its new brand message to attract more customers and evolve to a comprehensive service provider of the local community.
The newest offering is insurance services, which started in November 2020. The first product, "Net Anshin Hoken" covers a wide range of issues associated with online communication. The product has seen a steady increase in the number of policyholders, reflecting the growing role of online services in daily life since the beginning of the COVID-19 pandemic. The company launched its second product, "Mochiie Anshin Hoken" in June 2021. This is an insurance product for homeowners, covering not only property damage but also a range of other issues they may experience in the community, such as legal costs in the event of conflict with neighbors. The product's comprehensive coverage has been well-received by many customers.
In July 2021, "J:COM Online Medical Care" also started in some parts of the Kanto region (Tokyo, Chiba, and Saitama). The service is now available throughout all areas of the Kanto region targeted by J:COM. While current online medical care services are typically provided via smartphone, J:COM makes the entire process, from appointments and consultations to prescriptions and payments, available using a TV screen and remote control. Medical appointments and consultations take place using a web camera, and prescription medicines are delivered to the patient's home. Looking ahead, the company is striving to provide a full range of online healthcare services including medication guidance, health counseling, and vital signs (pulse, blood pressure, body temperature, etc.) data management, thereby offering reliable and easy access to health care for all.
Passing down the corporate DNA as a company that takes root in local communities
In general, cable TV operators launched their business as locally rooted media companies. J:COM is not an exception. It also started its business operations in four areas of Nerima, Suginami, Fuchu, and Koganei in Tokyo. The company has been passing down the DNA as a locally rooted company to date.
For example, about 2,500 J:COM salespersons visit each household to propose the services suitable for their lifestyles. For existing subscribers, over 700 staff members are dedicated to offering follow-up services and tailored support, such as solutions to daily problems.
J:COM values ties with local communities and enhances them through the creation of programs for local people on the community channel. In the event of a disaster, the company broadcasts a variety of detailed information about the disaster including damage reports, evacuation information, school closures, and different measures to support daily life as well as local government press conferences. J:COM attributes the greatest importance to building up face-to-face relations with local customers.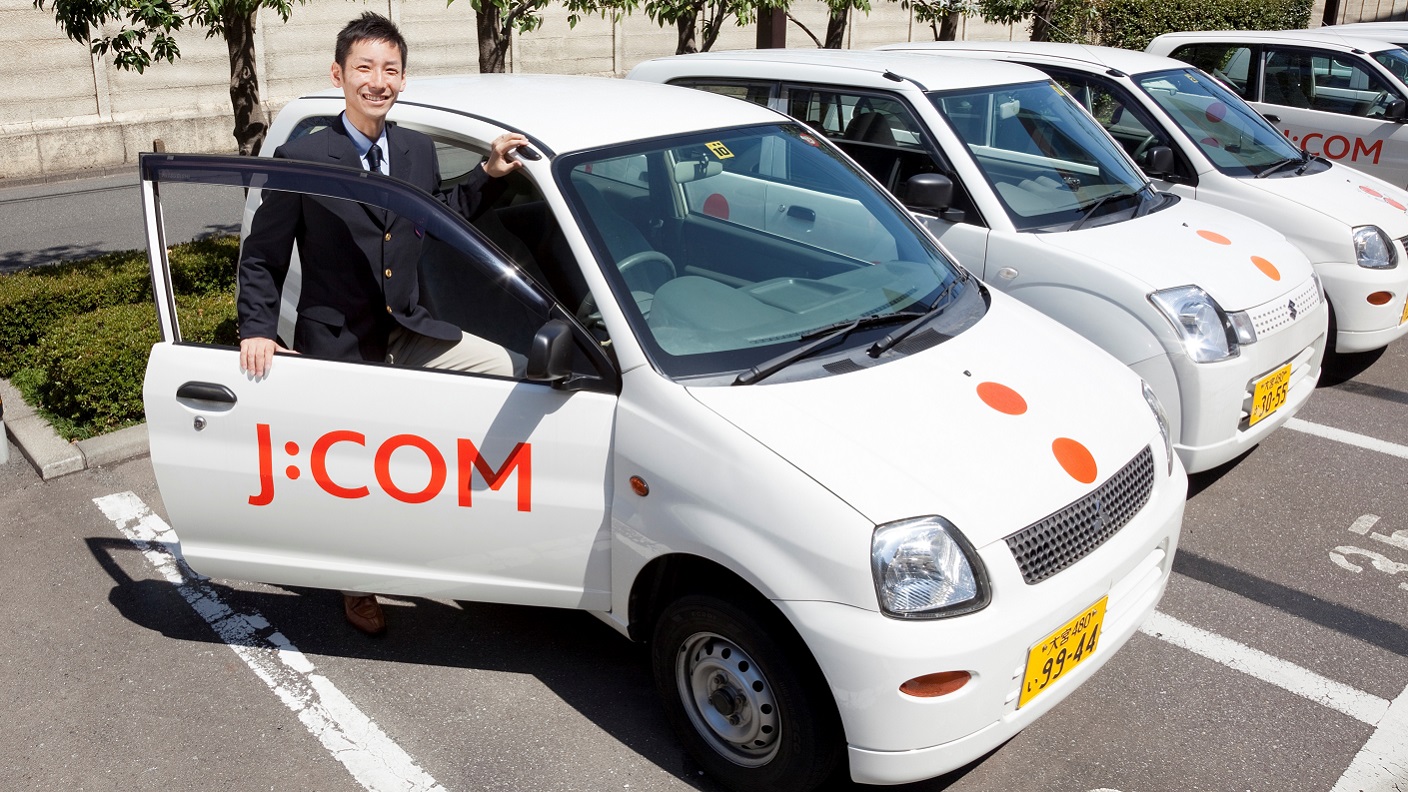 To be your essential service provider by providing services that resonate with our customers
TV, Internet, telephone, mobile, and electricity services: J:COM provides a full lineup of services for people's daily lives as an integrated life infrastructure service provider with a focus on the TV field, aspiring to support customers in all aspects of their lives.
In addition, to ensure sustainable prosperity for customers and local communities well into the future, the company is also working toward the goals of reducing its CO2 emissions by half by FY2030 (compared to FY2020) and achieving carbon neutrality by FY2050.
Making the maximum use of its strength as a member of the Group led by an integrated trading company, J:COM will develop multifaceted businesses, thereby achieving steady growth as a company that supports customers' daily lives. J:COM will continue to implement a wide range of initiatives to achieve these goals.
Keyword
Japan
Information Telecommunications
Retail Service Operations
Media & Digital Business