Start of operations at "SOSiLA Chuo Rinkan," a logistics facility located close to points of consumption
Construction work on "SOSiLA Chuo Rinkan" (Yamato City, Kanagawa Prefecture) was completed on August 31, 2022. "SOSiLA Chuo Rinkan" is the largest of the SOSiLA series of logistics facilities located close to points of consumption, of which development is promoted by Sumitomo Corporation.
In recent years, the expansion of the e-commerce market has spurred a growing demand for logistics facilities. In contrast, a shortage of delivery truck drivers and warehouse workers has become a major social issue. In order to provide a solution to this problem in the supply chain, under the theme of "logistics facilities connecting people and society," Sumitomo Corporation has developed the SOSiLA series, logistics facilities for the last mile (*1) close to points of consumption.
Last mile: The final section in the delivery of goods from a logistics hub to the end user.
An ideal location that is an optimal base for last-mile delivery and has access to the Tokyo metropolitan area
"SOSiLA Chuo Rinkan" is a five-story, multi-tenant logistics facility with the largest total floor area of the SOSiLA series at approximately 112,000 square meters. It also features a sought-after warehouse for dangerous goods. It is possible to access the Tokyo metropolitan area and wider area from the facility as it is located approximately 5 kilometers from the Yokohama-Machida IC on the Tomei Expressway and approximately 6 kilometers away from the Ken-o-Atsugi IC on the Metropolitan Inter-City Expressway. Last-mile delivery is also possible as the facility is located in the densely populated inland area of Kanagawa Prefecture. The facility provides employees with a work environment close to residential areas as it is located 1.3 kilometers from Chūō-rinkan station on the Odakyu Electric Railway Enoshima Line and Tokyu Corporation Den-en-toshi Line.
The first logistics facility in Japan to feature "View Smart Windows"
The lounge features "View Smart Windows" developed by View, Inc. (Milpitas, US), a tech company founded in Silicon Valley in 2007. View Smart Windows use AI to automatically adjust their tint in response to outdoor conditions, preserving outdoor views and access to natural light, while keeping the building interior cool and comfortable. The windows will eliminate the workload of manually operating blinds and reduce energy usage from lighting and HVAC by as much as 20%.
The installation of smart windows is a first for a facility in Japan and is an ambitious challenge that could set the new industry standard. In addition to the above, we are conducting various activities that contribute to social and environmental value, such as using recycled building materials and installing solar panels and a pocket park.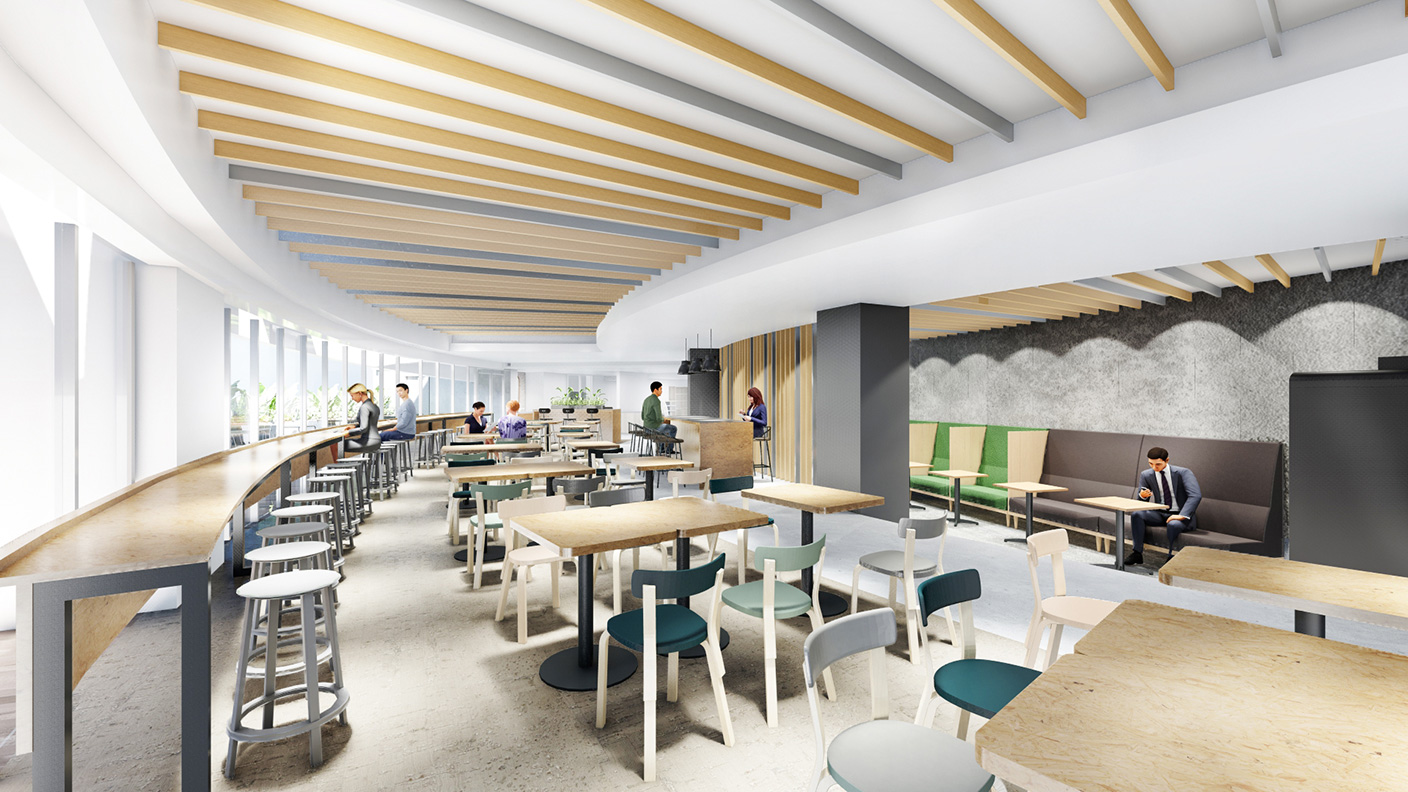 Integration with "Smile Board Connect," software that streamlines operations at logistics sites using AI and quantum computing
"SOSiLA Chuo Rinkan" will integrate "Smile Board Connect," a software for streamlining operations at logistics sites developed by Sumitomo Corporation. Tenants will be able to use the software for free for a certain period of time. "Smile Board Connect" is software that streamlines logistics operations.
It does so by using various functions, such as dashboard functions that visualize the progress of each process based on the skill data of each employee working at the logistics site and functions where users can create work plans using skill data. Also, as an optional function, the software contributes to improving the work environment by using AI and quantum computing to propose optimal personnel deployment.
Logistics Business at Sumitomo Corporation
Logistics Business at Sumitomo Corporation
At Sumitomo Corporation, we position logistics real estate as the "fourth pillar" in our real estate business, along with office buildings, commercial facilities, and condominiums. We are proceeding with the development of the SOSiLA series to realize "logistics facilities connecting people and society."
With the SOSiLA series, we have completed 15 logistics facilities, including "SOSiLA Chuo Rinkan," that have a total floor area exceeding 1.05 million square meters (approximately 310,000 tsubo) with an asset value of over 270 billion yen (*2). In 2022 we began work on the construction of "SOSiLA Kashiwa (provisional name)" (Kashiwa City, Chiba Prefecture) and "SOSiLA Atsugi Iiyama" (Atsugi City, Kanagawa Prefecture) in the greater Tokyo area. In the same year, we began work on "NEWNO SOSiLA Takatsuki" (Takatsuki City, Osaka Prefecture) in the Kansai region.
This facility is the first facility we jointly developed with SMFL MIRAI Partners, a subsidiary of the SMBC Group company, Sumitomo Mitsui Finance and Leasing. All the above facilities are scheduled to be completed in 2023. Going forward, we will promote development throughout Japan, as well as in the Greater Tokyo and Kansai areas.
This includes not only owned assets but assets owned by funds that Sumitomo Corporation invested in. Asset value of developed properties refers to their value at the time of their completion.