Collaboration for the Construction of an Ammonia-fueled Ship
Striving for Low Environmental Impact Supply of Copper Products
On November 7, Sumitomo Corporation entered into a memorandum of understanding (MOU) with NYK Bulk Project Co., Ltd. (NBP) and Oshima Shipbuilding Co., Ltd. (Oshima Shipbuilding) to conduct technical verification and development for the construction of ammonia fueled Handymax bulk carriers (Note) (this MOU). NBP had previously agreed to collaborate with Corporación Nacional del Cobre de Chile (CODELCO), a state-owned company in Chile and one of the world's leading copper producers, on the decarbonization of maritime transport of copper products in November 2022. This MOU was signed to facilitate the joint development between NBP and CODELCO (this project).
The three companies are considering the construction of 10 to 15 ammonia fueled Handymax bulk carriers. The constructed ammonia-fueled ships will be operated by NBP and utilized for the transportation of copper products produced by CODELCO in Chile to East Asia. Copper is a key resource essential for offshore wind power transmission grids and the widespread adoption of electric vehicles, and its demand is expected to increase. On the other hand, the maritime industry, which often handles the transport of copper, is facing pressure to reduce greenhouse gas (GHG) emissions generated during transportation and distribution. The International Maritime Organization (IMO) has set a goal to reduce GHG emissions from ships engaged in international shipping by 20-30% by 2030 compared to 2008 levels and to achieve zero emissions by 2050. The three companies, along with CODELCO, aim to achieve low environmental impact supply of copper products using the ammonia fueled ships.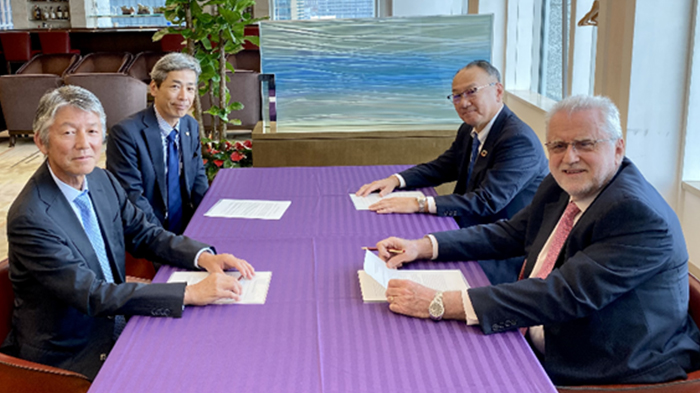 (Clockwise from the top left)
Mr. Koichi Kawamura, General Manager Ship Sales Dept. of Oshima Shipbuilding,
Mr. Norihiko Nonaka, General Manager, Transportation & Construction Systems Business Unit of Sumitomo Corporation Mr. Máximo Pacheco, Chairman of the Board of CODELCO
Mr. Masashi Suda, President of NBP
Sumitomo Corporation announced the joint development of ammonia fueled ships with Oshima Shipbuilding in December 2021. In December 2022, we received basic design approval for ammonia fueled ships from DNV, an international ship classification society, confirming that the design of the developing ammonia fueled ships meets technical requirements and safety standards. With these significant milestones, Sumitomo Corporation and Oshima Shipbuilding are progressing with the construction of ammonia-fueled ships. Through this MOU, we will accelerate efforts in marketing and sales of ammonia fueled ships.
Furthermore, Sumitomo Corporation is actively considering and promoting the development of a competitive clean ammonia supply network, design and development of ammonia bunkering ships, and infrastructure development related to the ammonia supply chain, including maritime transport and storage. By collaborating with internal departments, we aim to contribute to the decarbonization of the maritime industry in this project.
Our ship & marine business aims to "Contribute to climate change mitigation and regional economic development in the shipping and shipbuilding industry, which supports the foundation of global prosperity." Through collaboration with partners such as Oshima Shipbuilding, we will contribute to the realization of a sustainable society.
(Note) Handymax bulk carriers have a cargo capacity of approximately 60,000 tons and are bulk carriers that transport various resources such as iron ore, coal, grains, cement, salt, and copper concentrates in large quantities without packaging.