Aug. 04, 2017
Sumitomo Corporation

Raising and launch of the fund targeting U.S. properties
Sumitomo Corporation (head office: Chuo-ku, Tokyo; Representative Director, President and Chief Executive Officer: Kuniharu Nakamura) in June 2017 established and started to manage the closed-end private-placement real estate fund of about 35 billion yen, U.S. Prime Office Fund Limited Partnership Ⅰ (name tentative; hereinafter, "USPOFⅠ") , which is composed of properties in U.S. and invested in by Japanese institutional investors, through its wholly-owned subsidiary Sumisho Realty Management Co., Ltd. (head office: Chuo-ku, Tokyo; president: Hideki Yano; hereinafter, "SRM").

USPOFⅠis provided for by Japanese institutional investors who are interested in investing in U.S. properties as the fixed assets fund by Sumitomo Corporation Group. USPOFⅠ consists of the office building, 203 North LaSalle in Chicago, Illinois and the landmark tower building, Miami Tower in Miami, Florida that Sumitomo Corporation of Americas (name tentative; hereinafter, "SCOA") was holding. SCOA will manage the properties as a service provider who has property management know-how in the U.S.

Under the recent low interest rate policy in Japan and globalization of investment, Japanese institute investors are becoming increasingly interested in investment in real estate in the U.S. market which is the largest real estate market in the world. Meanwhile, the demand for investment in U.S. properties is continuing to grow. The Sumitomo Corporation Group is planning to raise the private funds continuously as a series of U.S. Prime Office Funds.

The Sumitomo Corporation Group has been engaged in the office property trading and operating business in the U.S. for over 35 years, since 1982, when we first entered the local market by acquiring an office building based in New York's Manhattan district. Starting from the country's largest metropolis, we have expanded our office investment activities to other major U.S. cities, such as Los Angeles, San Francisco, Washington D.C., and Phoenix. Our current portfolio includes properties in Miami, Chicago, San Diego and Atlanta.

By taking advantage of expertise and knowledge in the United States real estate market through USPO Fund series, the Sumitomo Corporation Group is hoping to provide high-quality office environments with the office tenants and contribute to their creative and productive activities. Our group will also supply Japanese institutional investors with new investment opportunities and contribute to further development of the U.S. real estate investment market.

Sumitomo Corporation's real estate business covers a full lineup of office buildings, residential, retail facilities and logistics facilities, and its total assets under management (Note 1) in Japan and overseas are valued at about 820 billion yen (as of the end of FY2016). Sumitomo Corporation intends to expand its real estate business by pursuing a non-asset business (Note 2) such as this private fund in tandem with its conventional on-book business (Note 3).
| | |
| --- | --- |
| (Note 1) | Total assets size managed on a non-asset business and on-book business |
| (Note 2) | Business that uses funds solicited from outside to invest in but not hold real estate (existing or under development) for the purpose of earning commission revenue |
| (Note 3) | Business that earns rental revenue and capital gains by holding assets and independently assuming investment risk itself |
◆203 North LaSalle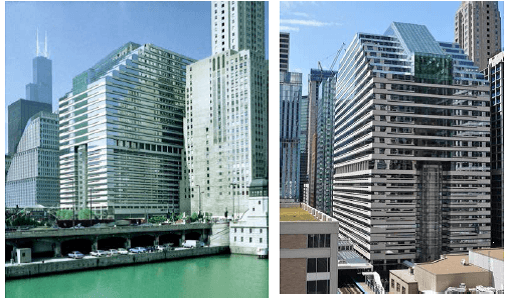 ◆Miami Tower