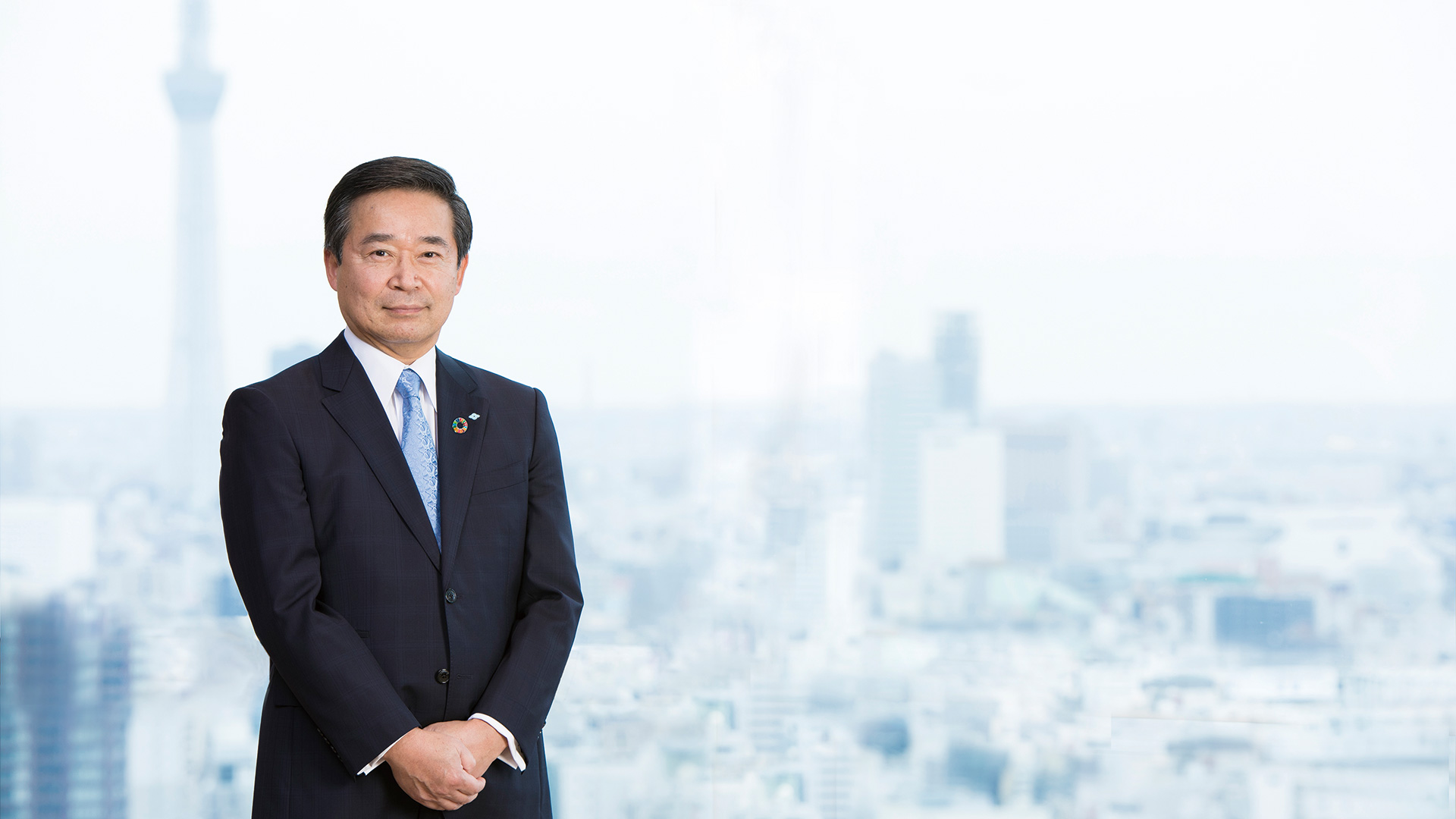 Message from
the President and CEO
Sumitomo Corporation Group conducts business activities throughout a wide range of industries on a global scale and aims to achieve prosperity and realize dreams through sound business activities.
Since its foundation in 1919, we have made steady growth through enhancing our ability to create new value together with stakeholders such as business partners and clients, across business networks around the world.
Our corporate mission statement carries on Sumitomo's business philosophy, which has formed the foundation for Sumitomo's businesses over the course of approximately 430 years. One of the credos of this philosophy states: "Benefit for self and others, private and public interests are one and the same." This credo underscores the importance that Sumitomo's business activities not only benefit Sumitomo, but must also benefit society around us in order to achieve sustainable growth together.
Today, the world faces a wide range of serious social issues such as climate change, and the role of the private sector has become even more important. The state of society and people's lifestyles have also changed due to the spread of COVID-19, and this has greatly affected the business of the Sumitomo Corporation Group as well.
Amid this situation, we announced our new Medium-Term Management Plan "SHIFT 2023" in May 2021. Through the reinforcement and expansion of businesses that apply our strengths as well as the development of next-generation businesses from a medium- to long-term perspective, we aim to make a shift into a business portfolio that has even higher profitability and downturn resilience. We believe that continuing to create value needed by society will lead to the Group's sustainable growth. Under this belief, we will further advance our initiatives to enhance the functionality of sustainability management while keeping contribution to solving social issues at the forefront of our mind, working toward the realization of a sustainable society and enhancement of corporate value.
As the Group's corporate message ――"Enriching lives and the world"―― implies, we will aim to further enrich the world, society, and people's lives. We will continue to act on our principles to get it done and create new value. We will move forward, shaping the future, and staying ahead.
Click here for further information of Corporate Message.
Masayuki Hyodo
Representative Director
President and Chief Executive Officer