Dec. 02, 2019
Sumitomo Corporation
Sumitomo Acquires Collier Center in Phoenix, AZ
Sumitomo Corporation (Head Office: Chiyoda-ku, Tokyo; Representative Director, President and Chief Executive Officer: Masayuki Hyodo) has acquired the Collier Center, an office building in Phoenix, Arizona (US), through Sumitomo Corporation of Americas (Head Office: State of New York, US; Representative: Masaki Nakajima). The Collier Center building has a total leasable floor area of 53,725 m2, and is situated in the center of Phoenix's downtown district.
Phoenix, the capital city of Arizona, is a major urban area in the American Southwest. The metropolitan area has a population of about 4.9 million, representing the state's largest and giving it 12th place in the national ranking. Known for its strong population and employment growth, ranking among the top US cities in these measures, Phoenix enjoys a burgeoning economy, driven by a massive population influx. A key gateway to Phoenix is provided by Phoenix Sky Harbor International Airport, which serves direct flights across the US and around the world, thereby making the city a strategic hub for international transportation.
Phoenix's downtown district boasts excellent transport accessibility, which is supported by major highways running east-west across the Southern United States and public light rail transit systems. Since 2000, when local light rail transit projects were launched, neighborhood development has been promoted, building a concentration of offices, residences and commercial facilities. As a result, the district is now renowned for its prosperous urban living and is particularly popular among office workers who wish to live close to work.
Sumitomo Corporation has a long history of office building management in the US, having been developing its purchase and lease business for around 37 years, since its first acquisition concluded in Manhattan, New York in 1982. To date, we have invested in office buildings in many large cities, including New York, Los Angeles, San Francisco, Washington, D.C., Miami, Phoenix and Honolulu. Our present portfolio consists of properties located in Chicago, Miami, Atlanta and Minneapolis, including those operated through private placement funds. The Collier Center will be the latest addition to this portfolio.
By utilizing the knowledge and experience it has cultivated in the US real estate market and in providing quality office environments through its US office building business, Sumitomo Corporation will support the creative/productive activities of its tenants. Furthermore, we will provide investors with optimal solutions and excellent investment opportunities, thereby contributing to the growth of the real estate investment market.
Profile of Collier Center
Address

:
201 East Washington Street, Phoenix, AZ
Structure/scale
:
Steel-reinforced concrete structure; 24 floors above ground, 3 floors underground
Leasable floor area
:
53,725 m2
Year completed
:
2000
Exterior view of Collier Center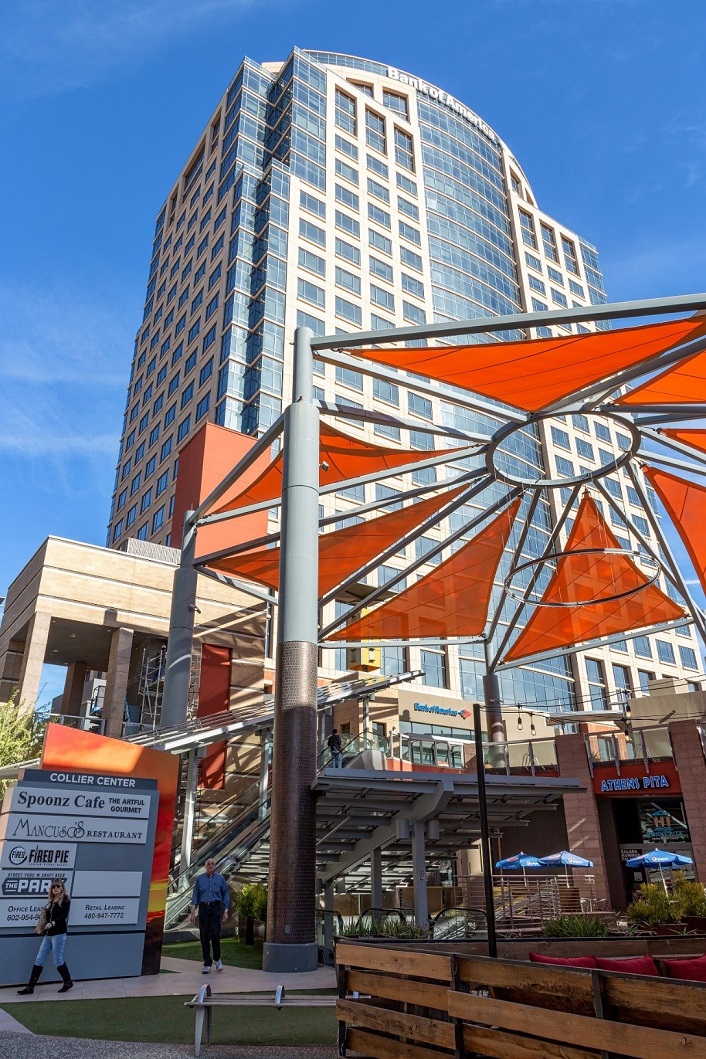 ■Sumitomo Corporation's Material Issues
Sumitomo Corporation Group positions "Six Material Issues to Achieve Sustainable Growth with Society" as an important factor in developing business strategies and in the decision-making process for individual businesses. Going forward, we will pursue sustainable growth by resolving these issues through our business activities. This project especially contributes to "the Development of Local Communities and Industries" and "Establishing a Foundation for Comfortable and Enriching Lifestyles".