Aug. 08, 2022
Sumitomo Metal Mining Co., Ltd.
Sumitomo Corporation
Update on the Forecast Capital Costs of Construction for the Quebrada Blanca Copper Mine
Sumitomo Metal Mining Co., Ltd. ("SMM") and Sumitomo Corporation ("SC") have announced that, in response to Teck Resources Limited's (headquarters: Vancouver B.C., Canada, "Teck") Q2 Financial Results released July 26, 2022 which included a revised capital cost forecast for the Quebrada Blanca Phase 2 project ("QB2 Project") of US$6.9 to 7.0 billion based on their forward looking foreign exchange assumptions, SMM and SC have approved its share of an investment of up to approximately US$7.5 billion of construction costs (including price escalation and additional future risk, base exchange rate 775 Chilean pesos/USD) representing an increase from the originally approved US$5.2 billion (US$4.7 billion before price escalation). The majority of the construction cost increase is a result of impacts from COVID-19 pandemic.
Teck is the operator for the jointly owned QB2 Project. Construction of the QB2 Project started in 2019, but the infection control costs required due to the worldwide spread of Covid-19, coupled with the construction period extension due to the isolation of infected construction workers and decrease in construction efficiency, have resulted in the amount of development investment being expected to increase.
The QB2 Project is now focused on system completion and handover and construction will continue with the goal of starting production by the end of 2022, while continuing to take all robust Covid-19 countermeasures.
In addition, SMM and SC have also announced that, as a result of a review of the resource assessment based on exploration activities to date, the resources of the Quebrada Blanca copper mine have increased by approximately 6 million tons (amount of copper metal) since 2019 when SMM and SC entered the project, significantly improving the future potential of the mine.
Overview of Quebrada Blanca Copper Mine
Location

: Tarapacá Region, Republic of Chile (Northern Chile, 1,500 km from Santiago, 240 km southeast of Iquique, altitude 4,400 m)

Extraction method

: Open-pit mining

Metallurgical operation

: Copper and molybdenum concentrates are produced by floatation method.

Reserves

: Copper approximately 7 million tonnes

Resources

: Copper approximately 24 million tonnes (*originally 18 million in 2019)

Mine life

: Approximately 28 years (only by Reserves)

Average annual production volume (metal volume contained)

: Copper 240,000 tonnes, molybdenum and silver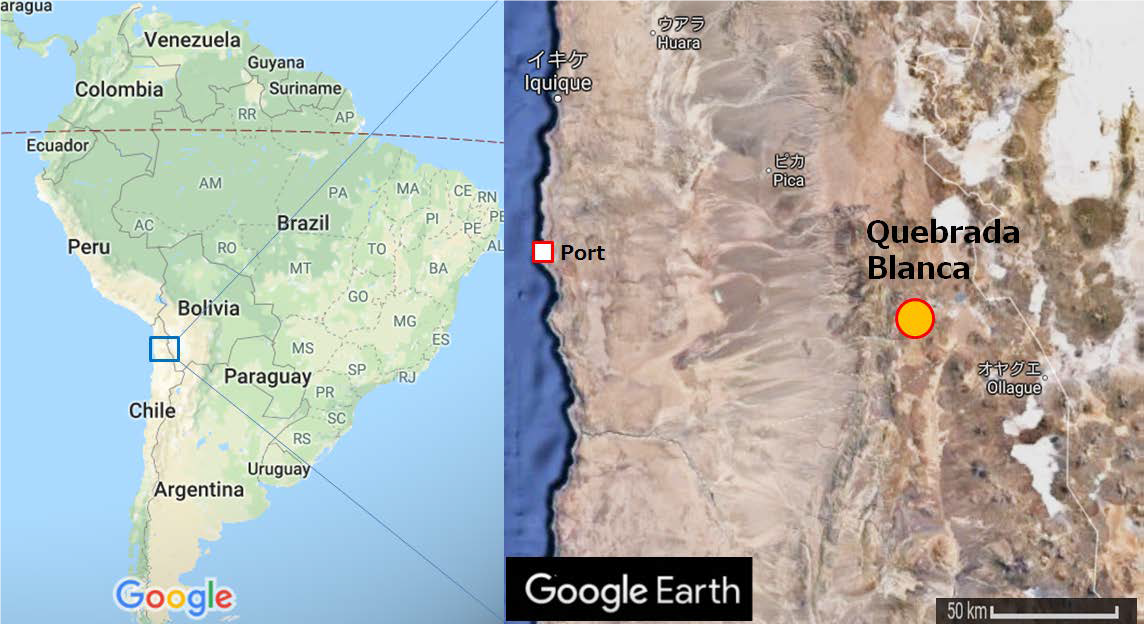 Project area layout

:
From the left, shipping port and seawater desalination plant, transmission line (purple line), pipelines (light blue line for fresh water, orange line for copper concentrate), QB copper mine facilities (Mill Plant, Tailings Management Facility, Open-pit Mine)