Oct. 07, 2022
Sumitomo Corporation
Launch of telecommunications services in Ethiopia
Sumitomo Corporation ("Sumitomo"; Head Office: Chiyoda-ku, Tokyo; President and CEO: Masayuki Hyodo) has started providing mobile telecommunications network and services through Safaricom Telecommunications Ethiopia PLC ("Safaricom Ethiopia") in Addis Ababa, the country's capital city. Safaricom Ethiopia also held a ceremony on 6 October (local time) to mark its national launch.
The Ethiopian government launched Digital Ethiopia 2025 to help the country realise its digital potential and leverage technology to build a more prosperous society. As part of that process, Safaricom Ethiopia was granted a nationwide full-service Unified Telecommunications Service Licence and is the first company in the country to launch a competitive mobile service to Ethio Telecom, which is state-owned.
Safaricom Ethiopia's 2G, 3G and 4G mobile services are available in 11 cities from today, including the capital and the country's second largest city Dire Dawa. The company plans to launch services in a total of 25 cities by April 2023 to meet the 25% population coverage obligation in its licence. Safaricom Ethiopia is building a wholly-owned mobile network and also has infrastructure sharing and interconnection agreements in place with Ethio Telecom. Safaricom Ethiopia's vision is to transform lives through a digital future for all Ethiopians.
Safaricom Ethiopia is owned by an international consortium including Sumitomo Corporation; Vodafone Group; Safaricom; Vodacom Group; and British International Investment (BII) - the UK's development finance institution and impact investor. This is the first joint investment project to be realised under the strategic alliance agreed by Vodafone and Sumitomo in November 2020.
Nick Read, CEO of Vodafone Group, said:
We are excited to be part of this highly experienced international consortium, with a strong vision to advance Ethiopia's inclusive digital society, with clear goals to deliver greater prospects for education, jobs and prosperity.
Shameel Joosub, CEO, Vodacom Group, said:
The Global Partnership for Ethiopia consortium has worked tirelessly together with the Government of Ethiopia to reach this exciting moment in Ethiopia's history as the country embarks upon a fully digitalised era. I would like to congratulate Safaricom Ethiopia and all management, staff and partners involved in reaching this milestone as we seek to connect every Ethiopian to the global digital economy. Ubiquitous network connectivity will positively transform the lives of Ethiopians throughout the country, notably by making various Tech for Good solutions and services available in health, education, manufacturing, agriculture and digital finance.
Peter Ndegwa, CEO of Safaricom, said:
For two decades, Safaricom has combined the power of technology and our innovative spirit to solve customer and societal challenges. Led by our Purpose to Transform Lives, we have deepened digital and financial inclusion in Kenya by connecting people to people, people to opportunities and people to information. With these lessons and experiences, we look forward to positively impacting the people of Ethiopia with a sustainable and quality mobile network that will be a vital launch pad for nationwide digital telecommunications services to over 118 million Ethiopians1."
1. World Bank: Population, total - Ethiopia | Data (worldbank.org)
Toshikazu Nambu, Representative Director, Executive Vice President, Chief Digital Officer, Sumitomo Corporation, said:
We are pleased to have reached the significant milestone of the official launch of Safaricom Ethiopia's national mobile network. Through this project, Sumitomo Corporation will contribute to Ethiopia's national development by providing its expertise in the telecommunications business and digital transformation know-how cultivated in Japan and other Asian countries. With the expansion of mobile phone use and the economic and human resource development, we will transform lives for a digital future, in line with the Digital Ethiopia 2025 strategy.
Nick O'Donohoe, Chief Executive Officer of BII, said:
The launch of Safaricom Ethiopia will deliver development impact at a country-wide level. It will transform the economic prospects for millions of Ethiopians and go a long way to alleviating data-poverty in the country.
Safaricom Ethiopia's shop in Addis Ababa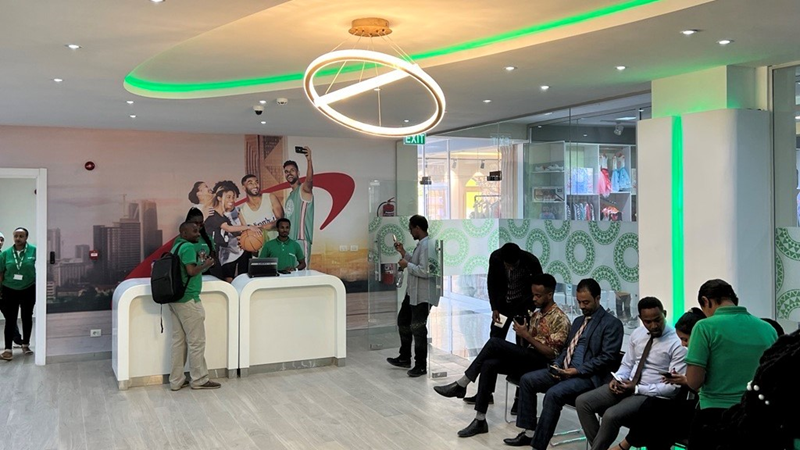 Cities already in service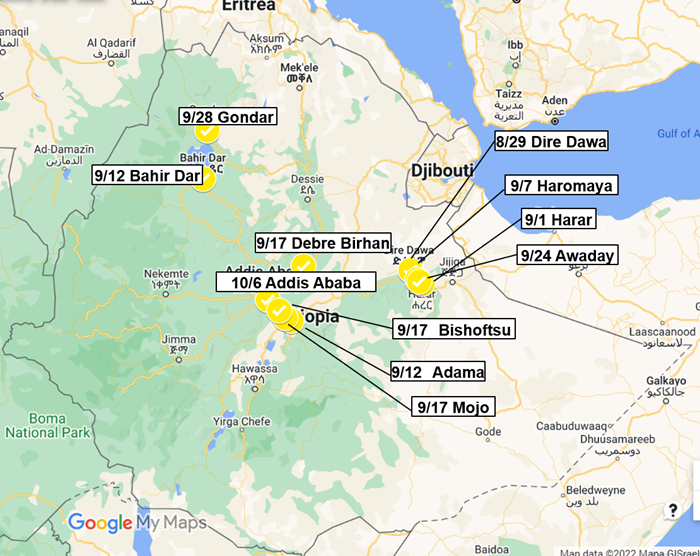 About Sumitomo Corporation
Sumitomo Corporation ("SC") is a leading Fortune 500 global trading and business investment company with 131 locations (Japan: 20, Overseas: 111) in 66 countries and regions. The entire SC Group consists of around 900 companies. SC conducts commodity transactions in all industries utilizing worldwide networks, provides customers with financing, serves as an organizer and a coordinator for various projects, and invests in companies to promote greater growth potential. SC's core business areas include six business units: Metal Products; Transportation & Construction Systems; Infrastructure; Media & Digital; Living Related & Real Estate; and Mineral Resources, Energy, Chemical & Electronics, and one initiative: Energy Innovation. Our corporate message, "Enriching lives and the world", was created to encapsulate our vision for sustainability in the next 100 years. Our business, as well as our relationship with our stakeholders, has expanded on a global scale. Our mission is to grow sustainably alongside society, pursue development for the world, and enable better lives for all.
About Vodafone
Unique in its scale as the largest pan-European and African technology communications company, Vodafone transforms the way we live and work through its innovation, technology, connectivity, platforms, products and services.
Vodafone operates mobile and fixed networks in 21 countries, and partners with mobile networks in 47 more. As of 30 June 2022, we had over 300m mobile customers, more than 28m fixed broadband customers and 22m TV customers. Vodafone is a world leader in the Internet of Things (IoT), connecting around 160m devices and platforms.
We have revolutionised fintech in Africa through M-Pesa, which celebrates its 15th anniversary in 2022. It is the region's largest fintech platform, providing access to financial services for more than 50m people in a secure, affordable and convenient way.
Our purpose is to connect for a better future by using technology to improve lives, digitalise critical sectors and enable inclusive and sustainable digital societies.
We are committed to reducing our environmental impact to reach net zero emissions across our full value chain by 2040, while helping our customers reduce their own carbon emissions by 350m tonnes by 2030. We are driving action to reduce device waste and achieve our target to reuse, resell or recycle 100% of our network waste.
We believe in the power of connectivity and digital services to improve society and economies, partnering with governments to digitalise healthcare, education and agriculture and create cleaner, safer cities. Our products and services support the digitalisation of businesses, particularly small and medium enterprises (SMEs).
Our inclusion for all strategy seeks to ensure no-one is left behind through access to connectivity, digital skills and creating relevant products and services such as access to education, healthcare and finance. We are also committed to developing a diverse and inclusive workforce that reflects the customers and societies we serve.
For more information, please visit www.vodafone.com, follow us on Twitter at @VodafoneGroup or connect with us on LinkedIn at www.linkedin.com/company/vodafone.
About Vodacom (a member of the Vodafone Group)
Vodacom is a leading African communications company providing a wide range of communication services, including data, mobile and fixed voice, messaging, financial services, enterprise IT and converged services to 123.7 million customers (including Safaricom). From our roots in South Africa, we have grown our mobile network business to include operations in Tanzania, the Democratic Republic of the Congo (the DRC), Mozambique, Lesotho and Kenya. Our mobile networks cover a population of over 295.8 million people. Through Vodacom Business Africa (VBA), we offer business managed services to enterprises in 47 countries. Vodacom is majority owned by Vodafone (60.5% holding), one of the world's largest communications companies by revenue.
About Safaricom Plc (a member of the Vodafone Group)
Safaricom Plc is the leading telecommunication company in East Africa. Our purpose is to transform lives by connecting people to people, people to opportunities and people to information. We keep over 38 million customers connected and play a critical role in the society, supporting over one million jobs both directly and indirectly while our total economic value was estimated at KES 358.6 Billion ($3.58 Billion) for the 12 months through March 2021.
Listed on the Nairobi Securities Exchange and with annual revenues of over KES 250 Billion ($2.5 billion), Safaricom provides connectivity through wide range of technology, 2G, 3G, 4G and 5G in aggregate covering over 99% of K We run the world's largest mobile payment system and Africa's largest Fintech - M-PESA, the world's first mobile money transfer system. By empowering over 28 million customers to transact, save or borrow money through their mobile phone, M-PESA has driven financial inclusion in Kenya to more than 82% of the adult population from a low of 25% and generates over KES 82.65 Billion ($826 Million) in revenue per annum.
Safaricom is an equal opportunity employer, actively recruiting staff from different backgrounds reflecting the communities that we serve. We are committed to equal gender representation at all levels. Our target is to achieve 50:50 senior management gender parity by 2025.
As part of our ongoing commitment to the Sustainable Development Goals (SDGs), we continue to work towards improving energy and resource efficiency in our network and facilities to reduce carbon emissions and our fuel consumption. We remain committed to becoming a Net Zero carbon-emitting company by 2050.
For more details please visit www.safaricom.co.ke
About British International Investment ("BII")
British International Investment is the new name for the UK's development finance institution and was formerly known as CDC Group.
BII is a trusted investment partner to businesses in Africa, Asia and the Caribbean. It invests between £1.5 and £2 billion every year to support the UK Government's Clean Green Initiative and to create productive, sustainable and inclusive economies in our markets
BII plays a key role in the UK Government's wider plans to mobilise up to £8 billion a year of public and private sector investment in international projects by 2025.
Over the next five years, at least 30 per cent of BII's total new commitments by value will be in climate finance. This will make it one of the world's largest climate investors in Africa.BII is also a founding member of the 2X Challenge which has raised $10bn to empower women's economic development. The company has investments in over 1,300 businesses in emerging economies and total assets of £7.7 billion.
For more information, visit: www.bii.co.uk | watch here
Sumitomo Corporation's Material Issues
Sumitomo Corporation Group positions "Six Material Issues to Achieve Sustainable Growth with Society" as an important factor in developing business strategies and in the decision-making process for individual businesses. Going forward, we will pursue sustainable growth by resolving these issues through our business activities. This project especially contributes to the following material Issues.
Achieving Harmony with the Global Environment
Contributing to the Development of Local Communities and Industries
Establishing a Foundation for Comfortable and Enriching Lifestyles

Providing Diverse "Accessibility"
---

Developing Human Resources and Promoting Diversity

Enhancing Governance