Expanding Our Solar Power Generation Projects at Industrial Parks in Vietnam
In February 2021, Sumitomo Corporation launched a rooftop solar power generation project in the Thang Long Industrial Park II (TLIP II) which operates in Hung Yen Province, Vietnam. The project is operating steadily in the industrial park and supplying green electricity to its tenants*.
In Vietnam, we also operate the Thang Long Industrial Park (TLIP) in Hanoi City and the Thang Long Industrial Park (Vinh Phuc) (TLIP III) in Vinh Phuc Province, and in December the same year, purchase orders were issued for rooftop solar power generation systems totaling approximately 5 megawatts peak that make use of the rooftops of TLIP tenant companies.
In January 2022, purchase orders for the same systems were placed for TLIP III, totaling approximately 5 megawatts peak. We plan to expand our installed capacity as we conduct load capacity survey of our tenant companies' factories and analyze the power flow in our industrial parks.
Some tenant companies have voiced their urgent need to procure green electricity to fulfill the policies of companies to which they deliver their products and the policies of their head offices. By 2030, we plan to achieve a total installed capacity of approximately 100 megawatts peak at these three industrial parks in Vietnam to meet these tenant companies' demand for green electricity.
This operation is in line with the policies on climate change issues of the Vietnamese government and Sumitomo Corporation. At the 26th summit level session of the Conference of the Parties (COP26) to the United Nations Framework Convention on Climate Change (UNFCCC) held in the United Kingdom on November 1, 2021, Vietnamese Prime Minister Pham Minh Chinh announced that his country aims to achieve net zero greenhouse gas emissions by 2050. As part of the country's efforts to combat climate change, the Eighth Draft of the National Power Development Plan (PDP8) that is being prepared by the Vietnamese Ministry of Industry and Trade spells out plans to double the power generation capacity of wind, solar, and other sources of green electricity by 2030.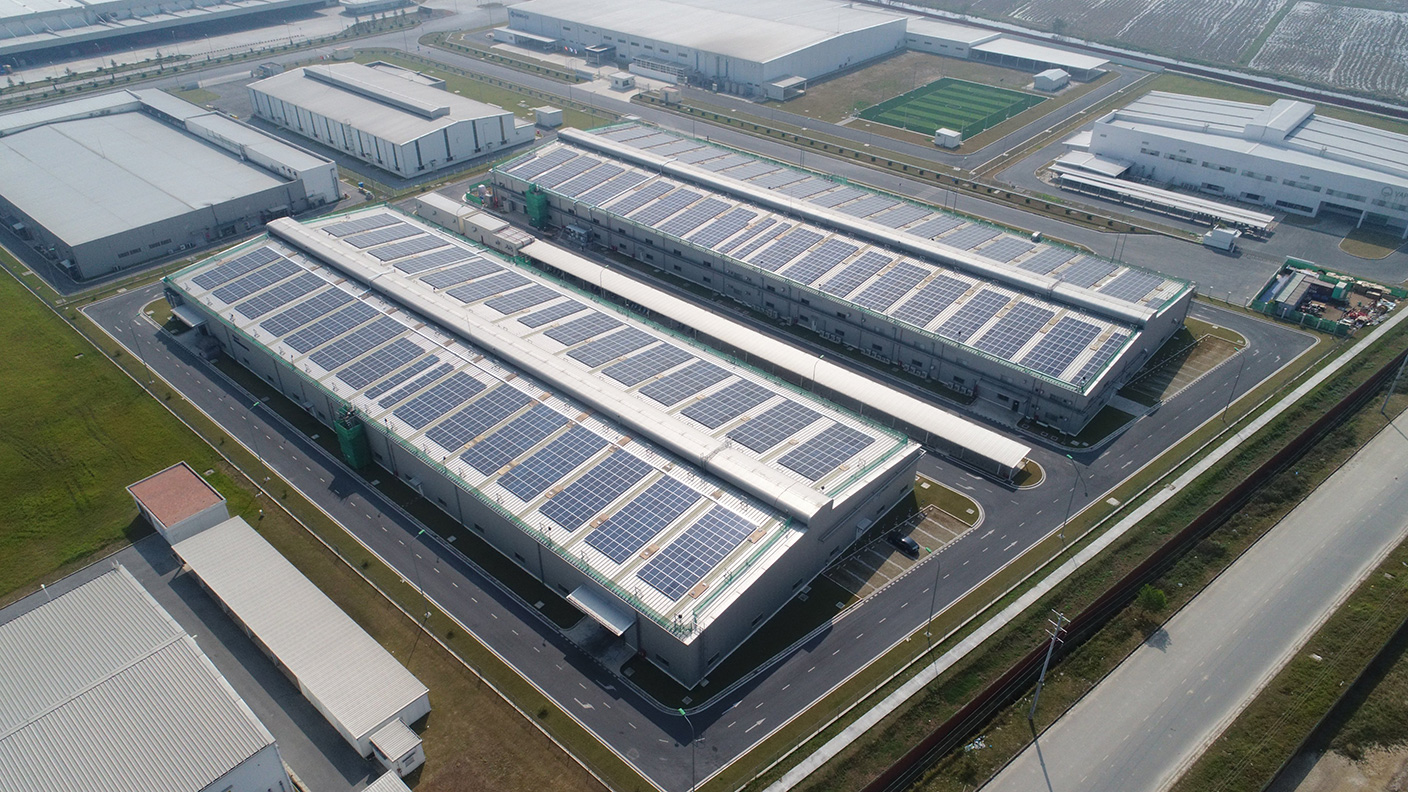 In 2020, we identified six key social issues to be addressed as part of our efforts to enhance sustainable corporate management. Namely, "Mitigation of climate change", "Circular economy", "Respect for human rights", "Development of local society and economy", "Improvement of living standard", and "Quality education", and we have set long-term and medium-term targets for each of these issues. Of these, in the "Mitigation of climate change", we have set a long-term goal of achieving carbon neutrality in the business activities of the Sumitomo Corporation Group by 2050.
Going forward, we will continue to make our industrial parks green by developing similar rooftop solar power generation projects in industrial parks outside of Vietnam, including in the Bangladesh Special Economic Zone that we are developing, and achieve carbon neutrality in our Group's business activities.
* Green electricity: Electricity generated by using renewable energy such as solar, wind, hydraulic and geothermal power and biomass.