Nurturing Next Generation Leaders Connecting Japan and the United States: The TOMODACHI Sumitomo Corporation Scholarship Program Selects Ten Students for 9th Year Cohort
Sumitomo Corporation and U.S.–Japan Council (Japan) have selected 10 Japanese students as the participants of the 9th TOMODACHI Sumitomo Corporation Scholarship Program (hereafter, "the program") in July 2022.
On July 1, scholarship award ceremony was held in our head office, welcoming Ms. Royanne Doi, Representative Director of U.S.-Japan Council (Japan), and Mr. Joshua Gonzalez from US Embassy Tokyo Public Affairs Section.Due to COVID-19 pandemic, it was held face-to-face for the first time in 3 years.
President Hyodo awarded 10 scholarships to each participant and sent them words of "Have passion to your studies and be a step closer to achieving your dreams.".
Each student announced their aspirations for studying abroad (e.g., I want to grow myself as a next-generation leader through interaction with many people who have diverse backgrounds.).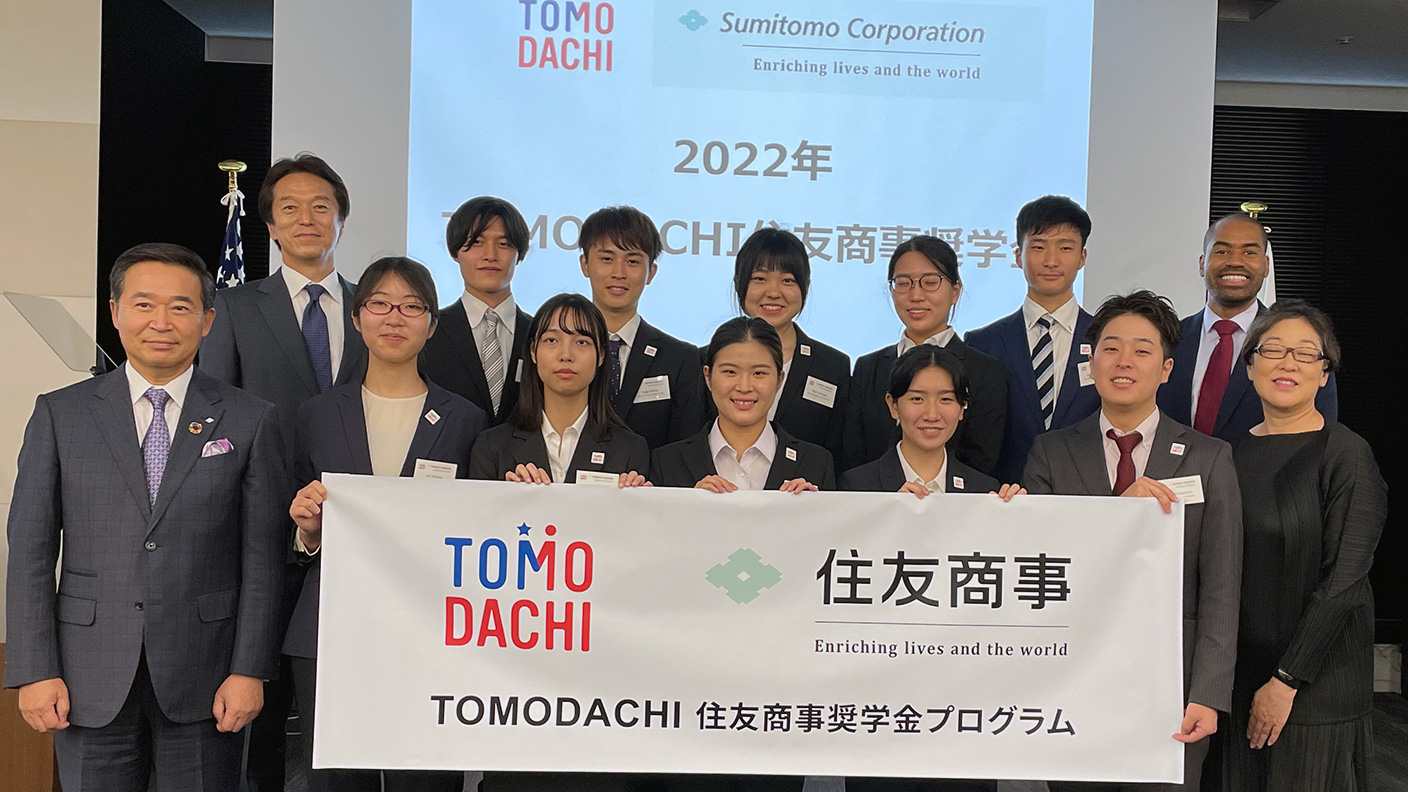 On the same day, a debriefing session was held for the 10 students of 8th cohorts who had just returned from the US. The students gave presentations in fluent English, elaborating on what they had learned by interacting with a variety of people during their studies as well as their resolve for the future. Mr. Joshua Gonzalez from the U.S. Embassy in Tokyo and Mr. Higashino, our Chief Strategy Officer, encouraged the students to keep pursuing their own goals and play an important role in strengthening ties between Japan and the United States.
We participate in the TOMODACHI Initiative led by the U.S. Embassy in Tokyo and the U.S.-Japan Council, and has been implementing the TOMODACHI Sumitomo Corporation Scholarship Program since 2014.
The program provides a scholarship of 1.8 million yen per year for each student to participate in exchange programs at universities across the United States.
Moreover, during their study abroad period, students are offered various opportunities, including training by the Sumitomo Corporation of Americas New York Head Office. Through these opportunities, students broaden their global perspectives and learn leadership skills.
Furthermore, volunteer directors and employees of the Sumitomo Corporation group support the students on a one-on-one basis as mentors, in order to help them achieve their goals and plans while studying abroad.
57 students have completed study abroad experiences from the past eight cohorts of participants. Those who have already begun their careers frequently contribute to the program as alumni, guiding study abroad students in subsequent years.
We will continue to support university students through the program to help foster the next generation of global leaders connecting the United States and Japan.