Oct. 30, 2023
Sumitomo Metal Mining Co., Ltd.
Sumitomo Corporation
Opening Ceremony at Quebrada Blanca Phase 2
Sumitomo Metal Mining Co., Ltd. (headquarters: Tokyo, Japan, "SMM", Akira Nozaki President and Representative Director) and Sumitomo Corporation (headquarters: Tokyo, Japan, "SC", Masayuki Hyodo President and Chief Executive Officer, Representative Director) are pleased to announce that the Quebrada Blanca Phase 2 project ("QB2 Project"), which is jointly owned by SMM, SC and major Canadian copper producer Teck Resources Limited (headquarters: Vancouver B.C., Canada, "Teck"), held an opening ceremony for the QB2 Project on October 26th at the QB port in Tarapacá, Chile.
Approximately 400 people attended the opening ceremony, including President Gabriel Boric of the Republic of Chile, government officials of the Republic of Chile and Japan, representatives from local communities in the Tarapacá region, members of financial institutions, and representatives of the project partners.
The QB2 Project will gradually increase ore throughput and copper concentrate production, and once it reaches full capacity, Quebrada Blanca will be one of the world's leading copper mines in terms of production.
In SMM's Long-Term Vision, the company aims to achieve attributable copper production volume of 300,000 tonnes per year. Continued progress towards full production at the QB2 Project is a major step towards achieving the target of its Vision.
SC will participate in the operation of the QB copper mine business and work together with its partners to contribute not only to the stable supply of copper, an essential resource for the widespread use of renewable energy and electric vehicles, but also to the development of the local economy by creating employment and business opportunities in the surrounding area and monitoring rare species living in the vicinity of the mine, while taking into consideration the impact on the surrounding areas and the environment.
Overview of Quebrada Blanca Copper Mine
Location
:
Tarapacá Region, Republic of Chile
(Northern Chile, 1,500 km from Santiago, 240 km southeast of Iquique, altitude 4,400 m)
Extraction method
:
Open-pit mining
Metallurgical operation
:
Copper and molybdenum concentrates are produced by flotation method.
Reserves
:
Copper approximately 7 million tonnes
Resources
:
Copper approximately 24 million tonnes
(*originally estimated 18 million in 2019)
Mine life
:
Approximately 27 years (only by Reserves)
Average annual production volume (metal volume contained)
:
Copper 285,000 – 315,000 tonnes
Other metals
:
molybdenum and silver
Project area layout
:
From the left, shipping port and seawater desalination plant, transmission line (purple line),
pipelines (light blue line for fresh water, orange line for copper concentrate),
QB copper mine facilities (Mill Plant, Tailings Management Facility, Open-pit Mine)

Picture of Opening Ceremony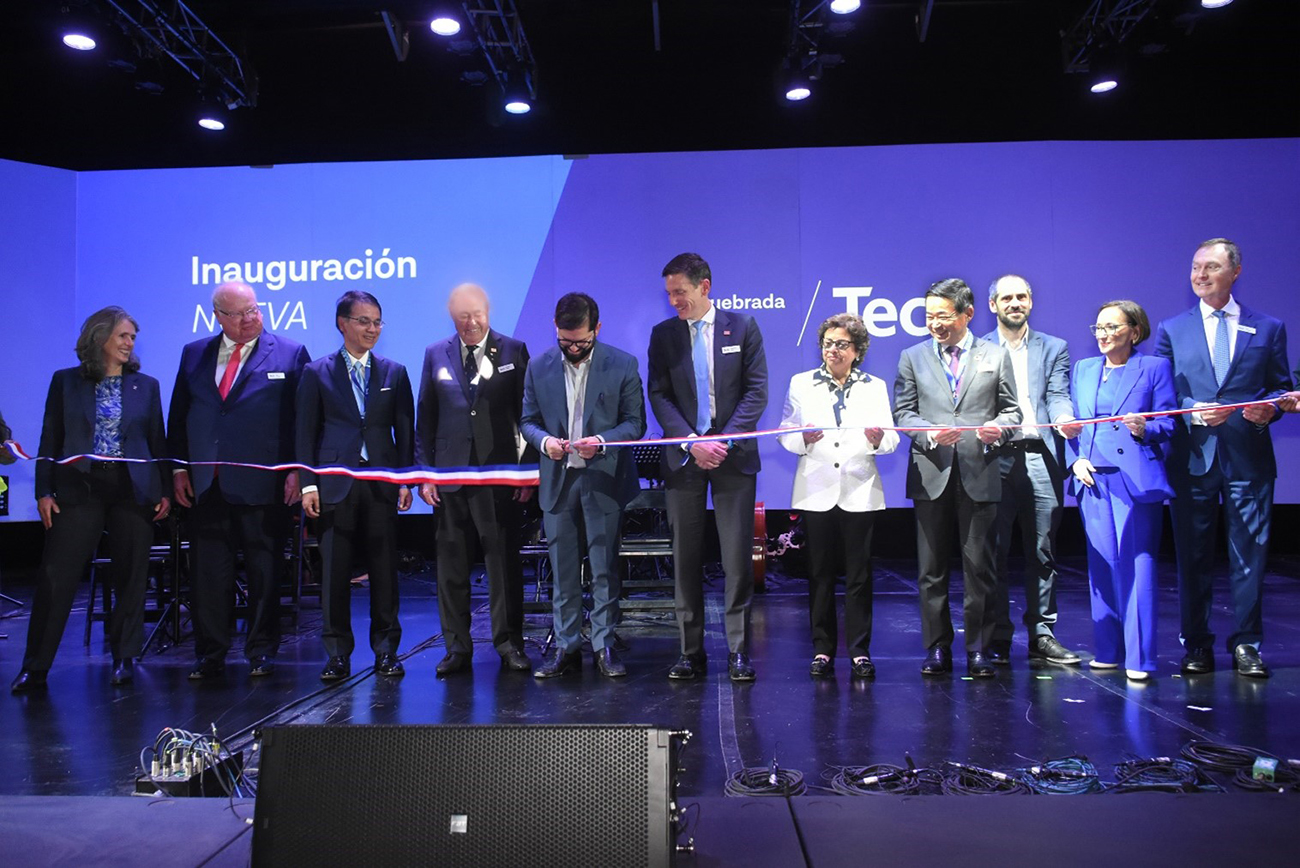 Picture of Site overlook