Nov. 27, 2014
Nippon Steel & Sumitomo Metal Corporation
Sumitomo Corporation
Supply of OCTG Pipes to BSP and Establishment of a New Threading Service Company in Brunei
Nippon Steel & Sumitomo Metal Corporation (Representative Director and President: Kosei Shindo; hereinafter "NSSMC") and Sumitomo Corporation (President and CEO: Kuniharu Nakamura; hereinafter "Sumitomo") have agreed to proceed with signing a contract with Brunei Shell Petroleum Co Sdn Bhd (an upstream oil and gas company jointly owned by Shell (50%) and the government of Brunei Darussalam (hereinafter "Brunei") (50%); hereinafter "BSP") on November 26 concerning the supply of oil country tubular goods (hereinafter "OCTG") pipes threaded for connection in Brunei.

To enable local supply of OCTG pipes, NSSMC and Sumitomo will also sign a contract concerning the establishment of a new company to provide threading services for connections of the OCTG pipes. The new company will be owned by NSSMC in majority and Sumitomo will build a stockyard adjacent to it with the aim of developing a just-in-time supply chain management system.

Brunei has vast crude oil and natural gas reserves, and the largest purchaser of those energy resources produced in Brunei is Japan. For more than 40 years, NSSMC and Sumitomo have been delivering seamless OCTG pipes for use in the drilling operations of BSP, a leading upstream oil and natural gas company in Brunei.
As drilling conditions are becoming increasingly harsh, the demand for premium connections for seamless OCTG pipes for use in the crude oil and natural gas industry is on the rise. We will establish VAM® (*1) threading service company in Brunei to contribute to local employment as well as to develop a system for the stable supply of seamless OCTG pipes.
*1 VAM®: The brand name of seamless pipe threaded connection jointly developed by NSSMC and Vallourec Tubes S. A. S.
[Outline of the new company]
Name
:
VAM® BRN (tentative)
Location
:
Bandar Seri Begawan, Brunei-Muara District
No. of employees
:
about 110
Investment amount
:
approximately 36 million US dollars
Main facilities
:
small-diameter pipe threading line, middle-diameter pipe threading line
Production capacity
:
18,000 tons
Commencement of commercial operation
:
October 2016 (subject to change)
Figure: VAM® connection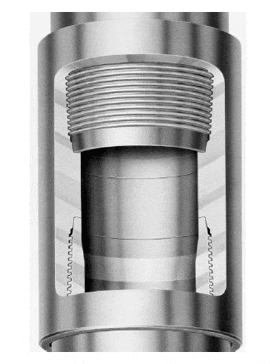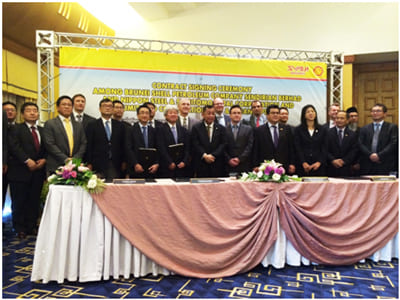 At the signing ceremony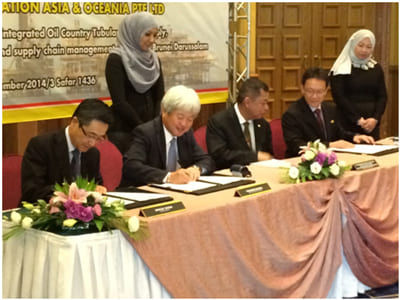 From left to right,
- Shuichi Suzuki, Executive Officer, General Manager Tubular Products Division, Sumitomo
- Toshihiko Kunishi, Executive Officer, Vice-Head of Unit Pipe & Tube Unit, NSSMC
- The Honorable Pehin Dato Mohammad Yasmin Umar, Minister of Energy of Brunei
- Yap Kong Fah, Technical Director, BSP