Jul. 19, 2016
Sumitomo Corporation

Sumitomo Corporation to Expand its Real Estate Business in Indonesia
Sumitomo Corporation (head office: Chuo-ku, Tokyo; President & CEO: Kuniharu Nakamura) will be launching a new warehouse leasing project on the outskirts of Jakarta through its Indonesian business company PT. Summitmas Property.

A ceremony was held on July 18 to mark the completion of a large-scale 3.5 billion yen warehouse for lease with a total floor area of about 53,000m2 built on a 76,000m2 site in Bekasi, West Java, 35km east of Jakarta's Central Business District. This warehouse will be leased to a local subsidiary of Kao Corporation, and is expected to meet that company's needs in further expanding its business.

Sumitomo Corporation has been engaged in the real estate business together with the local Rodamas Group since the 1980s. After building the high-rise Summitmas I office building (total floor area of 28,000m2) in 1985 in the heart of Jakarta's business district, Sumitomo Corporation developed Summitmas II (total floor area of 32,000m2) at the adjacent lot in 1992. The high-grade office spaces created by employing Japanese construction firms and implementing Japanese-style quality management methods successfully attracted tenants from among Japanese corporations and other international companies, and these two buildings have been among Indonesia's most prominent for many years. Development is currently underway on a third office building utilizing the know-how and experienced gained heretofore.

Sumitomo Corporation has also decided to enter the condominium development business in Jakarta, and in 2016 it established PT. Summit Residential Indonesia, wholly owned by the Sumitomo Corporation Group. This new company is already involved in specific projects, and it expects to expand its real estate business as Indonesia continues to grow.
-Profile of PT. Summitmas Property
Head office
:
Jakarta, Indonesia
Shareholder composition
:
Rodamas 50%
Sumitomo Corporation  40%
Other   10%
Year established
:
1983
Scope of business
:
development/leasing of office buildings and warehouses in Indonesia
Photo of completed warehouse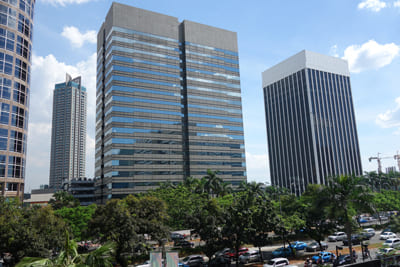 Summitmas II (left) and Summitmas I (right)