May 27, 2019
Sumitomo Corporation
Special Economic Zone to be Developed Near Dhaka, Bangladesh
Sumitomo Corporation (Head Office: Chiyoda-ku, Tokyo; Representative Director, President and Chief Executive Officer: Masayuki Hyodo) has reached an agreement with the Bangladesh Economic Zones Authority (hereinafter, "BEZA") on developing a special economic zone (Note 1; hereinafter, "SEZ") in the Narayanganj District of the Dhaka Division of Bangladesh. The two parties have signed the joint venture agreement and will establish the development company (tentatively named Bangladesh SEZ Ltd.) for the SEZ this summer.
Bangladesh borders India to the north, east and west, and Myanmar to the southeast, occupying a geographically strategic location linking South Asia and Southeast Asia. One of the world's most populous countries, its 160 million people (1.3 times the number in Japan) reside in a land area about 40% that of Japan. It boasts a wealth of human resources, with labor force forecast to increase at an annual pace of more than 2 million over the next 20 years or so. With population likely to grow continuously until around 2055, expectations are high of Bangladesh as a consumer market, and there has been an uptrend in recent years in the number of foreign companies moving into the country. To lay the groundwork for industrial diversification, Bangladeshi government is looking to develop 100 special economic zones nationwide over a period of 15 years, and even more companies are expected to set up operations there in future.
The SEZ is located about 32 km (1 hour's drive) east of central Dhaka. About 190 hectares are to be developed first as an industrial park, which will then be expanded by stages. Sales will begin concurrently with the start of surrounding infrastructure development construction work in 2020, and operations are scheduled to start in fiscal 2021. Sumitomo Corporation will hold a 76% stake in the development company. The project costs are projected to total over 13 billion yen. Development of this SEZ is planned as an Official Development Assistance Project by the Japan International Cooperation Agency (JICA). JICA provides a yen loan to the Bangladesh government for financing the surrounding infrastructure development construction works.
Sumitomo Corporation is currently engaging in developing, selling, and operating special economic zones and industrial parks in Indonesia, the Philippines, Vietnam, Myanmar and India. As of May 2019, Sumitomo Corporation is investing in 7 industrial parks hosting 519 tenant companies employing as many as 210,000 employees. Utilizing the operational know-how gained through the implementation of earlier projects, Sumitomo Corporation will be offering its support to tenant companies operating in this new SEZ in Bangladesh, including assistance in completing administrative procedures for registering and applying for permits locally, and will be contributing to industrial development and diversification as well as job creation in Bangladesh by developing this SEZ.
(Note 1) A zone within which legal and administrative incentives are granted to encourage economic development
<Reference>
■ Profile of the SEZ
(1) Operating body
:
Bangladesh SEZ Ltd. (name tentative)
(2) Name of special economic zone
:
Bangladesh Special Economic Zone (name tentative)
(3) Investment ratios
:
Sumitomo Corporation: 76%
Bangladesh Economic Zones Authority: 24%
(4) Location
:
Narayanganj District, Dhaka Division, Bangladesh
(5) Development area
:
Approximately 190 hectares
(Phase 1A: 123 hectares; Phase 1B: 67 hectares)
(6) Total project costs
:
Just over 13 billion yen

■ Map

■ Photo
(Photo of Signing Ceremony)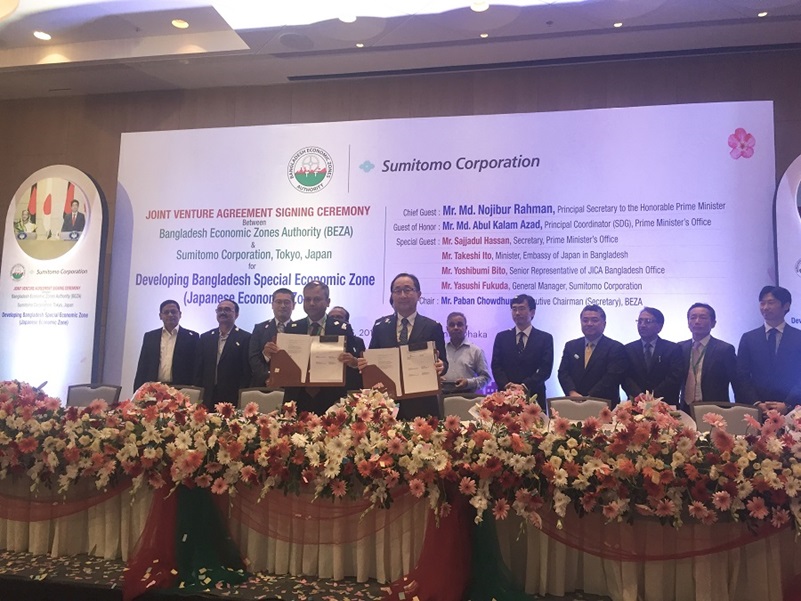 (Photo of Bangladesh Special Economic Zone)


■Sumitomo Corporation's Material Issues
Sumitomo Corporation Group positions "Six Material Issues to Achieve Sustainable Growth with Society" as an important factor in developing business strategies and in the decision-making process for individual businesses. Going forward, we will pursue sustainable growth by resolving these issues through our business activities. This project especially contributes to "the Development of Local Communities and Industries", "Establishing a Foundation for Comfortable and Enriching Lifestyles" and "Providing Diverse Accessibility".